In today's post, we switch from looking at the three edge styles that work best in small kitchens to the three that work best in large ones.
With small kitchens, you focus on making the kitchen look larger with minimal countertop edge treatments. With large kitchens, the focus switches to making the kitchen feel less spacious and empty with decorative edge styles that draw attention to the countertops and accent cabinetry, appliances, furniture and overall theme.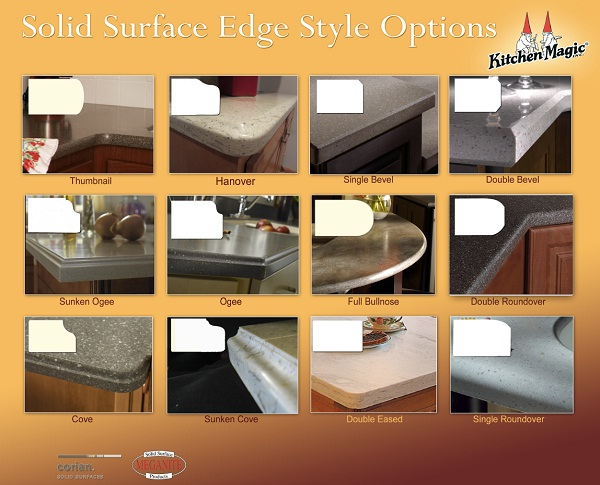 Single Ogee
The single ogee is a wave edge that combines a concave or inward curve running from the top of the counter to about midway with a convex or outward curve extending from midway to the bottom to give it, in profile, a distinctive S-style shape. It is one of the most popular decorative shapes chosen for large kitchens, as it provides a slight amount of elegant accent without seeming like too much. Although the concave area can catch crumbs and dirt, the single ogee also doesn't have deep crevices that can trap dirt or dust making it easier to clean.
Repeat Waterfall
A repeat waterfall edge is a single waterfall design, similar to the convex shaped demi-bullnose that curves outward from the top and then drops down to the bottom, repeated two or three times to create a staggered, waterfall effect in profile. Waterfall edging is popular because it's elaborate, expensive looking, elegant and complements dark and medium colored materials. It also makes a counter look sturdier as it creates an illusion of thickness. Because the design makes the counter top smaller than the bottom, the edge also draws the eye to items on top such as small appliances or flowers in a vase.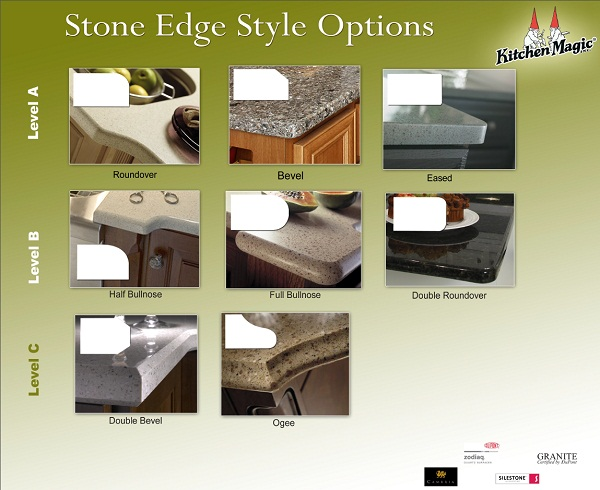 Custom Designs
A custom design in a large kitchen is often used to overemphasize an edge or display creativity and is usually made by gluing two or more slabs of material together. For example, one popular custom design is the double triple waterfall in which two thick slabs of material, one smaller in width than the other cut to the same shape with triple edges, are glued together to make the counter thicker and the waterfall edge longer. Another popular design is the custom inlay edge. Whether you choose laminate or stone, a professional countertop installer can cut and inset a complementary different colored material in geometric shapes such as diamonds, rectangles or patterns into the counter edge.
As with small kitchens, you should always consult with a countertop specialist to determine the best edge for your large kitchen. Decorative edging can be very expensive depending on the material and design. Working with a specialist can help save you from making a costly design mistake.