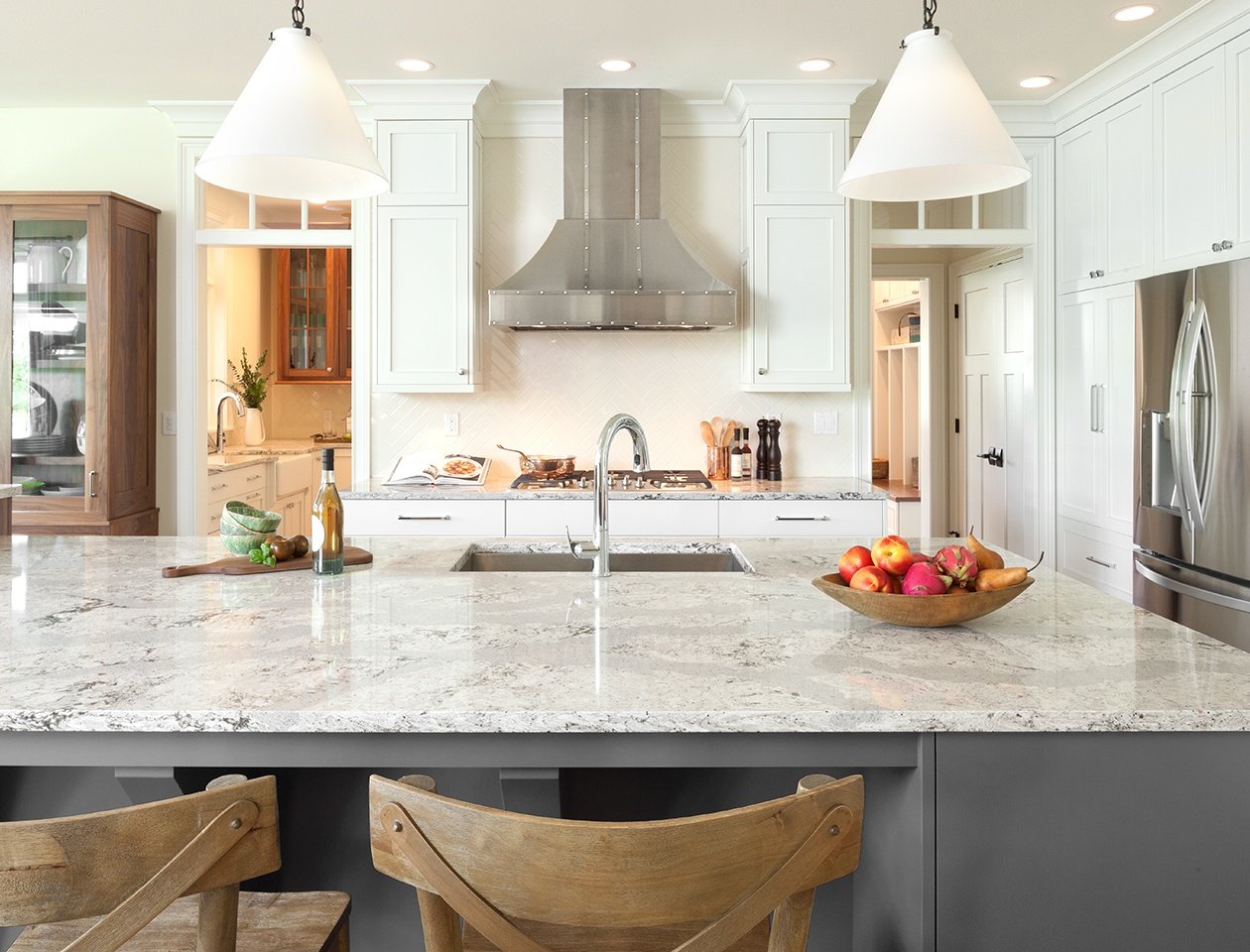 Cambria Quartz - Summerhill
Modern and more ultra-contemporary kitchen designs are in high demand these days. Perhaps it is the result of the home design TV shows people watch, or maybe its the result of their minimalist, easy-to-clean style. Whatever the case, contemporary design trends and innovative production techniques have yielded a whole new array of kitchen countertop options.
One of these is glass - including recycled glass - and while we do appreciate these countertops' sleek style and attractive presentation, we recommend steering away from them as a main countertop surface. Not only are they more susceptible to breakage, they are also difficult to install and their longevity in the kitchen has yet to be tested.
4 Reasons To Choose Quartz Over Glass
If you like the look of glass and/or recycled glass countertops, we recommend setting your sights on quartz instead. You gain all the durability, longevity and style that you love about glass, without any of the potential heartbreak. Plus, quartz countertops are also considered eco-friendly, so you won't be sacrificing your sustainable kitchen design principles.
Here are 4 ways quartz countertops shatter their glass counterparts.
1. You have a super-array of options
Glass countertops are attractive but they are limited in their style options. Quartz, on the other hand, comes in just about every color and style you can think of. From solid colored slabs, to slabs that mimic natural stone or that include funky, colorful pre- and post-consumer recycled flecks - there is a little something for everyone. In fact Cambria quartz countertops are offered in more than 100 different colors and patterns.
2. They don't chip, break or crack
Okay, if you install a quartz countertop and then attack it with a sledge hammer, you'll probably be able to do some damage. However, when we're talking about regular, everyday kitchen wear-and-tear - even heavy-duty kitchen use, quartz blows glass countertops out of the water. No matter how much you read that glass countertops are durable, the manufacturers are really only speaking in terms of basic day-to-day use. You only have to scroll down and read the finer print to learn that glass countertops are susceptible to cracking, edge chipping or breaking if they encounter heavy objects. If you drop that large, holiday serving platter from the upper-cabinet on quartz, you'll lose the platter but your quartz slab remains intact; if you drop it onto your glass countertop, you may have a whole new countertop to replace or else you'll be living with a chipped or cracked version until you can afford to repair or replace it.
3. Quartz surfaces are not marred by acid or abrasive sponges or cleaners
Both surfaces are considered "non-porous" and are excellent for hygienic purposes. However, over time, glass begins to react with acid and this contact will eventually fog or otherwise mar the surface. Glass countertops are also very susceptible to abrasive surfaces or cleaners. So, for example, the stuck-on goo left from when your child made his lunch yesterday can't be wiped off with the abrasive side of a sponge. Quartz, on the other hand, is impervious to acids, will never etch or stain, and can be cleaned with both the front and the back side of your kitchen sponges.
4. Installation is more streamlined
Because the countertop slabs are made of glass, transportation and installation is a tricky business. They are notably more susceptible to damage and countertop installers must have specialized knowledge, equipment and experience. As a result, installation costs for glass countertops are typically more expensive than other countertop options.
If you love glass, we recommend using it on a smaller section of countertop where it will be less susceptible to damage. Or, better yet, visit us here at Kitchen Magic where we can help you select a quartz countertop alternative that has the contemporary and translucent appeal of glass. We promise you won't be disappointed in the results.