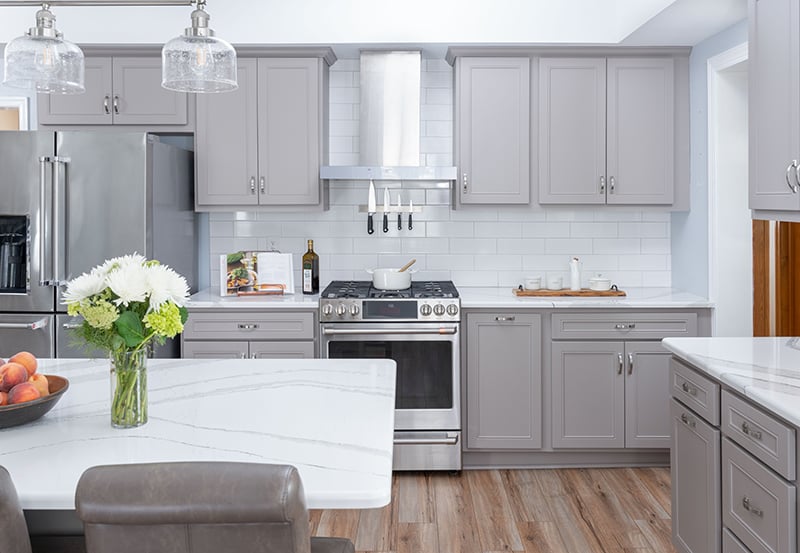 REMODELED KITCHEN PHOTO CREDIT: Christian Giannelli Photography
When you're thinking about a kitchen remodel, one question for contractors near you that is bound to come up is, "How long will my project take?" Defining the completion date for any home improvement project involves a variety of considerations and, of course, no two projects are the same.
For the average homeowner, understanding a little more about the overall scope of work of their project will result in a more accurate estimate of the time required for the completion of the job.
What is the average time for a kitchen remodel?
There are some questions you may start with before embarking on your remodeling journey:
What style of kitchen are you remodeling? And, what style of kitchen do you want?
Do you

plan to keep your existing kitchen layout

, or do you plan to change it? Think about countertops, prep areas, storage, etc.
Will your current plumbing stay in place? What about electrical upgrades, new lighting, and appliances?
When you schedule a free design consultation with Kitchen Magic, our experts will assist you with every step of the process. We can help you select the perfect materials, and color palette, as well as guide you through all of your options for updating your cabinetry, countertops, backsplash, flooring, and more.
For reference, below we've provided two common scenarios to help you get an idea of how much time you'll need to complete your kitchen remodel.
Custom kitchen cabinetry
REMODELED KITCHEN PHOTO CREDIT: PhotoSynthesis Photography
If you are planning a complete overhaul of your kitchen design, custom cabinetry is an excellent choice to help you achieve both a brand-new look and more efficient functionality. Custom cabinets can be completed in about 10 working days and a new countertop can be installed in about a week after it's templated (we recommend scheduling your countertop templating after your new cabinets are installed). Any backsplash tile, flooring, and other accessories can typically be installed within a few days.
Cabinet refacing

REMODELED KITCHEN PHOTO CREDITS: Christian Giannelli Photography
If you love your current kitchen layout but want to achieve a like-new look, consider cabinet refacing. You can save both time and money by updating your existing cabinet boxes, plus you'll still get new cabinet doors and drawers! Once installation begins, homeowners can expect cabinet refacing to be completed in about a week up to 10 days. Most kitchens can be refaced in as little as 3 to 5 days.
In both of the above scenarios, homeowners can change the style and color of their kitchen cabinets, including new handles and other cabinet hardware. If you choose Kitchen Magic for your kitchen remodel, our team will schedule each material installation on consecutive days to reduce the total amount of time required for your project. We're here to help you completely transform your kitchen in less time, with less stress, and at an amazing value.
How can you make the whole process easier?
Plan all of your meals ahead when installations are scheduled and your kitchen will be temporarily unavailable.
Set up a kitchen 'outpost.' A place for items that you'll want to keep handy in a room that will not be disrupted. Consider everyday items like your coffee maker, microwave, and, if weather permits, prep a grill to cook meals outdoors if you can.
Plan easy access to your refrigerator and/or freezer.
Stock up on disposable plates and utensils for time-saving clean-up.
Prep some of your favorite meals ahead of time that will freeze and microwave well.
Arm yourself with take-out menus, nearby restaurants, and any available food delivery services.
Remain in communication with your project team in case important questions arise.
Arrange to keep any pets and children safely away from the construction area.
Inform any family and friends of potential limitations that may occur in your availability.
Remain flexible and use your sense of humor
Of course, keep in mind that delays can occur during any remodel. But, we think these tips can go a long way in helping you estimate a more realistic timeframe for completing a kitchen remodel that's perfect for you and your lifestyle.
Ready to start your kitchen remodel? Call reputable contractors near you today!
Kitchen Magic's team of kitchen experts is here to help you with every step of your kitchen remodeling process from start to finish. It doesn't matter if you live in the Northeast, we're here to help make the process easy. Explore your options by scheduling a free design consultation with a Kitchen Magic design expert today! It's fun, informative, and without obligation. Simply call us at 866-525-7999 or contact us online for a free estimate and get started today!
Looking for more inspiration? Check out this free download!