Choosing the best solution for your cabinets is the most important part of a kitchen cabinet remodel. Making a statement with your new kitchen - whether you choose a modern shaker door in forest green, or something more timeless like white shaker doors - is the most enjoyable part. So, first decide what you want to do with your cabinets before you make any design decisions.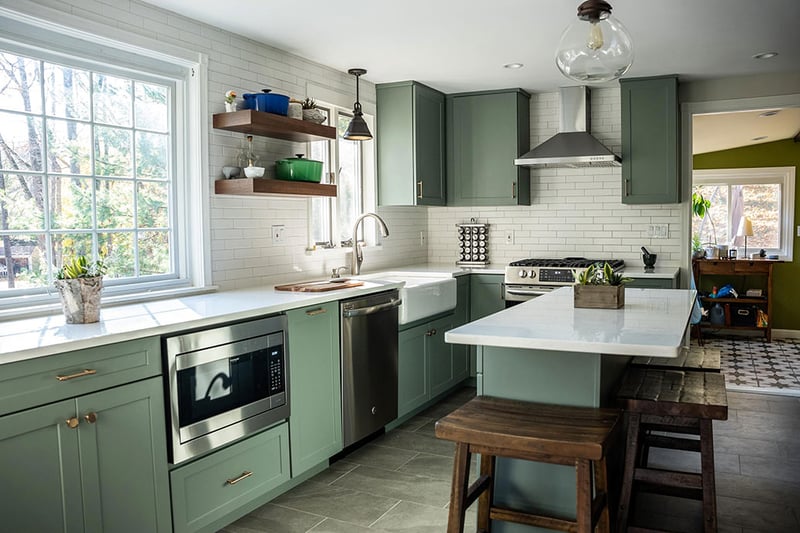 Kitchen Magic offers five different cabinet services. From cheapest to most expensive, you can count on:
Door/drawer front replacement only

Cabinet Refacing

Hybrid Solutions

Custom Barwen cabinets

All new classic cabinets
If you are unfamiliar with what each of these options are and what they entail, don't worry! We have you covered. In this article, we are going to give you all the details you need to know about each service Kitchen Magic offers for cabinets within a kitchen remodel so you can make a well-informed decision about which option best suits your needs!
1. Door & drawer front replacement only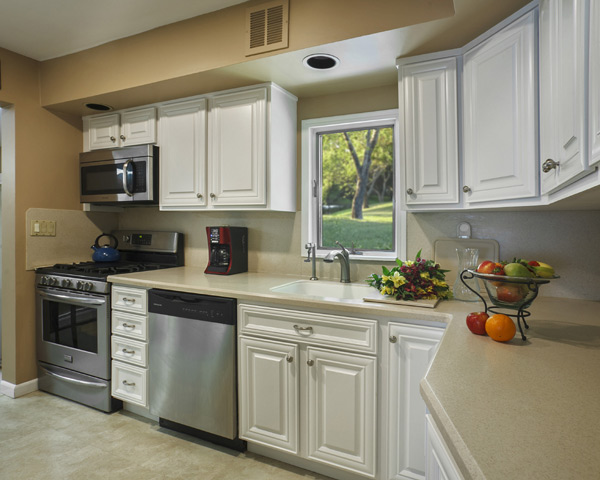 As the most affordable way to give your cabinets a facelift, this option is still great for giving your kitchen a brand-new look, without breaking the bank. It is also the quickest and simplest way to renovate your space.
This process includes removing the existing cabinet doors and drawer fronts and replacing them in the color and style you choose. This does not include making any changes to the existing cabinet boxes.
While additional products are of course totally up to you, you are more than welcome to add a countertop, backsplash, and/or any other kitchen accessories that you may desire. So, if you are looking to save some of that investment for other parts of the remodeling project, this is an excellent option to do just that!
2. Cabinet refacing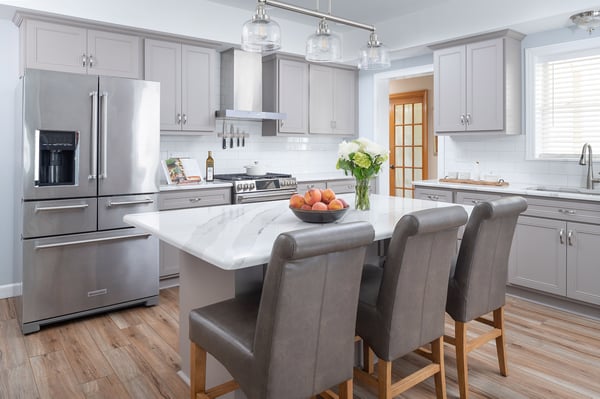 Cabinet refacing uses cabinet boxes with "good bones" in your kitchen to create a designer look for less. Spending more money is not necessary when a more affordable, permanent solution is available. Refacing your cabinets with Kitchen Magic also comes with a Lifetime of Home Ownership Warranty, because we are confident in the quality of workmanship and the value of our products.
While the process of refacing your kitchen will vary depending on the company you use (or if you decide to go the DIY route), the following gives a brief summary of the refacing process:
Cabinet doors and drawer fronts are removed.

The cabinet frames are resurfaced to a fresh wood surface.

Laminate (and in some cases a ¼" luan plywood subsurface) is applied.

New accessories, trim, doors, and drawer fronts are installed.
Consistent with the previous option we discussed, you are not required to replace your cabinets or add other projects to the remodel, but you can always do so if you desire.
For over 40 years, Kitchen Magic has been the thought leader in cabinet refacing, giving our customers long-lasting, high-quality renovations using this time-tested, environmentally friendly method. Cabinet refacing is a huge money saver as compared to replacing your cabinets altogether, giving you a stylish, fresh-looking kitchen for a fraction of the price. Refacing also saves hundreds of pounds of cabinetry per project from being discarded in landfills.
3. Custom Barwen cabinets
Kitchen Magic's Barwen Cabinet Collection is a great (and recently added) option for homeowners seeking all-new cabinets. This collection of cabinets is constructed from ¾" furniture-grade cabinet board and is available in our most popular colors and door styles.
Barwen cabinetry is a great option if your cabinets are not good candidates for refacing, if you want a complete gut and remodel but are looking for a more budget-friendly option than the next level of cabinetry we offer, the Classic Collection.
Anytime you are replacing your cabinets completely, you will need to replace the countertop as well, so bear this in mind when deciding which cabinet path to take on your remodeling journey.
4. All-new Classic Cabinets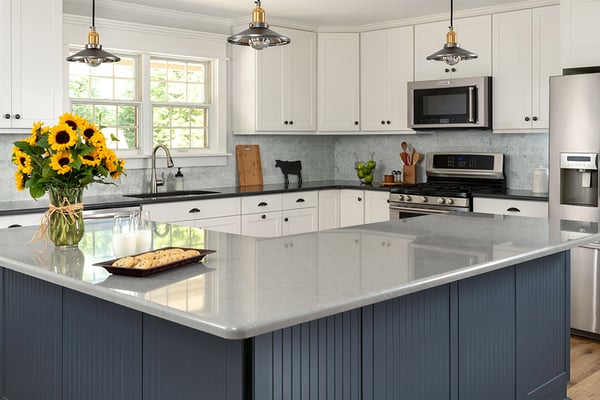 The Classic Cabinet Collection is hand-assembled and custom-made for each kitchen project to best fit the needs of the homeowner. The main differences between this and the Barwen collection are that the construction of the Classic Collection cabinetry is ¾" birch North American plywood, and it is available in any of our dozens of cabinet colors and door styles. It is a low-maintenance, clean finish that is safe for your family, as it lacks chemicals, which other less expensive plywood may contain.
5. Hybrid solution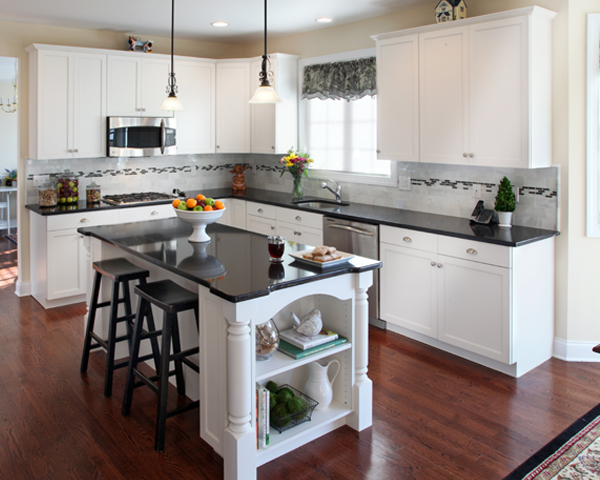 Kitchen Magic's most popular option for cabinets is a hybrid solution. You really can have it all with a balance of refacing and new cabinetry, designed specifically to meet your kitchen needs. This is a great value-building solution for homeowners, and it also gives you the option to add an island, pantry, or additional storage space. This solution blends both refacing and custom cabinetry so you can achieve everything you want for your kitchen while still having an affordable project.
The hybrid solution is possible with either the Barwen or Classic cabinetry line. Thanks to it, you can always add unique features to your kitchen and other aspects of your renovation, like a countertop or backsplash. Most Kitchen Magic customers go in this direction because of the affordability, flexibility, and magnitude of options it allows you to feature in your remodeled space.
So which option best suits your needs?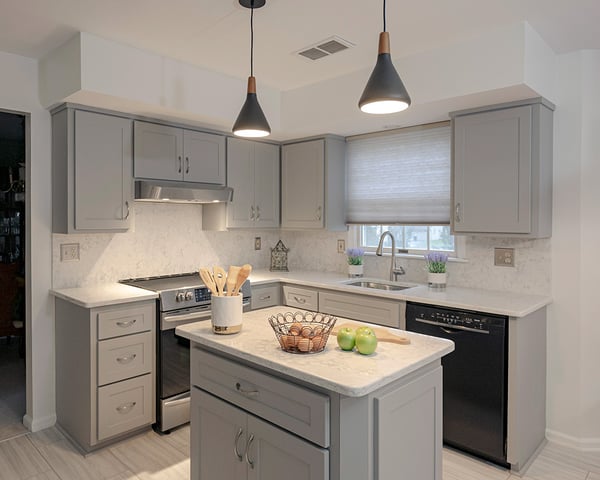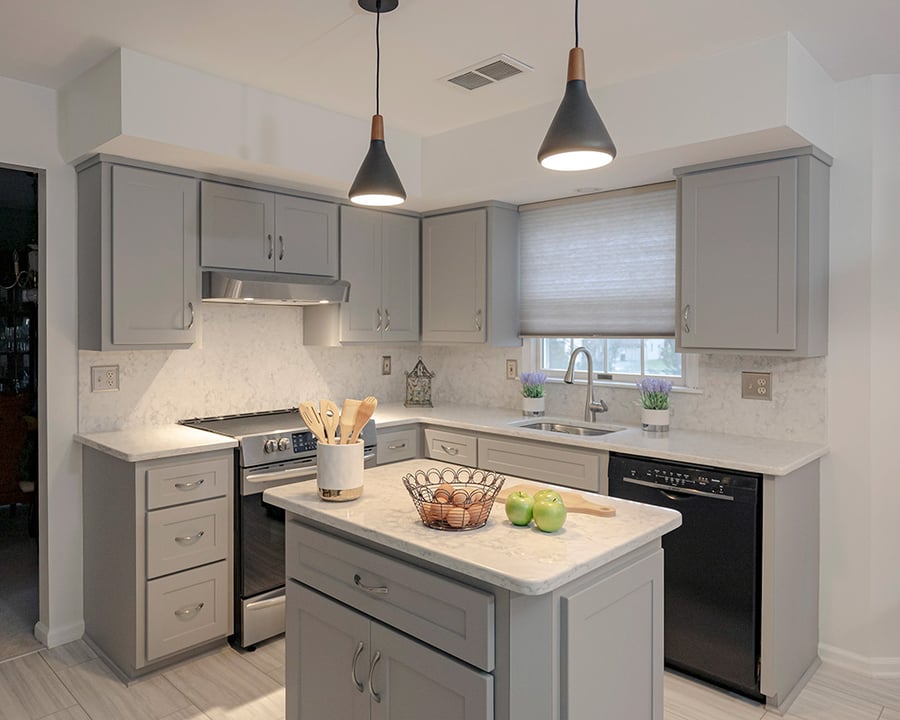 As you now know, Kitchen Magic offers solutions for every type of kitchen remodel with any kind of budget. The road you take for your cabinets should best fit your price range, kitchen size, and style that you desire for your remodel. With any renovation, your return on investment will increase, but the kitchen holds the highest return on any type of home renovation you can complete, despite which cabinet service you choose.
When deciding which option to go with, consider things like:
Budget

Additional kitchen components (countertops, backsplash, flooring, etc.)

Addition of an island, pantry, desk area, etc.

The size of your kitchen
Where can I find experienced experts in kitchen cabinet remodel?
Looking to update your kitchen cabinets without replacing them? Your design consultant is the best person to advise you on which choice would be best for you. Contact Kitchen Magic at (866) 525-0012 to find out about all Cabinet Refacing solutions we offer to help you transform your kitchen diligently and efficiently. Simply schedule a free in-home design consultation today with one of our specialists and begin your journey toward a beautiful, magical new kitchen!