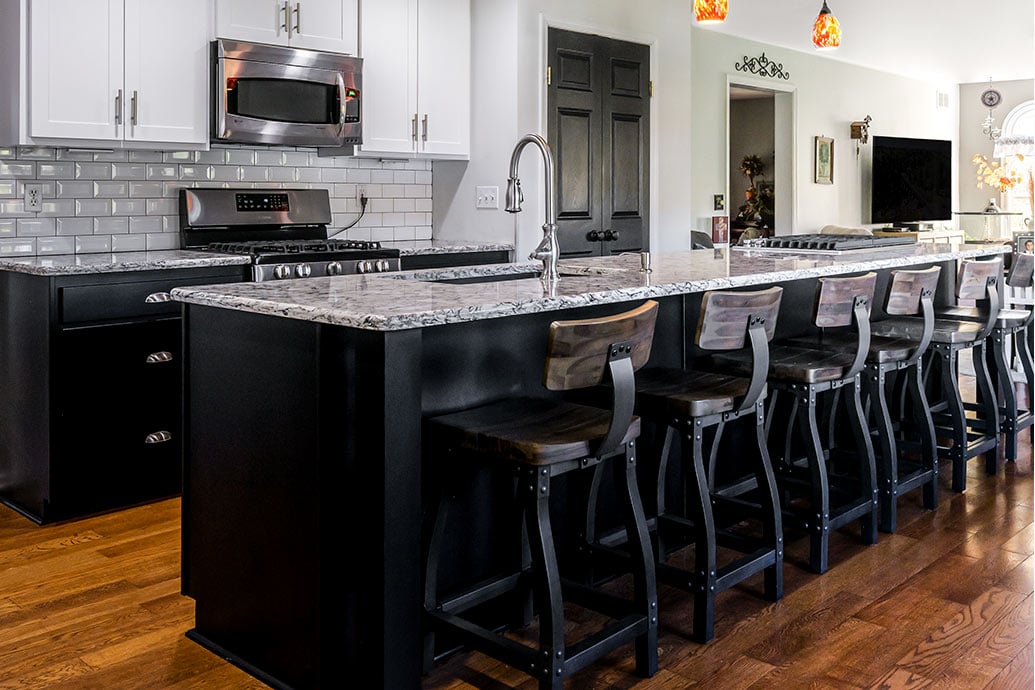 Out with the old and in with the new? A major consideration for homeowners looking to remodel their kitchen is whether or not they want to keep their existing appliances or get new ones. But anything from a multitude of different factors, like budget to your design tastes, can influence your decision. Tempted by the extravagance of new appliances? Not looking to break the bank? On the fence? Look no further as I'll take you through what "new vs old" appliances mean for your remodel, factors to consider for both, and how your appliances can be a major complement to the aesthetic of your kitchen.
How Will Old vs. New Appliances Affect My Remodel?
From DIY to Buy, your remodel has one constant: the appliances. They're carted away the day your installation begins, and they eagerly await their reunion with your new living space. But how will appliances affect your remodel? SIZE- and there is no way to sugarcoat it, appliances take up a lot of space in your kitchen. And this should always be a primary consideration for any contractor you decide to work with. Proper measurements are always taken beforehand to make sure all latest changes made to your kitchen can accommodate your equipment. Whether old or new, this is a necessary step, so your appliances don't stick out in an otherwise dream kitchen. However, communication is key and knowing exactly what your plans are, as to whether you'll be going with old or new appliances, is an important early step in your kitchen remodel. Deciding to go all new too late in your installation could cause costly complications and increase the timeline of your remodel.
Lastly, appliances can affect your remodel from a purely aesthetic standpoint. Say you've found a perfect finish for your cabinet's hardware, but it clashes with your current appliances, your kitchen may look off. Looking to make the upgrade to all new might give you more design freedom and less restriction.
But ultimately, how do you make your final decision and what are the factors you should know before your first installation day?
Top 5 Factors for Choosing New vs Old Appliances for Your Remodel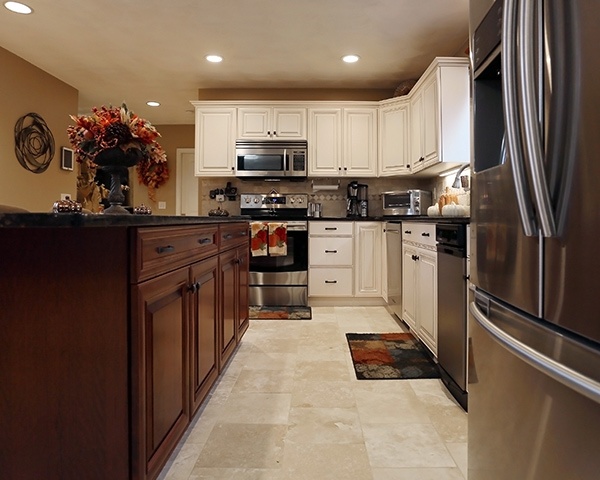 If you're still unsure, let's consider these 5 factors that break down what new or old appliances really mean for your remodel.
Budget:

Appliances can help to fix many of life's daily struggles, but they can't fix an overbudget remodel. And working within a budget you're comfortable with should always be one of the most important things to consider. There's nothing wrong with looking at appliances as a "nice to have" and not a "need to have". Especially if you're on a tighter budget, keeping your current appliances and opting for new ones later is always a possibility.

Functionality: On your last straw with your current appliances? If you're tired with your daily verbal deathmatches against a non-functioning oven or dishwasher, it might be time to consider upgrading to appliances with not only better performance but new and exciting features your current equipment just might not have.
Style and Aesthetics: With new and exciting design trends presenting themselves every year, utilizing every element of your kitchen to get a look and feel that matches your tastes is of utmost importance. With new appliances offering a wide array of finishes to complement your cabinets, countertops, or pulls and knobs, old appliances may leave you feeling somewhat restricted in your design options.
Resale Value: A kitchen remodel can be considered one of the best home investments and deciding to go new on your appliances can help to increase your home's overall value and look to make it an appealing option to potential buyers.
Energy Efficiency: Energy efficient appliances are slowly becoming a must-have as they drive down monthly utility bills and are good for the environment. If your current appliances aren't already energy-efficient, it may be time to upgrade. Not sure? Look for models with the ENERGY STAR label, which indicates that they meet strict energy efficiency guidelines. Some of the biggest brands, from Samsung to GE and LG Electronics offer a wide array of appliances, including refrigerators, dishwashers, ovens, and ranges.

Appliances and the Aesthetic of Your Kitchen
An important question to consider is what style are you trying to achieve with your new kitchen? If you're looking for a more traditional setting, current appliances may not play that big of a role in achieving that. Alternatively, if you're looking to go for a modern design, appliances can make or break that aesthetic. Here's some ways appliances can affect the design of your kitchen:
Style and Finish

: Looking for a cohesive feel throughout your kitchen? Matching the finish of your appliances to the décor of your kitchen can be an important step. New appliances come in a wide variety of finishes, from stainless steel to black stainless steel to matte black and more. With hardware and accessories such as cabinet knobs and pulls becoming the undisputed jewelry of the kitchen, finding creative ways to compliment sleek colors can tie your living space together.

Modern Design: New appliances offer a sophisticated and clean look that is especially important in smaller kitchens where you don't have as much space to move around, serving not only a functional but design-forward purpose. Older appliances may feel like they get in the way or stick out in an otherwise modern-feeling kitchen.
Cohesiveness Through Matching Sets: To match or not to match? New appliances may present quite an investment especially when considering them from an aesthetic mindset. Matching your appliances, in terms of getting a set or making sure they all share the same finish, ensures a cohesive look as well as making your design choices feel purposeful and effective.
Smart Features: New appliances offer a wide array of new, smart features that not only make your time in the kitchen easier but offer a modern feel. From app connectivity to voice control, new appliances are sure to turn heads.
When designing your kitchen, considering these factors will make your decision to buy easier and free up your time to focus on other elements of your remodel!
Who Installs My Appliances?
An often-overlooked question that may cause confusion if not addressed is who is responsible for installing new appliances? Most contractors will state that it's not their responsibility and this responsibility would fall on the homeowner. Depending on where you order your appliances from, make sure to discuss with them your options for installation and coordinate with any project manager overseeing your kitchen remodel to check for possible overlapping in your project to ensure less friction for your timeline.
What's Best for Your Remodel?
Whether you decide to keep your current appliances or opt for new, I hope breaking down these major factors and considerations have helped to make your decision process easier. And remember, no two kitchens are exactly alike and choosing what not only works best for your budget, but your design goals will ultimately be the best option for you.