Do you like home improvement projects? And getting caught in design galore? In 1979, Rupert Holmes released his hit single, "The Pina Colada Song" which told the story of two people who grew apart but found their way back to each other. All they needed to do was reignite the spark that drew them to each other initially. Where am I going with this? Consider your kitchen for a moment. Consider all the history and all the memories you've shared with loved ones over the years. What initially drew you to this space is still there; it might just be hidden behind the worn history you've made in the space. Wear and tear are common. Maybe all your kitchen needs is a little TLC.
But how can you take what you already have and transform it? How do you get back what you feel might already be lost?
Today, we'll take a look at some services we offer here at Kitchen Magic that can transform your space. Whether you're looking to fall in love with your cabinetry again, or not, this is your first stop to learn what some of your potential options are and whether or not that spark is truly gone.
In the spirit of our friend Rupert Holmes, let's begin by talking about your best option when it comes to finding what was always there: the good bones of your kitchen. While daily wear and tear can bring what appears to be complete havoc to your kitchen, hidden behind stains, scratches, and other assorted mayhem can be durable cabinetry that has withstood everything you've thrown at your living space. Just like the saying "don't judge a book by its cover", don't judge a kitchen space by its rough exterior. Instead, take a closer look. Lack of water damage, and a strong, well-maintained structural integrity are your initial qualifiers for cabinet refacing. Refacing is your pina colada. Get caught in the rain...with a budget friendly, stress-free kitchen remodeling solution.
Curious what refacing is? Let's break it down:
Cabinet doors and drawer fronts are removed.

The cabinet frames are sanded down to a fresh wood surface.

Laminate (and in some cases a ¼" luan plywood subsurface) is applied.

New accessories, trim, doors and drawer fronts are installed.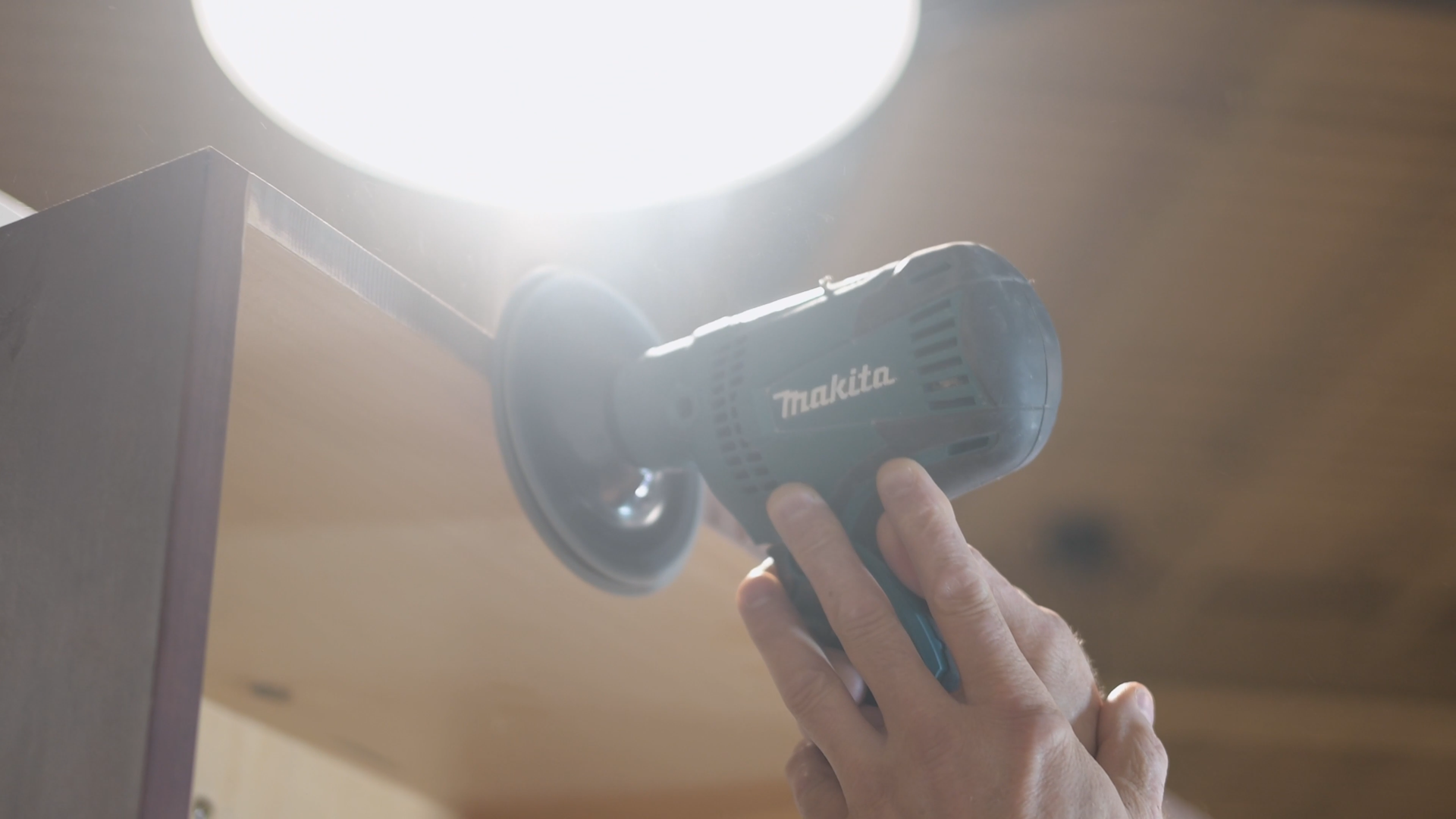 Cabinet refacing is like a facelift, but for your kitchen. It's all about taking the most vital pieces of your kitchen and revitalizing them to either their former glory or completely transforming them into something new.
While there are many myths and misconceptions surrounding refacing, utilizing a trusted and well-established company that's well-versed in refacing means a job that will last your living space a lifetime. Refacing offers you a cost-effective option compared to all-new cabinetry and a timeline that can have craftsmen in and out of your home in less than a week. For homeowners on the go who don't want to deal with the disruption of a full remodel, refacing can be your answer.
However, sometimes the current cabinetry layout may not qualify for refacing due to cabinet quality, damage, deterioration or a strong preference to completely change the cabinet configuration. Some homeowners are simply set on new cabinetry over alternative remodeling solutions. So if refacing is a song about reconnecting with your lost love, then new cabinetry can be considered an empowering break-up song where you move on to something better and away from a situation that you were unhappy with.
You may wonder, what are you truly getting into when choosing new cabinetry? New cabinetry comes with a higher price tag than straight refacing, but other than cost, it is a new frontier filled with many choices, levels of quality and customization available. Let's cover some basics.
A Fresh and Stylish Look: Choosing to go with all-new cabinetry in your kitchen remodel is the opportunity to start from scratch. Outdated or worn cabinets can make your kitchen feel uninspiring and less of a reflection of yourself. New cabinets can transform the entire aesthetic of your kitchen. Opting for new cabinetry allows you to fully realize your vision for a completely new living space.
Improved Functionality: Maybe your current kitchen layout just isn't cutting it. Is cooking feeling more like a chore than a fun, rewarding experience? With all-new cabinetry, you're able to incorporate any and all elements that can make your life in the kitchen easier from pull-out drawers, Lazy Susans, built-in spice racks, and other space-saving solutions that improve your day-to-day life.
Enhanced Organization: Organization can be a constant struggle for homeowners. New cabinetry offers an opportunity to better organize your kitchen. You can install adjustable shelves, dividers, and pull-out trays, making it easier to keep your kitchen clutter-free and well-organized. Everything in your kitchen will have a home, making your next meal prep a breeze.
Customization: For homeowners who are truly sold on working from the ground-up, all-new cabinetry gives you the freedom to customize every detail, from the type of wood of wood to the finish to the hardware and layout.
Increased Storage Space: Are you caught in the battle for more space? New cabinetry can provide you with the additional storage you might be missing in your current layout. From large pantry cabinets to deep drawers for pots and pans, the options are endless.
At Kitchen Magic, we're proud to manufacture two cabinetry lines right here in Nazareth, Pennsylvania: Classic and Barwen.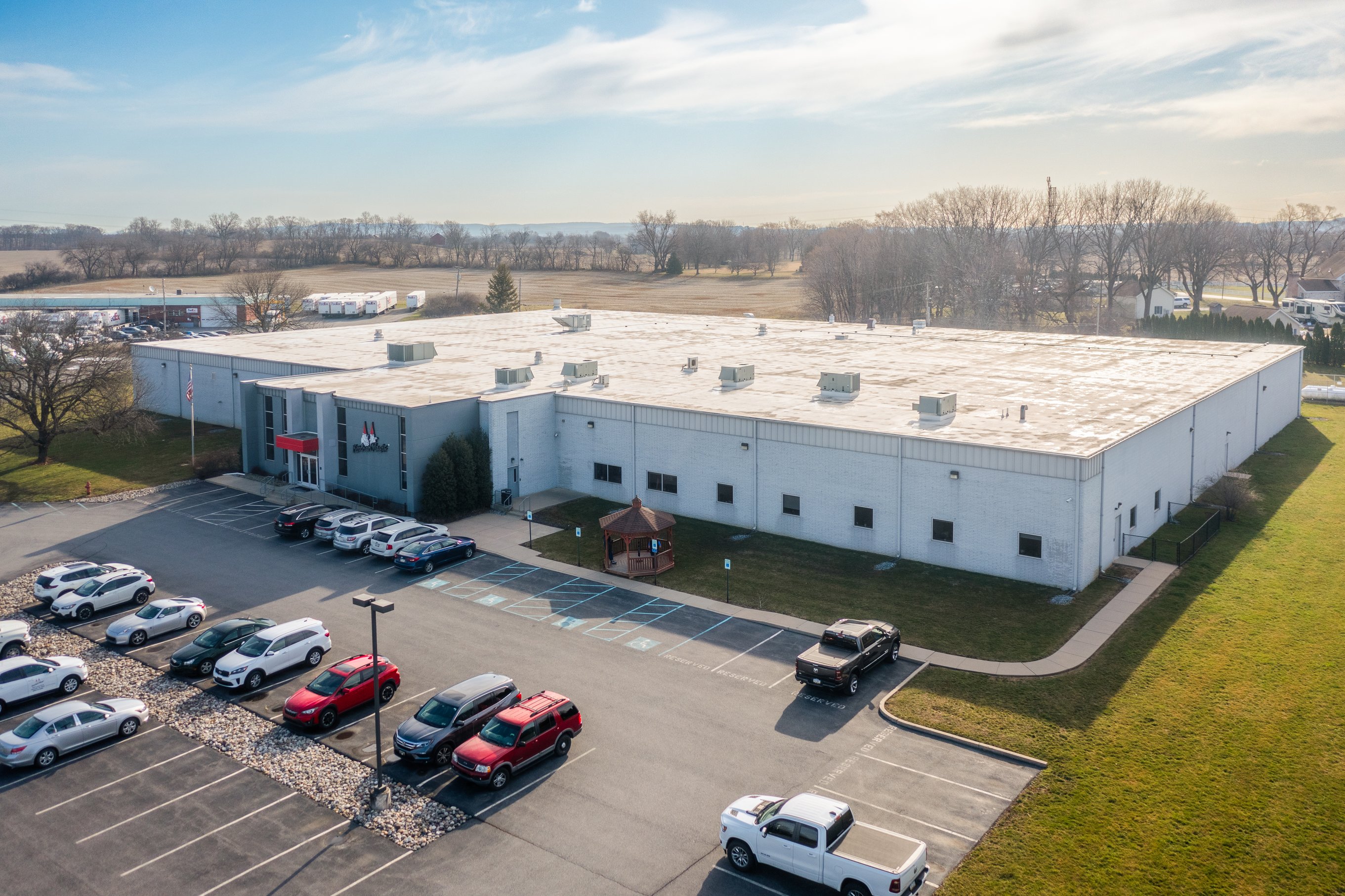 By explaining their history, manufacturing process, and various options, we hope you gain a deeper understanding of what you're truly getting when choosing all-new Kitchen Magic cabinetry.
Our classic line of cabinetry was developed 20 years ago in response to the changing wants and needs of homeowners. Our ¾" birch ply Classic line was initially launched at a time when we realized we needed to say 'yes' to varying needs of customers, particularly those with 'hybrid' projects. Hybrid projects entail a mix of refacing and replacement cabinetry. Essentially in these cases we are refacing some cabinetry and replacing some cabinetry. This option meant homeowners could still have the kitchen of their dreams affordably OR opt for a complete tear out and all new cabinetry.
Classic cabinetry, like our Barwen line, is manufactured right in our plant in Nazareth, Pennsylvania, using all-North American birch plywood. This top-notch cabinetry line is constructed using 3/4" tops and sides and a 1/2" back panel, mechanically fastened. This plywood is covered in a UV coating which ensures a clean-looking sheen and offers an extra layer of protection to the interior of the cabinet for daily wear and tear. Lastly, any exposed exterior surfaces are covered with the appropriate laminate to match the new doors and drawer fronts.
What sets us apart? Most other companies will use a 5/8" product to save on product costs but this may mean the risk of warpage in the future. 3/4" is our standard for our Classic line which means a higher strength, durability, and quality; cabinetry meant to last you a lifetime. And while this may result in heavier cabinetry, it makes for easier installation and holds your cabinetry together better.
With Classic, if you can dream it, we can do it. This particular cabinetry line was created with the homeowner in mind, first and foremost. As this line is locally manufactured, this means that we're able to tailor custom cabinetry to all your needs. Lead times can be as quick as four weeks from the time an order is placed. Installation can be completed in as little as three to five days.
If Classic still isn't your style, manifest something new and exciting with our Barwen line of cabinetry. Developed in response to an evolving market, five years ago we set out to offer homeowners new cabinetry at a price range more in step with our refacing services. But what are the differences?
Barwen is an engineered product, meaning the cabinetry is constructed from a high-quality, 3/4" furniture-grade board core with a melamine coating, which operates similarly to Classic's UV coating.
Barwen involves a doweled construction, which means boring holes into the sides of the cabinetry and shelving, inserting dowels into the holes and using a specialty cabinet adhesive to bond the doweled pieces together.
And in a world where sustainability is a growing issue, you might be curious or even concerned about what new cabinetry means for the environment and the impact you will make with your decision? Both of our cabinetry lines are developed and manufactured with this in mind.
Classic is a plywood from North America, taken from forests that are purposefully grown for the purpose of the product, which means that for every tree that goes towards developing your beautiful kitchen, one is planted and replenished in its place. It's also worth noting that the plywood we use in manufactured with no formaldehyde added adhesives and the laminates used for any plywood as necessary is Green-Certified.
However, in a competition for sustainability, refacing wins every time. Remember, with refacing, you prevent your existing cabinetry from ever hitting a landfill at all.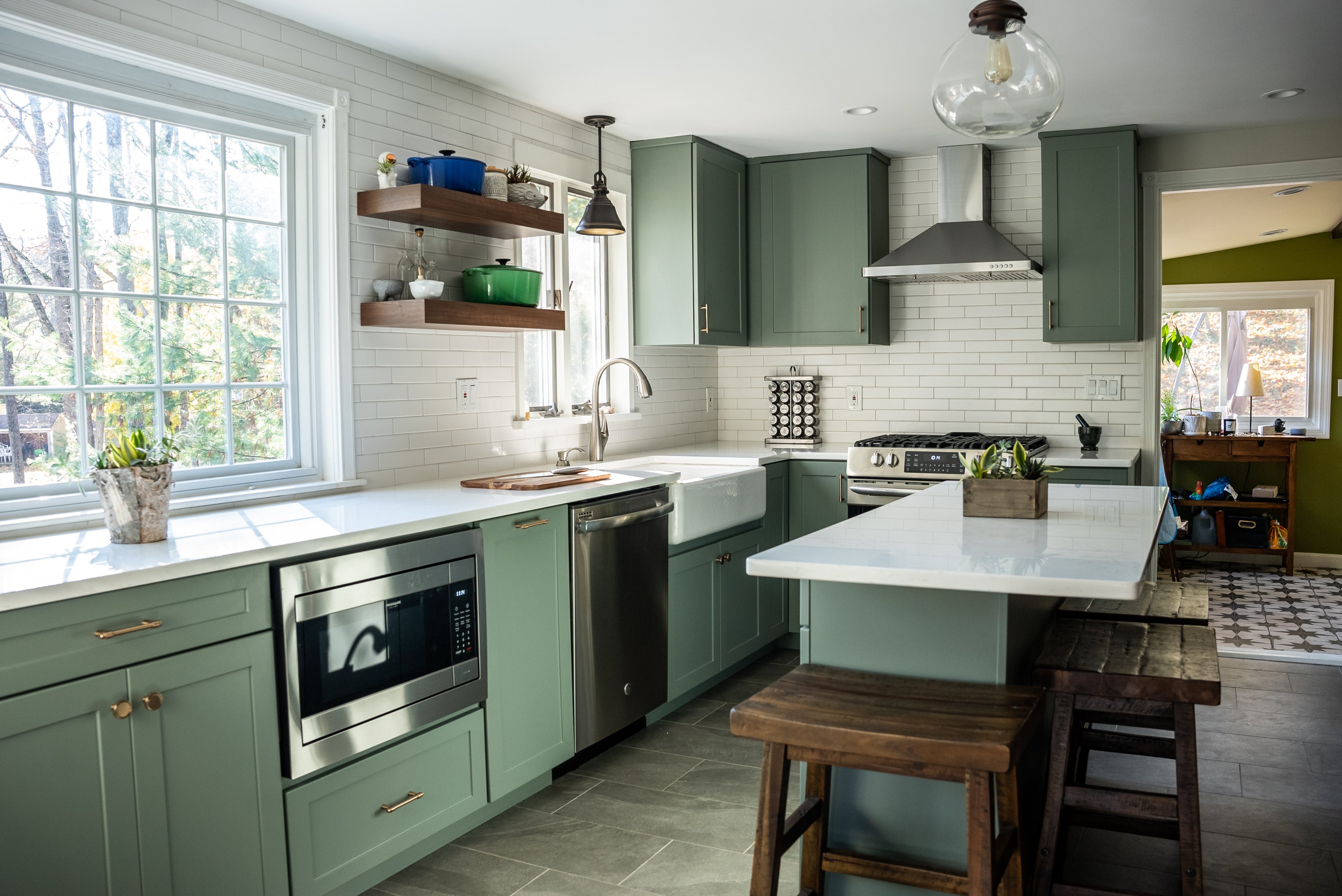 Looking to the future, Kitchen Magic continues to expand its colors and styles for both new cabinetry and refacing, staying ahead of trend and making the decision easier: will you reignite the spark of your old kitchen with refacing or explore new options?
As kitchen remodeling experts, we are always innovating to offer homeowners more customizability and options for their next home improvement project.
For example, our Barwen cabinetry is ideal for laundry rooms, home offices, and or cabinetry for additional storage anywhere in the home, offering homeowners more space and endless possibilities.
Interested in learning how Kitchen Magic can help you get the kitchen of your dreams? Give us a call at 800.272.5490 to request your free design consultation today!