Typically, when we talk about must-have features for your kitchen, we're talking about the bigger ticket items like wine storage, built-in coffee bars and other high-falutin' appliances. However, there are smaller-ticket items to have in your kitchen that are equally fun, stylish, convenient or all-of-the-above.
Take a break from the heavier selections like countertops and cabinets and enjoy a lighthearted foray though our kitchen drawers and pantry. You may even find a few items to add to this year's holiday gift list as many of them are completely affordable.
1. A Kitchen Scale
Holy cow, will you hurry up and buy one of these already? Instead of Googling, "How many potatoes are in 32 ounces?" you can just start chopping, throw them on your new kitchen scale and find out for yourself. We recommend looking for a nutritional scale that has additional bells and whistles - like calorie counters - that can help you keep on task with those upcoming New Year's Resolutions...
2. Colored Kitchen Knife Block
Tired of the big chunk of wood with knife handles in the corner? Modern and contemporary kitchen designs will benefit from this colorful kitchen knife block with a see-through holder.
3. Tongs with nylon heads
We love lockable tongs for everything from flipping those pork chops to placing freshly braised greens right on the plate. Look for tongs with nylon heads to protect your non-stick pans.
4. Pineapple corer
We appreciate your valiant efforts at carefully removing the exterior of your pineapples and slicing them into neat rings. The problem is, it rarely works and it's a pain in the tuckus. Instead, use a stainless steel pineapple corer. Way better, no?
5. A mandolin
Nope, not the bluegrass instrument. This handy, dandy slicer may look unnecessary but once you use it, you'll be hooked. Look for affordable versions that are wide enough to slice a big potato or half a butternut squash comfortably.
6. Nesting stuff
Space efficiency is key in most kitchens so the more gadgets that nest, the better. This Joseph Joseph Nest 9 Plus takes it to the next level, nesting bowls and measuring cups together. Plus, they'll match your colorful knife set.
7. Built-in strainer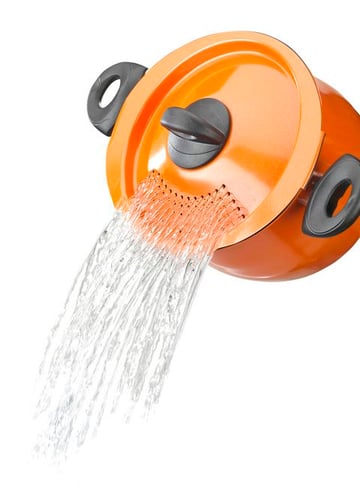 Get at least one pot with a built-in lid strainer. Great for boiled veggies, pasta, potatoes and more, it saves you an additional dish to wash.
8. To-go espresso
This is great for the coffee snobs at your house and on your gift list; the Espresso on the go ensures you'll never be caught without an espresso when you need it most.
9. Professional-worthy cake decorating tools.
Admit it. Your family's birthday cake messages look like they were written by a first-grader. The good news is - it's not your fault! Invest in better decorating tools and your efforts will be rewarded.
10. Condiment guns
Give your party, BBQ and game night guests a fun time by laying out the condiment guns. Just don't blame us if they start a food fight.