From the minute we saw Ryan Atwood on our screens, we fell in love with his rough exterior, accompanied by a sweet, scared young man without a path of his own to follow. Enter the Cohen family, led by Ryan's public defender, Sandy Cohen accompanied by his sweet wife Kirsten and spunky son Seth. They are a one-of-a-kind bunch, living among the filthy rich in Orange County, California. One of the most shell shocking parts of watching the show for the first time is the grandiose size of the home that the Cohen family lives in. And Ryan was just as floored as we were the moment we saw it.
Throughout the years, we spent a lot of time getting to know the Cohen family, watching them welcome Ryan into not only their home, but their entire dynamic. Many of their most important storylines unfold in this massive L-shaped kitchen. It's exactly what you'd expect from a California kitchen in the early 2000s. So, let's get into it!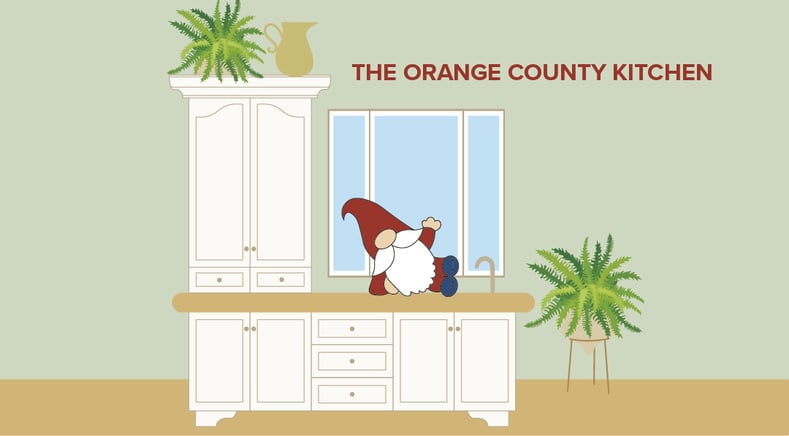 For starters, the vaulted ceiling steals the show, allowing for a bright and airy space paired with recessed lighting and a remarkable cast iron chandelier. California homes are known to offer an indoor-outdoor living experience. With weather like that, who wouldn't want to bring sunshine and 75 inside!
One of our favorite parts of this kitchen is the mismatched countertop colors. They are complementary, but unique in their own right. With the same edging, they tie the look together while also giving this kitchen some much needed dimension. The lighter shades throughout the space are broken up by this beautiful slate slab on the island.
At Kitchen Magic, we love to offer glass-front cabinets to our customers, and this kitchen shows the perfect use for them. Just like in any home, the Cohens have used this transparent space to display their fine China and glassware, making the tv kitchen feel even more like a real home.
This iconic tv kitchen also offers a glimpse of the outdoors with a sliding glass door to overlook the pool and guest house that becomes Ryan's very own escape from his old life in Chino.
Let's not skip over the early 2000s trend that was decorative molding and corbels.
Like many of us, watching the Cohen's adopt Ryan into their family was an emotional journey, but one that has stuck with viewers of The OC since its debut back in 2003. From the first time he entered their home, to the last watching the OC cast years after the devastating quake, as adults with lives of their own, we all fell in love with the characters and the stories that we watched unfold right in the center of the Cohen's Southern California kitchen.