Pheebs, Joe, Mon, Rach, Chanandler Bong, and... two divorces? You know them, you love them, and WE love their apartments!
In 1994, our worlds would change forever when we met the most iconic group of 6 friends that ever was. Along with their bright and charismatic personalities, we're forgetting to mention one crucial part of the show... Rachel and Monica's kitchen. It may not have been everyone's cup of tea, but for many of us, this purple, yellow, and green kitchen will live in infamy for decades to come... I mean, it's already lived through two.
Let's break down some of our favorite details of one of television's most iconic kitchens!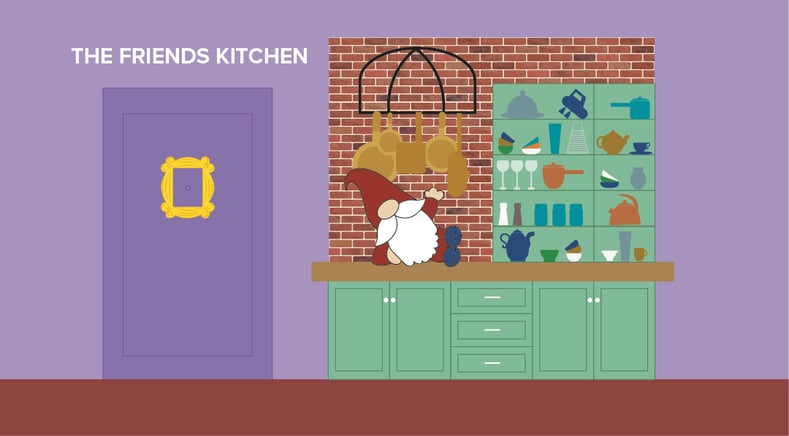 The One with All the Details
One of our all-time favorite tidbits of the Friends kitchen is the mismatched table and chairs. There is a certain level of authenticity when it comes to a 20-something finding a table and some random chairs to make their first apartment a place to call home and creating a spot for their friends to gather.
And let's not forget, Monica is a chef, and what's a chef without a gas range stove and easily accessible pots and pans?! There isn't much room for food prep in this space, though... the less room for Rachel to whip up a Thanksgiving Trifle, the better.
Attention to detail on this set is one of the things that makes this sitcom so unique and relatable, like the things you'd find on a fridge in any apartment or home, including cute magnets, notes, and sometimes photos of the gang.
In an old NYC apartment building, OF COURSE you'd expect to see a charming glimpse of exposed brick, giving the girls shared home even more character to match its lively inhabitants. We can't help but fall in love with this quirky kitchen!
The One with All the Memories
Whether you were a dedicated watcher of Friends or not, you can book it, you'd probably be able to spot this kitchen in a lineup. From the very beginning, when Monica welcomes Rachel the runaway bride into her home, to the guys challenging the girls to poker, Phoebe's famous "See, he's her lobster" line when Ross and Rachel share a pivotal kiss, all 10 Thanksgiving dinners, Chandler and Joey temporarily moving in after winning a "friendly" game of trivia, all the way to the crew all leaving their keys behind in the series finale (with an embarrassing amount of tears from all of us), this iconic and unique kitchen housed a plethora of memories both for the cast, and for its dedicated followers for a whole decade.
As a pillar of the 90s sitcom era, this show and its special sets will be celebrated for decades to come. Friends has been a phenomenon for the last 20 years, and we'll never forget this dynamic cast we all watched grow up in Monica and Rachel's kitchen.