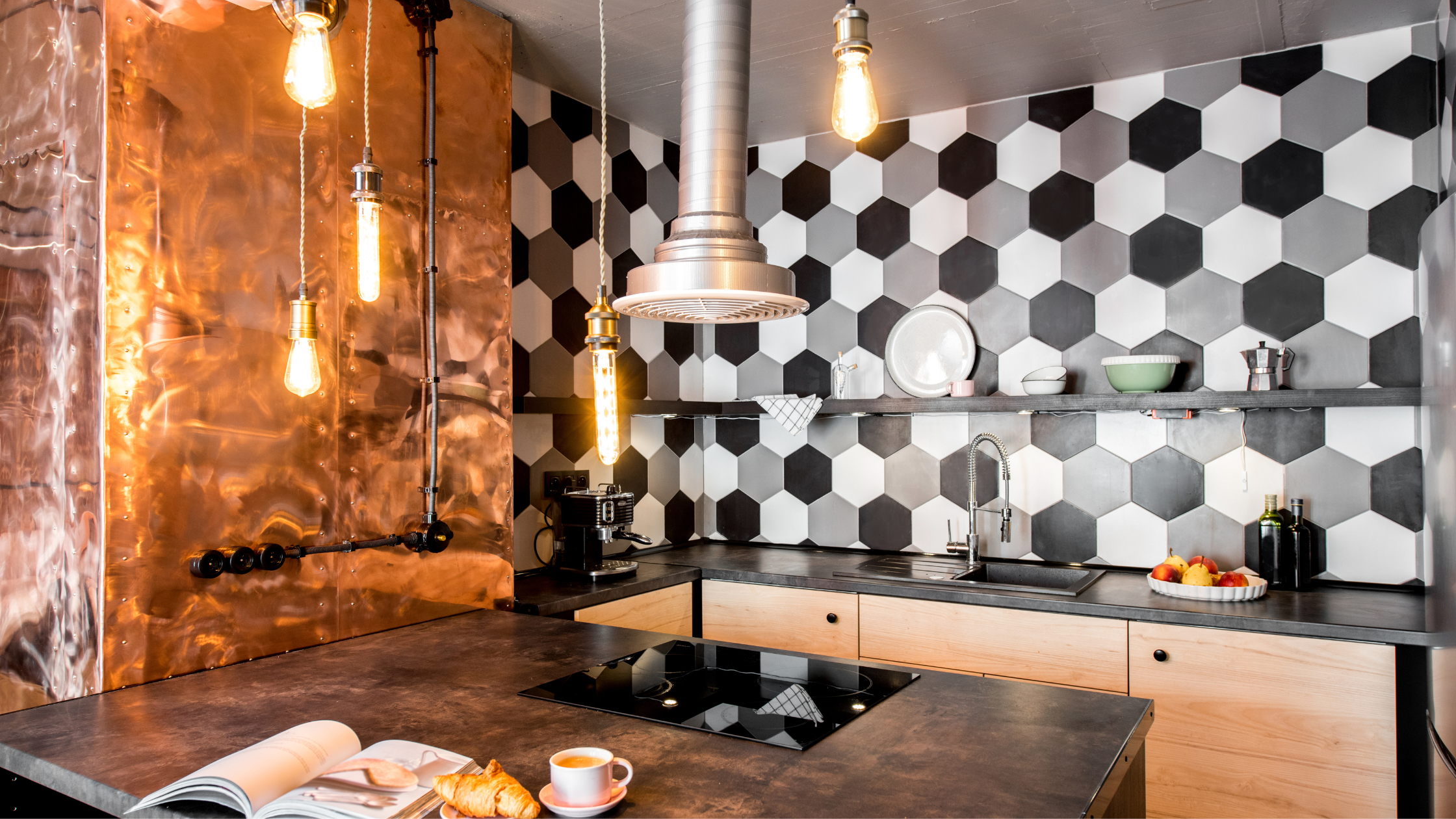 With a wide array of kitchen styles to choose from, it's completely normal as a homeowner to feel overwhelmed when trying to narrow down what style is perfect for you. What will be the best reflection of your personal wants and needs? And while we can't cover each and every style in one single article, let's make your search a little bit easier by covering one of the more popular kitchen design styles that shows no sign of losing its edge in current design trends. We're here to talk about the raw, gritty, edgy, and utilitarian aesthetic that is industrial. With its modern influence, industrial is a flexible style that brings together cool and calculated materials in an effort to elevate the kitchen space into an elegant living space.
What comes to your mind when you think "industrial"? Some might think about sprawling warehouses, factories that are a bit rough around the edges, or some might think about rustic and aged brick, old enough that if walls could talk, they'd have one hell of a story. And you wouldn't be too far off. Industrial style design gets its influence from exposed walls, open ceilings with visible pipes and ductwork, and a focus on rugged, functional materials that you would find in any factory or warehouse. Industrial is all about delivering homeowners a space that feels functional and efficient, much like the most efficient assembly line, while also delivering a reminiscent and contemplative space.
Interested in what you could expect to see in an industrial style kitchen? Here's some key characteristics:
From Rags to Riches: Raw and unprocessed materials are the name of the game with industrial style design. This is where you can get creative with material selection as the more unconventional you go; you might just find that diamond in the rough. Reclaimed wood, brick, concrete, and stainless steel all build towards this aesthetic, offering that rugged, rustic feel while giving you durability and easy maintenance.

Open up: Industrial style design puts functionality at the forefront. Because of this, you'll find open shelving a staple, allowing you as a homeowner to have easy access to the most important cookware items such as blenders and mixers, dishes, and utensils. Consider utilizing materials such as metal or wood with a distressed finish.
Metal: Metal is a versatile material to use in one's kitchen and it's one of the highlights of industrial design. Metals such as stainless steel, iron, and aluminum are great options to include in your remodel. Often used as accents for appliances, cabinet hardware, or countertops, the opportunities are almost endless to bring this material forward in your next home project.

Exposed Elements: A major characteristic of industrial design is bringing forward elements that would normally be concealed in more traditional styles. This means showcasing unconventional elements such as exposed brick walls, ductwork, and pipes to add to that authentic, industrial feel. And no need to worry, if you're sold on this characteristic, it's possible to add faux versions to your remodel such as decorative metal ductwork.

For the Minimalist: Industrial style design isn't particularly flashy. It thrives in a neutral space that's peacefully monochromatic. By introducing neutral color schemes like shades of gray, black, and white, you can create a clean, modern backdrop that allows your other rugged, rustic materials and accents to come to the forefront of your remodel.

Lighting: Consider pendant lights with metal accents, Edison bulbs, and track lighting as these fixtures not only build towards the industrial style you might be going for, but they also contribute to the ambiance and ample lighting for all your functional tasks.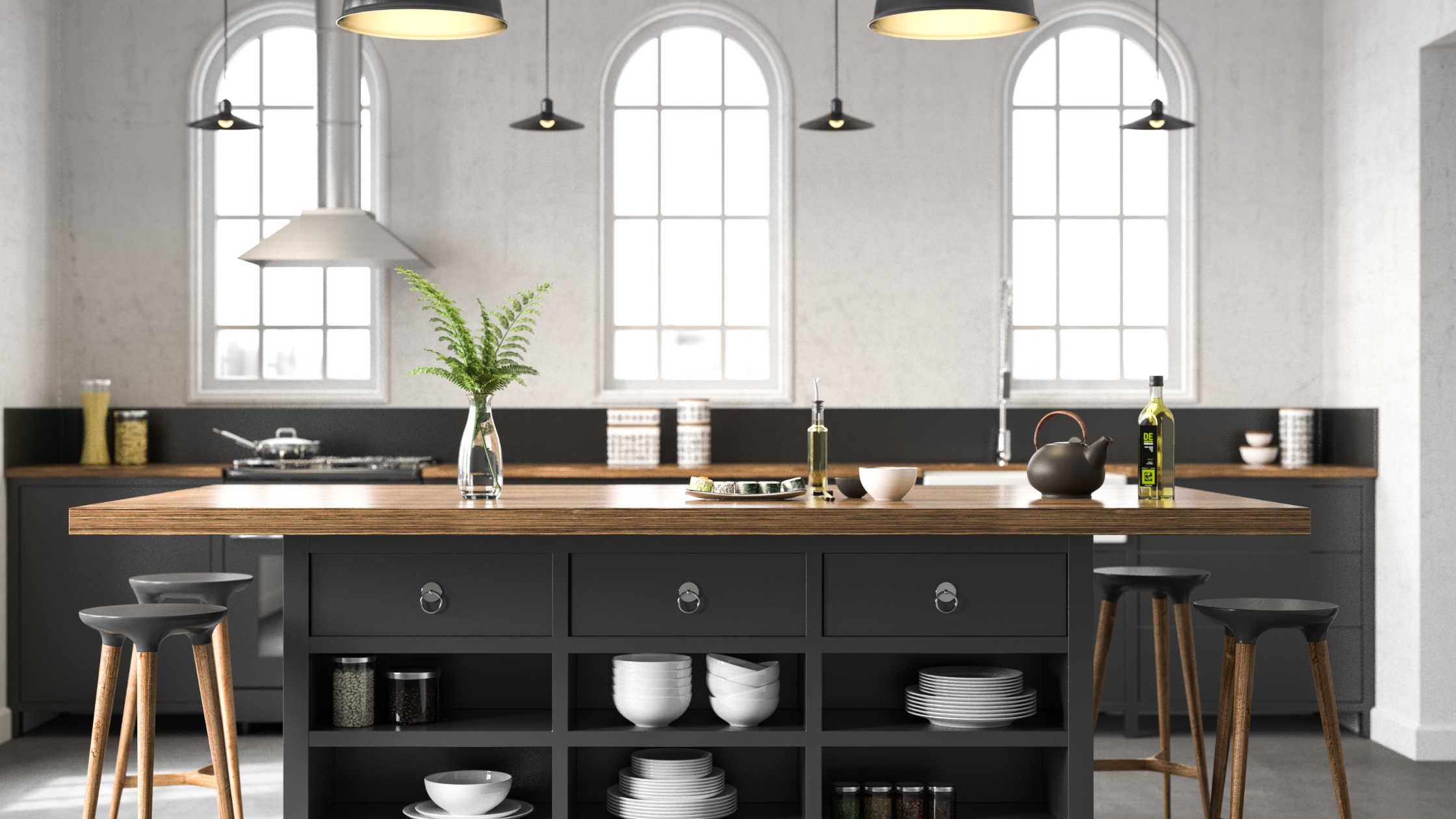 While we've covered a lot of the highlighted characteristics for industrial style kitchens, you might be curious about some design considerations if going in this direction for your next remodel. Firstly, when it comes to layout, try and opt for an open floor plan. Open spaces allow for seamless flow, more functionality, and allow for that authentic industrial feel to thrive.
In terms of specific elements, we can break this down even further. Appliances that include any level of stainless steel offer a utilitarian appearance that will complement your overall design. Cabinetry should be flat-fronted and mesh well with the aesthetic when they have a matte or distressed finish that plays up a rustic feel. For countertops, consider concrete, butchers block, or stainless steel. A personal favorite that contributes to more functionalities would be butchers block as it allows for meal prep directly on the countertop. But some may stray away from the more tedious upkeep and maintenance and will find a wide array of countertop options will work with this style. Complimenting your countertop, concrete flooring is as authentic as it gets, leaving a backdrop to allow something as classic as a white subway tile backsplash to really pop among other metal accents.
For homeowners who are looking to embark on a journey into contemporary flair for their next remodel, industrial style design is the perfect option. With a blend of unconventional materials, you can create a space that is equal parts modern, minimalistic, and relaxing. But above all, industrial design puts functionality into your hands to handle even the most grueling tasks you throw at it.