The finish that's applied to your kitchen cabinets can make all the difference in your cabinet's look, feel and durability. Adding a particular finish to your newly remodeled or refaced cabinets can bring a richer color, a smoother touch and an extra layer of protection to your wooden doors and drawers. But not all finishes and topcoats are made equal, so today's blog will give you the finishing touch breakdown on cabinetry finishes.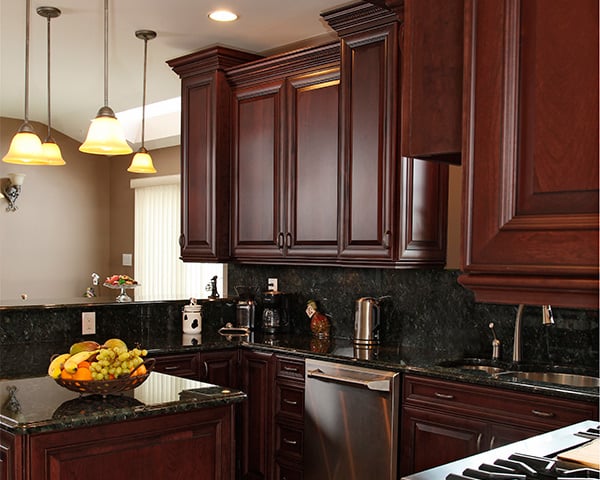 Topcoats
A topcoat is a final coat, applied during the last stages of creation, to the wood cabinets simply to ensure durability. Smaller, custom cabinet designers may apply a coat of lacquer or urethane as the topcoat; while larger factory finishes provide a baked-on finish known as a 'catalytic conversion varnish.' Topcoats are designed to protect the wood cabinets from daily kitchen wear and tear, and are easy to clean and care for.
Natural Finish
A natural finish is simply the wood cabinet exterior with a topcoat applied. This means that no toners, stains or paints will be applied to the cabinets. Just a protective topcoat is added to protect the natural wooden cabinets. Natural wood offers a rustic style, but inconsistencies in the grain may show. If you prefer the look of natural wood, but would like to smooth out some of the natural streaks, a light stain may be a wise choice.
Stained Finish
Stains are applied to the wooden cabinets after the topcoat has dried. The cabinet designer applies the stain uniformly, wiping off any excess, until he has reached the desired color saturation. Stain options can range from opaque to almost transparent, and colors can range from light maple to dark cherry. Remember: different types of wood stain differently, so be sure to speak with your kitchen design expert to ensure that you get your desired stain color.
Painted Finish
Painted finishes are most commonly used for white or off-white kitchen cabinets. Usually, painted finishes are applied to lighter-colored wood, like birch, maple and oak. Painted finishes are great for country inspired designs and antique white styles. If you're considering painted finishes, keep in mind that wood cabinets expand and contract due to changes in weather, which can create small cracks in your finish.
Glazed Finish
Glazes are added to the primary finish on wood cabinets and are great for adding accent colors or highlighting details in the wood. A wet glaze is applied when the primary finish or topcoat is still wet, and is mixed with the stain to bring about a new colored finish. A dry glaze is applied after the primary stain has dried, and is a separate layer on top of the primary stain or topcoat. Be sure to ask your kitchen craftsman about his application techniques, because the way the glaze is applied affects the overall style of your cabinets.