If you've read our blog article, "Kitchen Lighting and Why it Matters to You," then you already know how important lighting is in your kitchen. From task lighting underneath your cabinets to help you prepare the next meal, or accent lighting that slightly brings some brightness to the whole room, lighting is imperative when it comes to actually using your kitchen. But lighting is also an important design element, and can really add to the style of your kitchen. In today's blog, I'll show you five different types of kitchen lighting, and the kitchen styles each one evokes.
Traditional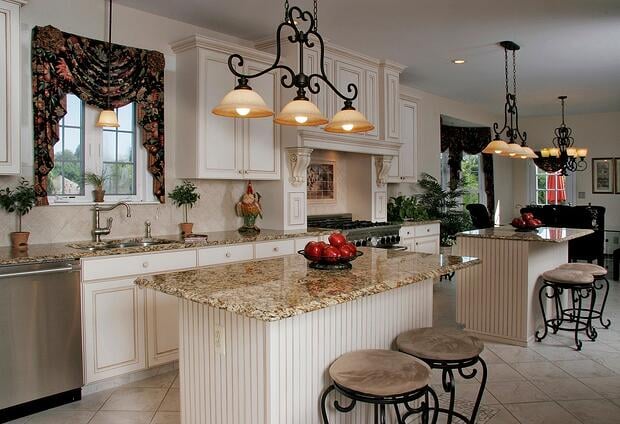 Traditional kitchen design is all about the details—corbels, wainscoting and, you guessed it, lighting. Lighting in a traditional kitchen sticks to the neutral color palate that's present in a traditional kitchen design, but has special details or elaborate designs added into the fixture. For instance, the lighting in this kitchen mimics the elaborate details in the kitchen's corbels with smooth curves and romantic designs.
Craftsman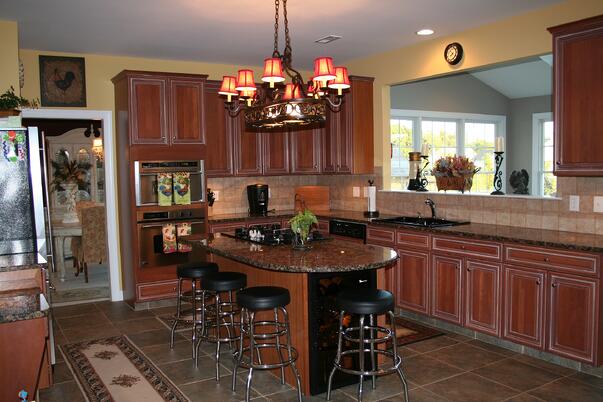 Craftsman kitchen design features darker, natural kitchen elements with a handmade touch. The same can be said for a craftsman style lighting fixture. This lighting fixture instantly brings the eye into the center of the room, and uses dark brown and red to enhance the rich colors in the kitchen. The candle-style chandelier equipped with lampshades give a homemade touch to this wrought-iron centerpiece.
Contemporary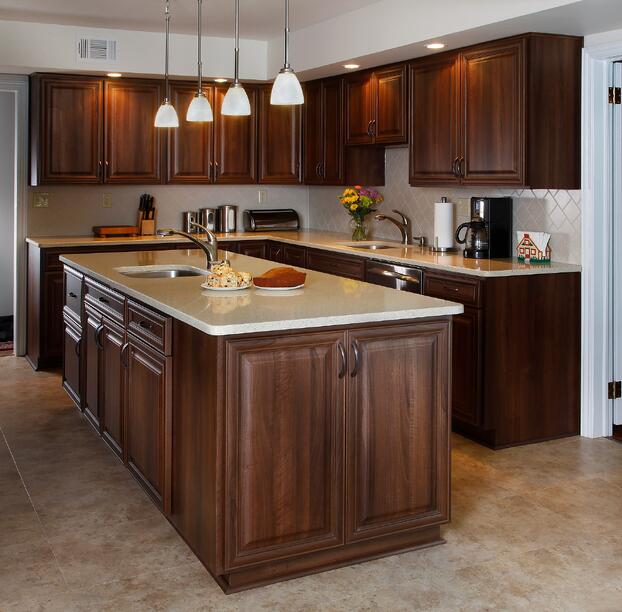 Contemporary, like modern kitchen design, is all about simplicity and efficiency. These four stainless steel drop-down lighting fixtures are simple and efficient. The frosted glass lighting canisters properly light the kitchen island, without adding too much fluff to the kitchen's simple design.
Farmhouse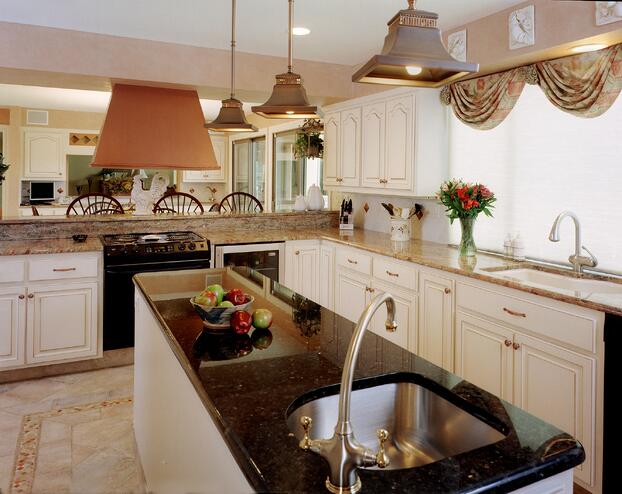 Farmhouse kitchen design is meant to be open and inviting. The large lighting fixtures displayed in this farmhouse kitchen have a warm brushed metal color, but offer little light to the kitchen overall. This is because farmhouse kitchens feed off of natural light, so before you pick your farmhouse lighting features, make sure you have task lighting for your cooking needs.
Rustic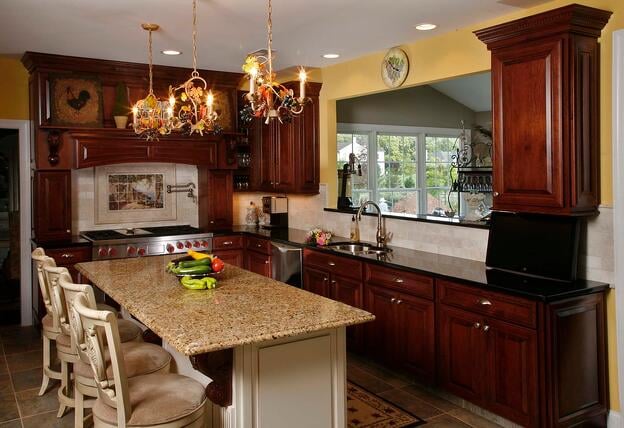 Rustic kitchen designs feature cozy materials with vintage flare. While this kitchen does not particularly have a rustic style, the three-piece chandelier over the island features rustic elements. The rose gold color of the candle-style fixture and the simple addition of the wire leaves offset the light and neutral colors in the island. Rustic lighting features, like craftsman, are enhanced with handmade touches.
Kitchen lighting fixtures can add enormous aesthetic appeal to the rest of your kitchen's design, and should always be something you think about as you plan your kitchen remodel.