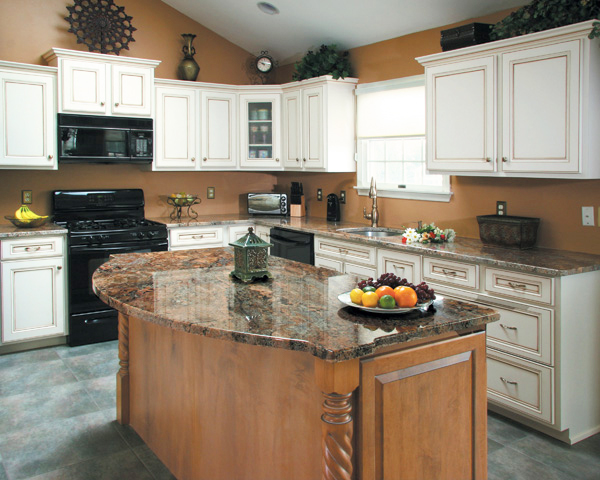 Q:
I'm thinking of redoing my kitchen, but I'm confused about the various choices of countertop I see in stores and magazines. They all claim to be the best…which one IS?
--Arlene T.
Port Washington, NY
A:
It depends on what you mean by best. If you mean "the one that will do the best job functioning as a countertop" then you have a number of choices, all about equal depending on your needs.
Granite Countertops
Right now the most popular choice with designers and magazine editors is real stone such as granite. Granite, while having a terrific appearance, has a number of drawbacks as countertop material. It is one of the more brittle stomes, and can crack under stress. It is naturally porous. Liquid will pass through and may lead to mold on the underside. Granite countertops are sealed with chemicals when they are installed, but they must be resealed regularly, at least once per year. There has also been some speculation about the potential for granite to release radon emissions into your home.
Quartz Countertops
There are other countertop materials that can give you the great look of granite or marble while being easier to care for and safer. Quartz materials such as Zodiaq, Silestone, which has a special antimicrobial coating, or Cambria all offer the great looks of stone in a kitchen or bath setting. All of these are non-porous and specially engineered to stand up to everyday use. They will give you an attractive and easy to care for countertop that is economical.
Corian Countertops
Solid Surface Corian is a blend of natural minerals and pure acrylic resin combined to create an elegant non-porous surface. Unlike stone countertops, Corian is warm and smooth to the touch and might especially appeal to individuals with sensitivites to cold surfaces. Though it may lack the sheen of natural stone, Corian's more than 100 color and style selections will likely offer a desirable countertop design for every homeowner. Corian is best known for its unique renawablity; nicks and scratches can be easily sanded or buffed, restoring its original beauty. For these reasons, Corian is the ideal countertop choice for busy homes and households with children.
Call us today at 1-855-573-3223 for free advice on how we can give you the look of stone while providing clean-up convenience and long term safety. You'll be glad you did.