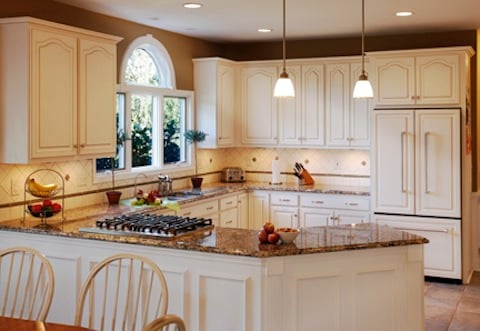 Q. I am interested in doing my kitchen, but am unsure as to how long my home will be torn up? How long do kitchen renovations usually take?
--Jane T.
Scotch Plains, NJ
Kitchen Renovation Planning
A: The length of time for your kitchen renovation will depend on the scope of the job, but generally for standard kitchen refacing, you can expect to be back in your kitchen within three to five days. All new cabinetry or an extensive kitchen remodel can take longer.
You will want to plan to dine out or eat take-out during that time, and have bottled water on hand. Paper plates and disposable utensils are also a good idea, as you may not be able to wash dishes as easily until your kitchen renovation is finished.
For safety reasons, make sure that pets and kids are kept out of the work area during your kitchen renovation. The workmen will be too busy to keep an eye on them.
Give us a call today at 1-855-573-3223. We'll be happy to arrange a free in-home consultation and show you how affordable a new kitchen renovation can be.