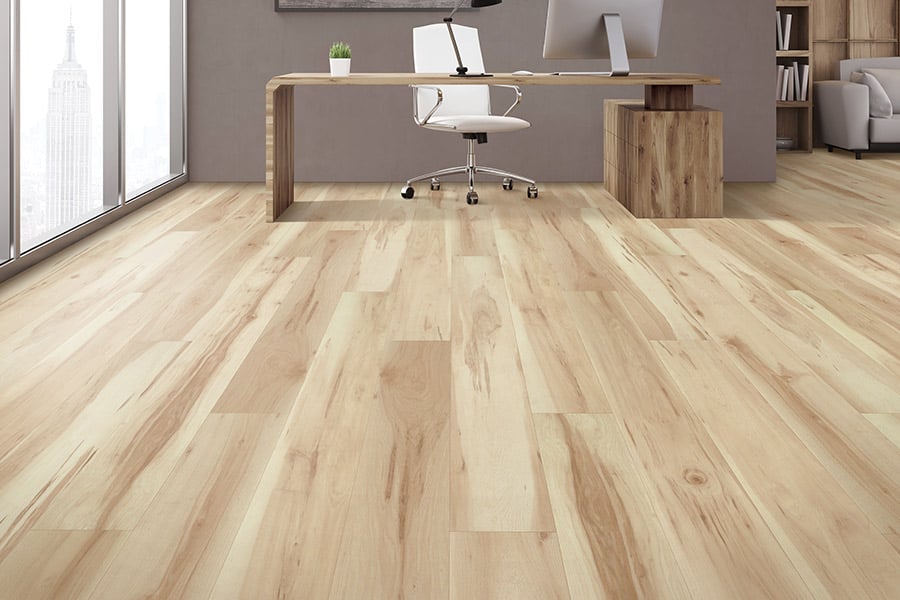 Are you ready to be 'floored' by your next remodel?
While elements like your cabinetry, countertops, backsplash, and accessories are important to elevating the aesthetic integrity of your kitchen, there's an often-overlooked element: the flooring.
By simply swapping out your floors, you can walk on cloud nine knowing that a change of color, texture, or textile can reinvigorate this living space for the better. But you may be curious what your options are. While there are a wide variety of higher-end options, we're here to talk about a humble, affordable yet versatile material that is trending in kitchen design: luxury vinyl tile, commonly referred to as LVT. LVT is a champion of technological innovation, born out of a new generation of manufacturing that seeks to bring you high quality products at a fraction of the cost.
By the end of this article, you'll be equipped with enough knowledge to decide whether or not LVT is the right move for your next remodel.
So, what is LVT?
Laminate vinyl tile is an essential aspect of a trending philosophy in kitchen design: luxury look for less. We love the glitz and glam, the cream of the crop, and this movement is about giving the tools to homeowners to get the kitchen of their dreams without breaking the bank.
With evolving manufacturing processes, man-made materials are slowly achieving not only an easy install but a look and feel that looks like the real deal. LVT is considered a layered product construction, meaning that it's constructed piece by piece, adding on as it goes. The base layer is made of PVC vinyl, providing flexibility and dimensional stability. For the WOW factor, a decorative PVC film is laid on top of this base layer. And for the harsher day to day wear and tear, a wear layer is applied, most often a clear vinyl that may or may not include a coating that offers significant protection. LVT is considered a rigid core flooring, meaning that it snaps in place and requires no gluing or stapling.
Considering the benefits
Laminate vinyl tiles are also part of another movement, making your remodel easier. If more traditional remodeling methods give you a headache, consider LVT your aspirin. As previously stated, LVT is a snap in place product, meaning gluing or stapling is a thing of the past. And in most cases, you don't even have to do any tear out as LVT can lay on top of existing tile.
In addition to its ease of installation, LVT is also an affordable option. On average, LVT can be as low as $1.00 to $5.00 per square foot per LVT plank. Compare this to some ceramic or stone tile options that can reach anywhere from $5-20 per square foot. Again, LVT seeks to make your life easier by offering a luxury product at a fraction of the cost.
A common concern about laminate materials is how natural the print or run of the print will be. Massive sheets are programmed and printed during the manufacturing process. This achieves a consistent look, and the result is that your new floor will look natural and cut in such a way that it mimics natural material. This is true whether you're going for a wood grain or stone look and feel.
For wood, the primary goal is maintaining the authentic integrity of a true look and feel of wood grain during the installation process. For LVT in a marble, slate, or concrete style, the equivalent would be called taking a "contrast line", where tiles are placed to maintain a consistency of the pattern. This authenticity is further established with LVT's beveling which makes it appear as if planks have been cut naturally. LVT also gets its texture from a process of embossing the planks, in which the decorative overlay is pressed onto the planks, creating the feel of a natural material.
Laminate vinyl tile has also become an attractive choice for homeowners who want to ditch lengthy and laborious maintenance. Water is the number one culprit for the majority of damage in kitchens. LVT comes with a foam padding that creates a layer of protection against water damage-related afflictions, mold being the most prevalent. And since most LVT planks come equipped with a specialized coating, this helps protect the integrity of the floors against spills and scratches as well as dirt and bacteria tracked in from pets.
LVT is also softer and quieter underfoot; an advantage attributed to the foam or cork backing to every plank. The thicker the backing, the more you can be assured that with every step there will be minimal movement and noise, keeping things quiet and comfortable in one of the busiest living spaces in your home.
Installation
Laminate vinyl tile offers an easier installation process compared to traditional flooring options. The snap together feature ensures no gluing or stapling. As LVT is considered a floating floor, it needs to move and shift. You might be curious as to why. Allowing a quarter inch of space away from the perimeter of the room allows for the natural expansion and contracting of the flooring due to humidity or temperature changes. This space is key to maintaining the structural integrity of the cabinets and will go unnoticed to the naked eye. During installation, installers will also keep in mind pattern repeat, key to creating a natural look.
The last plus of LVT is its impressive installation time. With the snap in process, even the biggest kitchens can be completed in a day or less, sometimes even hours.
Designing your kitchen with LVT
Curious how you can elevate your kitchen with LVT? Let's dig into a couple examples and explore what they can do for your next remodel.
Regard
Featuring a wood grain look and feel, the Regard line can be regarded for its ability to bring naturalistic qualities to your remodel. From traditional to farmhouse, Regard features many styles that offer a wide arrangement of aesthetic needs for your next project.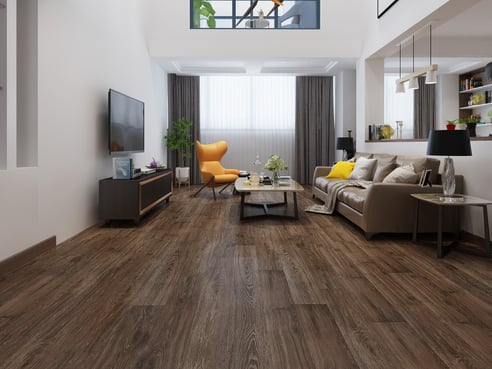 Tenacity
Tenacity is a versatile flooring option, offering styles that are a bit more modern while offering natural wood grains that show no sign of going out of style any time soon.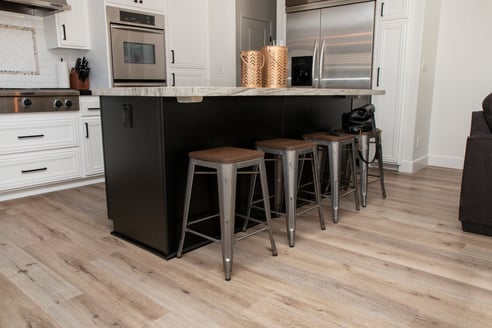 Synergy
For those that may be looking for something new and exciting that isn't a wood grain, let the Synergy line blend with the rest of your kitchen elements, creating an effective stone-look statement, sure to turn heads for its authentic look and feel.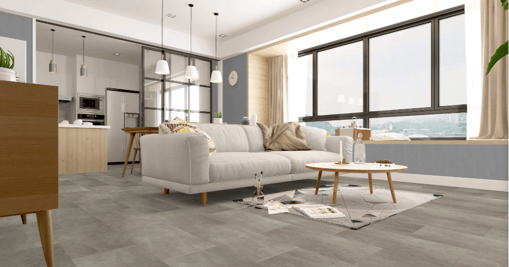 Contrast
Still sold on stone? Contrast offers a darker, concrete-like appearance that can comfortably slip in the backdrop, allowing other elements of your remodel to pop while supporting the backbone of your remodel.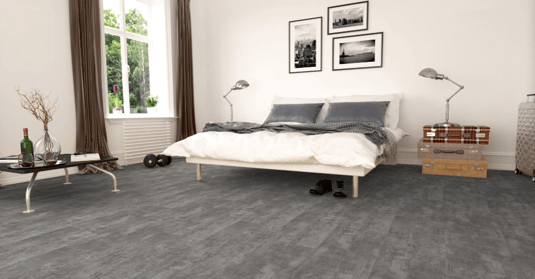 Transitioning floors and layout
A common concern when choosing new flooring is how it will blend with other rooms of your home. To properly transition, you need to consider how styles will affect the entire layout of your home.
In most cases, it's recommended to lean towards styles that look like ceramic tile as this transition won't be as contrasting compared to wood grains. This allows you to define different spaces of your home. And if you have existing floors, should you run with them or against them? By going against, you define a new space. Following the grain is a difficult process, but not impossible. By doing so, especially with a completely new style, it could potentially create some dysfunction.
Aside from overall style, consider the layout. The way you run your boards needs to be taken into consideration. To give the illusion of a wider space, run planks side to side. Lining the planks vertically can make your room look more like a bowling alley. Many homeowners think they're saving money because they're running less, but they may be sacrificing a more cohesive design in the process.
LVT for your consideration
Laminate Vinyl Tile is ushering in a new age of what's possible with kitchen remodeling. Providing a luxurious look for less, LVT strives to make your life easier with a short installation timeline and little to no maintenance required, making harsh day to day wear a tear a concern of the past.