What's the worst thing that could happen to your kitchen? If you clicked on this article, you're probably curious about the potential horrors that could await your brand new, beautiful, jaw dropping renovation. From water to cooking oils to children and pets and even sunlight, your kitchen will face daily external conditions that can cause damage if not properly addressed. And especially with something as big of an investment as a kitchen remodel, knowing how to keep your space looking the same as day one is vital.
So, whether you're just considering a kitchen remodel or already have your dream kitchen, today we'll walk through just how durable your cooking space can be and some daily dos and don'ts.
How long should a kitchen last?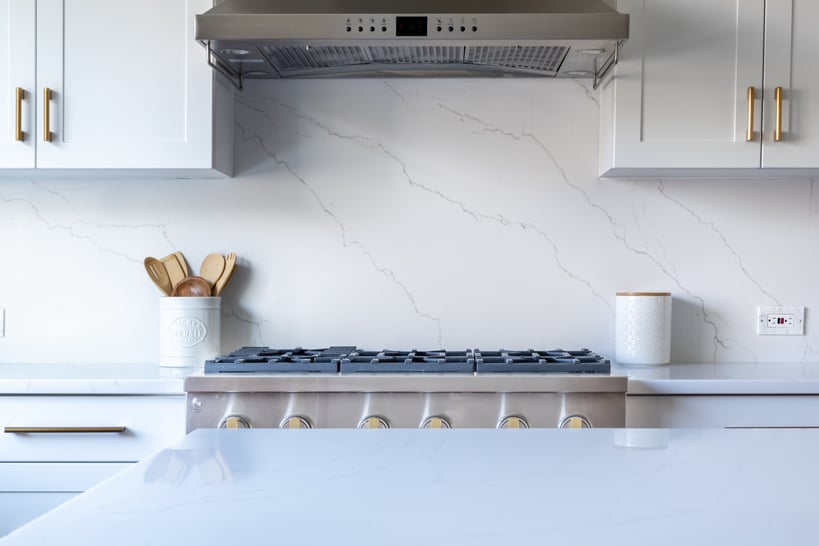 While no two kitchens are alike and many different combinations of materials will affect the durability and longevity of your kitchen, we can point out some popular choices homeowners pick for their remodels. The first big one is laminate vs wood cabinet doors. Laminate is added to your cabinet boxes as well as doors and drawers through the process of refacing. While your doors are constructed from a Medium Density Fiber Board (MDF), the laminate is a decorative overlay that is applied to your doors through a highly pressurized process. Laminate comes with a unique tag as it's built to last a lifetime. As laminate is man-made, it doesn't age the same way as wood. It doesn't warp, expand or contract, nor is it affected by water or sun exposure. Wood, on the other hand, is a beautiful product and with proper upkeep can last upwards of 30 years. However, wood does age and especially the color of your wood will change over time.
On the flip side of any kitchen remodeling project are countertops. And for many, the biggest rivalry is granite or quartz. Again, this is a natural product (granite) versus man-made (quartz) and while both can hold up beautifully in your kitchen for long stretches of time, quartz is a more durable product at the sake of its larger price tag. Granite, while a more affordable option compared to quartz, will be less durable and also less resistant to heat, especially as placing any hot pots or pans off the stove onto your countertop will wear off the sealant over time.
So, when paring down your options for your kitchen remodel, make sure to take into consideration what materials you choose to bring to the table.
Countertop and Cabinet Dos and Don'ts
Right now, you're likely eager to get into some specific dos and don'ts to maintain a beautiful kitchen. So, let's get into it:
DO
Regularly clean off your cabinets. For wood, use a very mild cleaner such as Murphy's. Any harsher chemicals run the risk of drying your cabinets out and changing their appearance. For laminate, a rag with warm water will suffice.

Try to keep anything from water to cooking oils from resting on your wood cabinets. Wood is porous and if it absorbs these liquids, it will leave spots. Oils and grease will eat away at the finish of wood. If you're considering a five-piece door, water can rest on any of the edges and absorb between the planking as well.

Stay up to date with the sealant on a granite countertop. It's recommended that a granite countertop be resealed every five years.

Keep your cabinets protected against long exposure to direct sunlight. Over time, this can change the appearance of your cabinets

Clean up spills immediately after they happen on your countertops. Liquids like wine, if kept for some time on your counter, will leave staining.
DON'T
Cut anything directly on your countertop. As strong as granite and quartz are, consistent cutting directly on the countertops will leave noticeable scratches.

Place any hot pots or pans directly on your countertop and especially in the same place. Repeating this practice will leave marks on your countertop.

Sit on countertops. Besides the usual dirt and other various materials your clothes pick up during the day being transferred to the countertop, sitting or standing on your countertops runs the risk of breaking the seal where parts of the counter where joined.

Smack anything, like ice bags, on your countertops. It runs the risk of seriously cracking or chipping your material. Also try to avoid any containers, cans, or glass bottles falling from your cabinets onto your countertops.
While these general dos and don'ts are a great start to maintaining your kitchen, accidents happen - we're all human. With kitchens slowly becoming the new living room for everything from weekend get-togethers and holidays to family nights, your kitchen will find itself as a lived-in space. But general upkeep is a way to combat day-to-day conditions.
How to design a kitchen that fits your lifestyle?
While your final kitchen design choices will come down to your personal style and budget, it can also be important to take into consideration your lifestyle. Do you love to entertain and find that your kitchen is the focal point of any get-together? Do you have the time for more general upkeep? Then new wood or wood refacing might be great options for you. On the flip side, do you find yourself as a homeowner on the go? Do you have children and pets? Then more durable materials like laminate refacing and quartz countertops will be able to withstand more wear and tear.
Bring your home to life with a professional kitchen remodel
If looking for a gorgeous and practical culinary station, we're kitchen remodel contractors you can trust! No matter if you're in need of custom built kitchen cabinets or a hassle-free countertop installation, feel free to contact us to discuss your preferences, desired outcomes, and budget.
We will guide you through the entire remodeling process so you know exactly what to expect. With our team of kitchen designers, it's possible to have the kitchen of your dreams in no time. Give us a call to schedule a free design consultation!