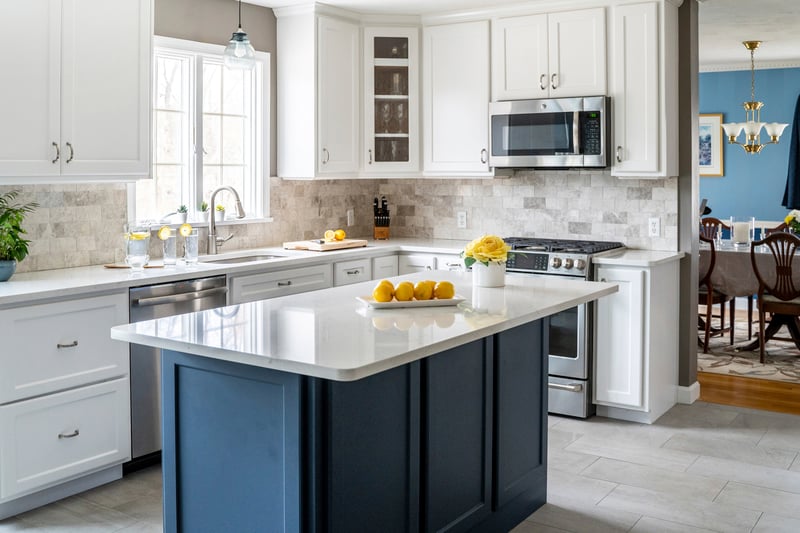 So, you're ready to take the next steps towards your kitchen remodel and you are curious about one thing in particular: product selection. From cabinetry to countertops, backsplash to flooring, accessories galore… it's enough to make your head spin. With the thorough and experienced direction of an expert, you can be well on your way to the kitchen of your dreams. But what does the buying process look like? How do you start? How do you get inspired? Maybe it's flipping through a magazine and looking at current trends. It can be as easy as watching a YouTube video. Or, in most cases, homeowners will opt to get inspired in a showroom.
It's important to make a distinction between your buying process and a showroom. Showrooms afford you the opportunity to see a huge breadth of what might be possible in your kitchen. But where the real magic happens is in the home. Specifically, shopping from the comfort of your own home.
A Current Buying Trend
You may be wondering what are some current buying trends? How are most people shopping for their kitchen today? The elephant in the room for the past several years has been online shopping. Nowadays, it's possible to buy almost anything online. Kitchen remodels are no exception. With big box chains offering in-depth design plans, pictures, specifications, and preset material selection, it's seamless. But is it personal? A kitchen remodel at the end of the day should be anything but cookie cutter. It's a way to reflect your personal style and taste. And it's a way to better optimize your personal workflow. It's the opportunity to bridge needed functionality and design.
The Showroom
Should the showroom be the be all and end all? Generally, a showroom should be the rope you have to climb up to reach the top. In other words, it presents to you what's possible rather than what your kitchen should look like. It is common for some homeowners to fall in love with a particular design without taking into account the layout of their existing kitchen. At the end of the day, it would be virtually impossible to get the exact same kitchen you see in a showroom without, at the very least, major alterations and changes to your current layout which may not be practical. Just as the latest trendy kitchen design magazine should give you inspiration, a showroom is no different.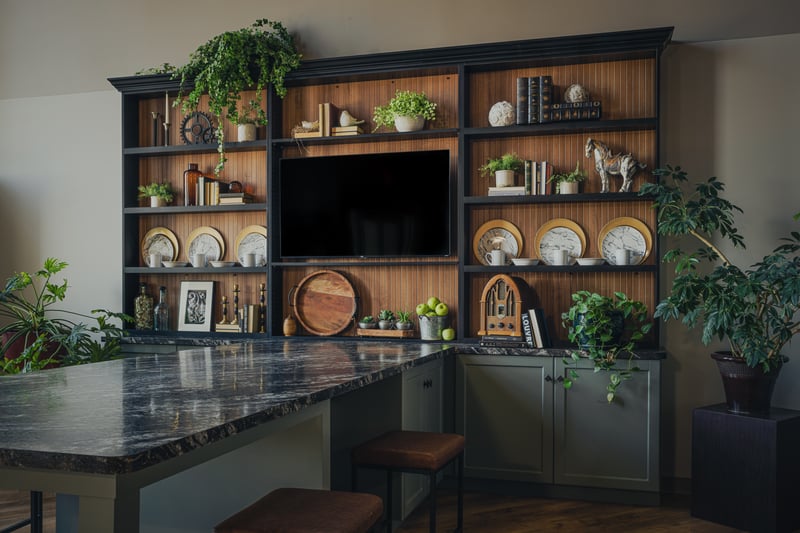 In-Home Shopping
So, what exactly is in-home kitchen shopping? It's when an experienced representative from a remodeling company comes to your home and discusses your wants and needs for your kitchen remodel. Depending on the services you're looking to have done, this will take shape in different ways. Say, if you're interested in having your cabinets refaced, a consultant would usually look at your existing space and give recommendations based on the integrity of your current cabinetry and other kitchen elements as well as present you with materials and make a plan for your remodel. If you were instead looking for all new cabinetry, a consultant would focus entirely on new material selection as well as the practicality of your remodel with your existing space. Their job is to make the decision process easier and present you with all of the options and show you the potential your current layout has, from functionality to design.
How does in-home shopping differ from visiting a showroom? For one, let's consider visualization. Imagine you go into a showroom, and you fall in love with a kitchen you see. The lighting is just right, the elements mesh perfectly together and you can see yourself living in that kitchen. But once you get home, it may feel a bit different. Something might feel off as you look at a picture of a kitchen you fell in love with under perfect circumstances. But now you start to consider how it would mesh with your existing layout as well as the flow and design of the rest of your home. In home shopping allows you to see the elements firsthand in your home, place elements anywhere from against the wall to the floor to the backsplash as well as see how elements look with your current natural and supplemental light. It's a way to see how everything will flow together.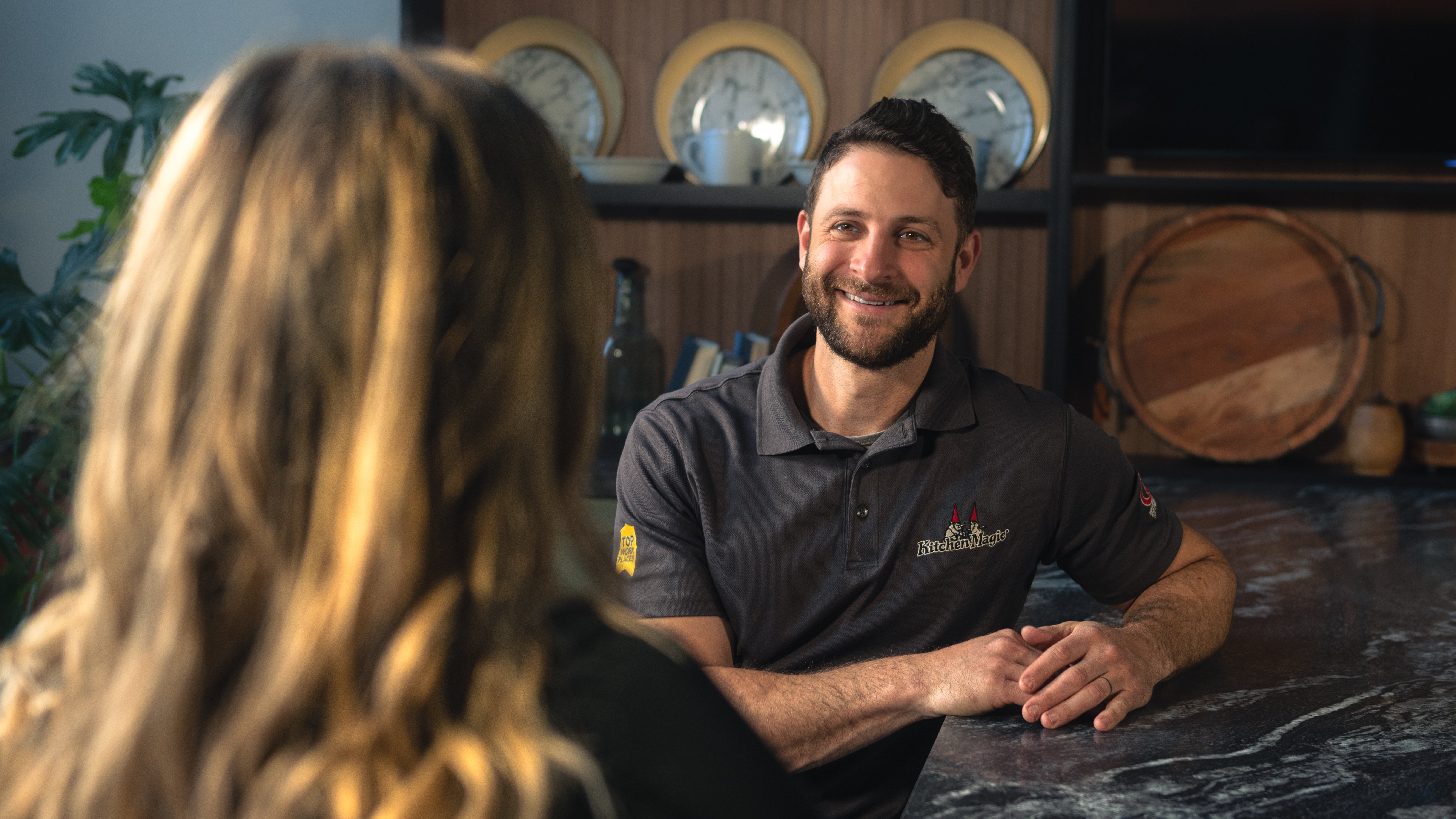 It's also important to consider convenience. In our busy lives, it can be hard to make time- advice. Let's also consider one of the most important aspects of your decision-making process: personalization. In home shopping allows you to select elements in real time and blend them together to get something that is truly, uniquely, you. Some notable mentions and benefits of in-home shopping are its cost-effective and low stress attributes. When you walk into a showroom, especially one where they're used to large volume, you may feel like just another number and not only pressured into making a purchase. With so many options, it can also be stressful to narrow down what you want. In-home shopping affords you the opportunity to take your time with each and every kitchen element and feel less pressured in your decision making in the moment and take your time to think about such a big, life-changing choice, all while getting expert, custom advice from someone who is right in your kitchen with you.
In the end, a showroom is an excellent resource to use in the beginning steps of your remodel. Whether for inspiration's sake or to see what's possible in a kitchen remodel in terms of functionality or design or even to see the quality of work a company can offer to you. However, in-home shopping is a way to see how everything can come together in your existing space with an expert by your side. And with a wide variety of options the benefits of having the guidance of a trained professional with you every step of the way is many.