Cabinet hinges have gone through quite a metamorphosis in the past few decades. At one time, most hinges were surface-mounted, becoming a stylized piece of the cabinetry and adding their own look to the completed design. Think of Early American pine cabinets, for example, with "L," "H," or "butterfly" hinges. Now, however, they are typically hidden away in the form of concealed hinges, which are designed for function and durability.
Even if they're concealed, hinges are an important part of your cabinet build-out. The wrong hinges will not support the cabinet door design, causing the doors to sag or sit askew in the box. They can be inadequate for the weight of the door, difficult to adjust or they may require continuous adjustments, neither of which is a desirable situation
Invest in High-Quality Concealed Hinges for Kitchen Cabinetry
For this reason, Kitchen Magic exclusively uses Blum hinges. These high-quality hinges allow us to offer time-honored warranties to our kitchen cabinet clients because we know the quality of the materials will support our craftsmanship.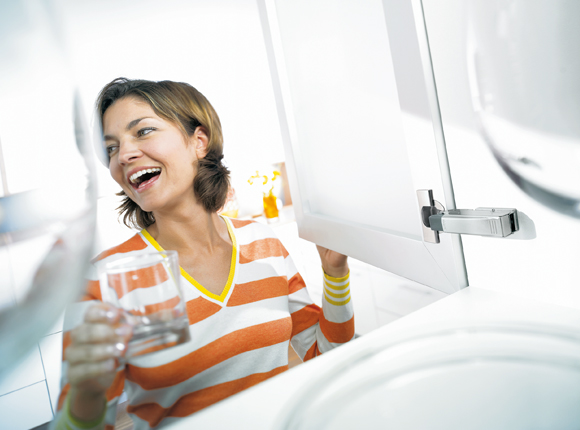 Photo courtesy of blum.com
Here are some of the reasons why Blum hinges are used by the nation's top cabinet builders:
Three points of contact. Both the CLIP and top CLIP options maintain three points of contact between the hinge and the mounting plate. This means the hinge remains firmly in place, even when a cabinet door is exposed to heavy wear-and-tear.
Easy to adjust. Adjusting hinges used to require a big production, that could wind up causing stripped holes and expensive labor bills. With Blum's design, the hinges can be adjusted using a flush, side-adjustment screw that allows 4mm of adjustment, as well as a Spiral Tech depth adjustment that allows for 5 mm of adjustment with just one and three-quarters revolutions. Many homeowners find this makes for easy, DIY cabinet maintenance. If you choose to hire a handyman to perform adjustments for you, the labor costs should be minimal.
All of this adds up to hinges that allow cabinet doors to be adjusted three different ways: left-to-right side adjustment, up-and-down height adjustment and an in-and-out depth adjustment.
Whisper quiet closing. Tired of the kids (or your spouse) banging and clanging the cabinet doors when they're putting dishes away or making the coffee in the wee morning hours? Blumotion technology is your best friend. Blum's soft hinges and cabinet door glides are built using a piston that "catches" the door or drawer right before it closes, and then reels it in slowly so it doesn't slam.
Yes, this feature is great for sensitive ears or a quiet household, but it's also better for your cabinet doors life expectancy since slamming and banging isn't good for the cabinet bodies either.

Choose the Right Cabinet Hinge for the Right Application
Another advantage to Blum hinges is the wide range of mounting plates and angle options, so your cabinet doors can open as wide as they need to (to accommodate that new microwave drawer you just installed), or to protect the doors from opening too wide (to make sure they don't knock into the surface of an adjacent kitchen feature).
Typically, we install:
0MM plate = 5/8" overlay for frameless cabinets
3MM plate = 1/2" overlay for framed cabinets
6MM plate = 3/8" overlay this option is rarely used
Note that we do not offer full overlay hinges on framed cabinetry because the inherent challenges with accurate measurements, combined with service and wear-and-tear issues, make it impossible to honor a reasonable warranty.
Give your cabinets the lifetime they deserve by using high-quality hinges that are designed for a specific cabinet's purpose.