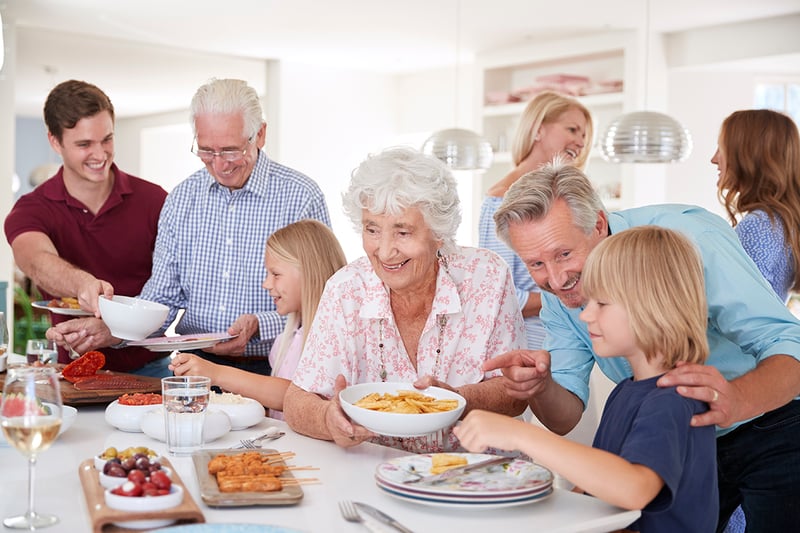 Be our guest! Today, the well-designed kitchen focuses on entertaining. A new kitchen remodel functions to ensure proper storage, work areas, and signature details to get your party started. Whether you are a novice chef or a master of take-out, the ultimate kitchen welcomes great conversation, memorable meals, and a lifetime of memories.
Kitchen Design Ideas for Hosting Friends and Family
We've collected our favorite kitchen design tips to help keep you keep your party going, no matter the style or number of guests!
Island Life
The kitchen island is one of the hottest tickets in entertaining. The island offers many storage options and functionality — from cooktops to artful hoods, an additional oven or microwave, and even prep sinks and slide-out cutting boards. Some homes even boast two islands, one dedicated for prep and the other for entertainment. Don't forget that island seating can also be ample and fun!
If space limitations hinder the addition of an island, don't fret — your Kitchen Magic design consultant has plenty of options to explore with you including workstations, additional counter areas, a peninsula and more!
Work Station Style
More than one cook in the kitchen? No problem! Smart kitchen design allows for additional chefs by adding prep stations. Imagine a kitchen where you can prep your signature paella without a crowd in your workspace.
A beverage station is also a hit when you choose a coffee maker or espresso machine and stock surrounding cabinetry with mugs, teacups and other glassware. Ditto for a wine station stocked with ice, adult beverages, and mixers. Your new kitchen will hum with hospitality!
Selective Seating
Abundant and cozy seating is imperative for entertaining. Offering variations of relaxed to luxe seating gives guests a place to gather, relax and socialize. Whether the kitchen of your dreams features bar stools, traditional seating or a combination of both, guests gravitate to comfortable, well-placed seating areas.
Savvy Storage
The start of every great party is a relaxed host in a clutter-free zone. Storage may not be 'pretty,' but it certainly is functional. Unless, of course, your new kitchen lets you set up, prep, and cook like a Food Network pro! Smart storage solutions allow you to easily reach cooking and serving vessels, utensils, and plates. Your spice collection can roll out and then quickly stow. Baking sheets and cutting boards have a particular home. Don't forget warming drawers — perfect for keeping foods warm during the party, and then doubling to stow dishes later.
Countertop Possibilities
Take your countertops to new levels with beautiful, functional surfaces. Choose from a variety of colors and designs that will catch your guests' attention, as well as serve as a conversation piece for years to come. If you are looking for a pop of color, don't be afraid to go bold with hues of blue, gold or green.
Standard countertops are the workhorse for prepping and dining. The countertop is a busy surface where cookies are rolled out during the holidays, homemade meals are prepared and where the dishes are left at the end of the night. Tall countertops can hide dishes and also serve as a high top bar or a place for guests to lean on. When not entertaining, the countertop area can later serve as a desk for work or school.
Signature Details
Entertain small but mighty details — think under cabinet lighting to add drama or invoke a party mood, or in-cabinet lighting to highlight a unique art or dishware collection. Is music or sports important? Don't forget cabinetry to house a sound system or flat-screen TV. It's all about what works for you and your lifestyle!
At Kitchen Magic, our kitchen design consultants are ready to help you create the kitchen of your dreams. Explore your kitchen's potential and be ready to host guests all year round. Schedule your free design consultation with Kitchen Magic today!