We've marked the start of 2022 with a stylish new offering, including six new cabinet colors and two new contemporary door styles.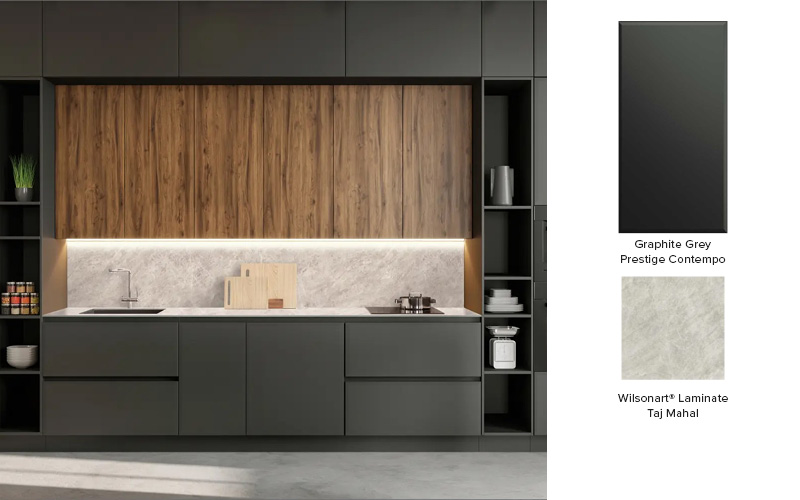 No matter where in Lehigh Valley, staying ahead of the trends is essential for any kitchen remodeler. Homeowners that want to update their kitchen designs desire styles that are new to the market. That's why the experts at Kitchen Magic consistently develop innovative kitchen products that appeal to their customers with a wide range of fashion-forward products. Complementing the new collection are bold Wilsonart laminates that will enrich a room's style without breaking the budget and offer an ethically-sourced and sustainable alternative to stone

What are the most popular colors & styles for kitchen cabinets?
The new exclusive collection of maintenance-free cabinet door colors is perfect for the stylish homeowner who also craves a functioning kitchen. Maintenance-free doors are durable, easy to clean, and cost less than traditional wood doors, allowing you to achieve the new trend without sacrificing quality and value.
Listed below are the six new colors and 2 new modern styles.
1. Celadon Green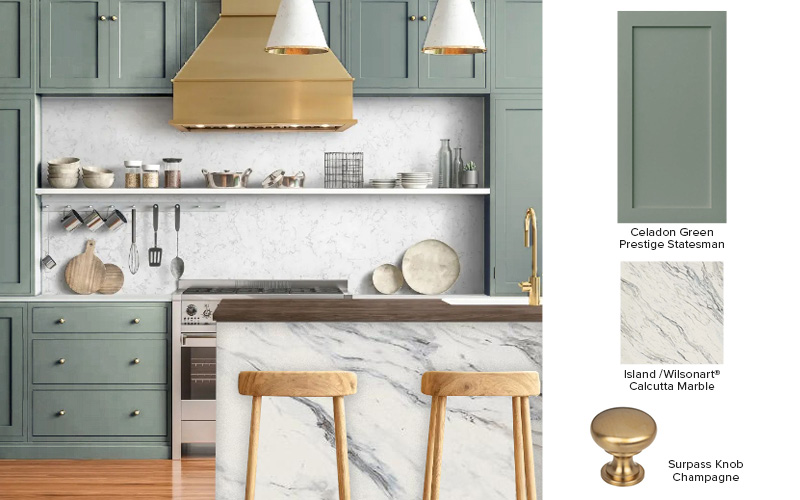 Celadon Green is paired with Calcutta Marble, flowing vertically on the island for a waterfall look. The new Celadon Green is a marriage of green and grey that complements both traditional and modern styling. This color is similar to Sherwin Williams' color of the year, Evergreen Fog. Green is quickly gaining in popularity; possibly because as we all hunker down at home, we crave the outdoors.
2. Umbra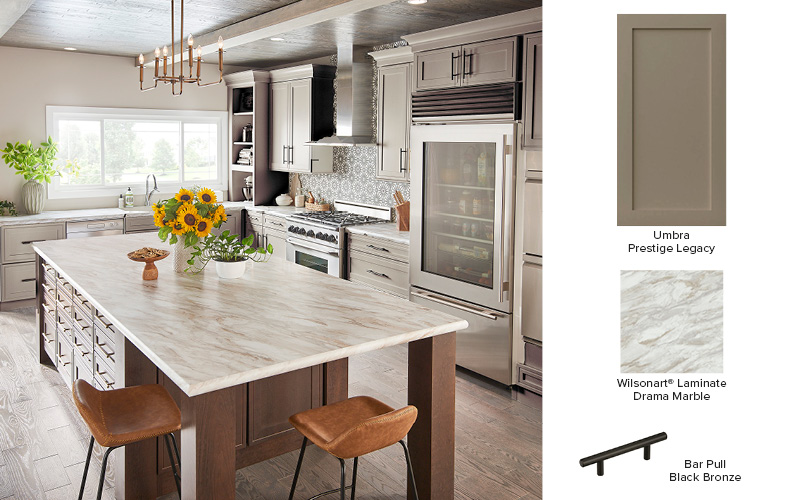 Umbra in Statesman Style warms up any kitchen motif. Topping the cabinets is Marble Drama Wilsonart with streams of cocoa and cream. Umbra is a rich medium brown making it a great choice for cabinetry when you want a simplistic, clean, and unfussy kitchen design.
3. Global Nomad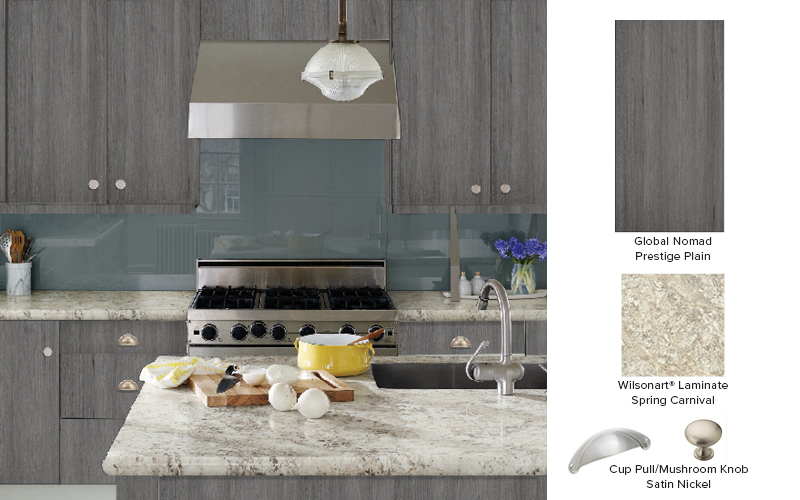 Global Nomad infuses streams of gray for a woodgrain cabinet color inspired by European luxury living that is very much in vogue. The new color combined with the Prestige Plain style graced Wilsonart's Spring Carnival countertop. A bold mix of greys and earthy taupes work together for a harmonious blend.
4. Canadian Grey
When white is too bright for your taste, the cool grey hue of Canadian Grey offers a light, yet warm palette to any kitchen. Canadian Grey paired with Legacy style doors, and Anasazi Crown laminate countertops for a butcher block look. This trending neutral tone works well with both raised and flat panel doors, suiting every kitchen design. Get that wood look with a cost-effective, laminate alternative.
5. Graphite Grey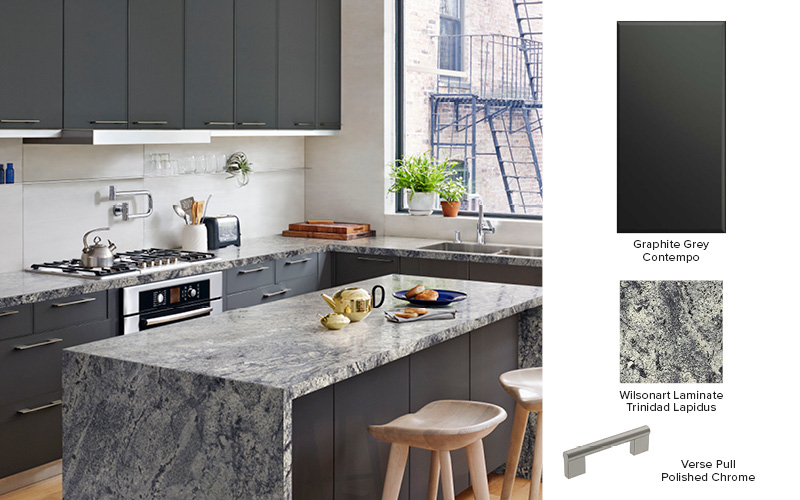 Graphite Grey, a dark charcoal gray; in Contempo style doors for the modern homestead. The Trinidad Lapidus pattern mimics the look of stone and the added waterfall edge offers a dramatic effect. Getting the look of stone without making a negative footprint on the planet is an ecologically smart choice.
6. Fashionista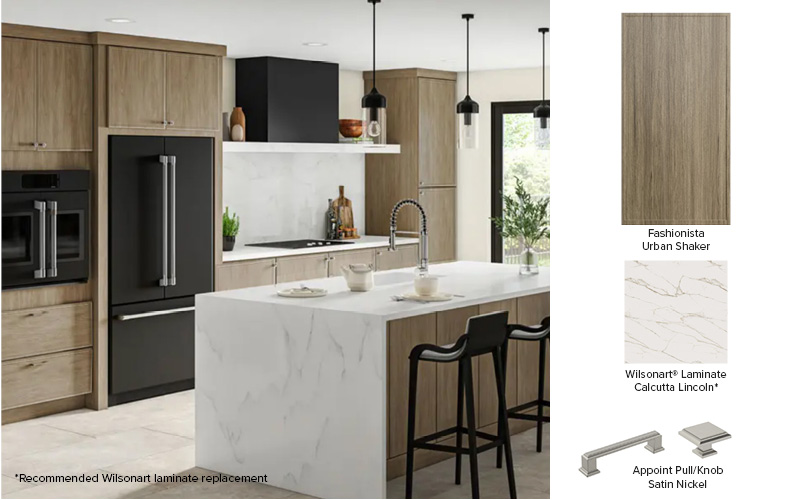 The color Fashionista is a subtle woodgrain with mixed earthy mid-tones. The Urban Shaker style doors offer a slim edge profile for a minimalistic look. A kitchen design like this is considered a European or Scandinavian design.
*Calcutta Lincoln* laminate is the recommended substitute.


The most in-demand cabinetry design for your kitchen
Constantly seeking out up-and-coming styles is paramount. Sure, following European fashions and watching what's coursing through the social media channels are two good places to start but you have to follow your Designer instincts as well. The new exclusive collection of Maintenance Free cabinet door colors is ideal for homeowners who also crave fashion and function.
A style and color for everyone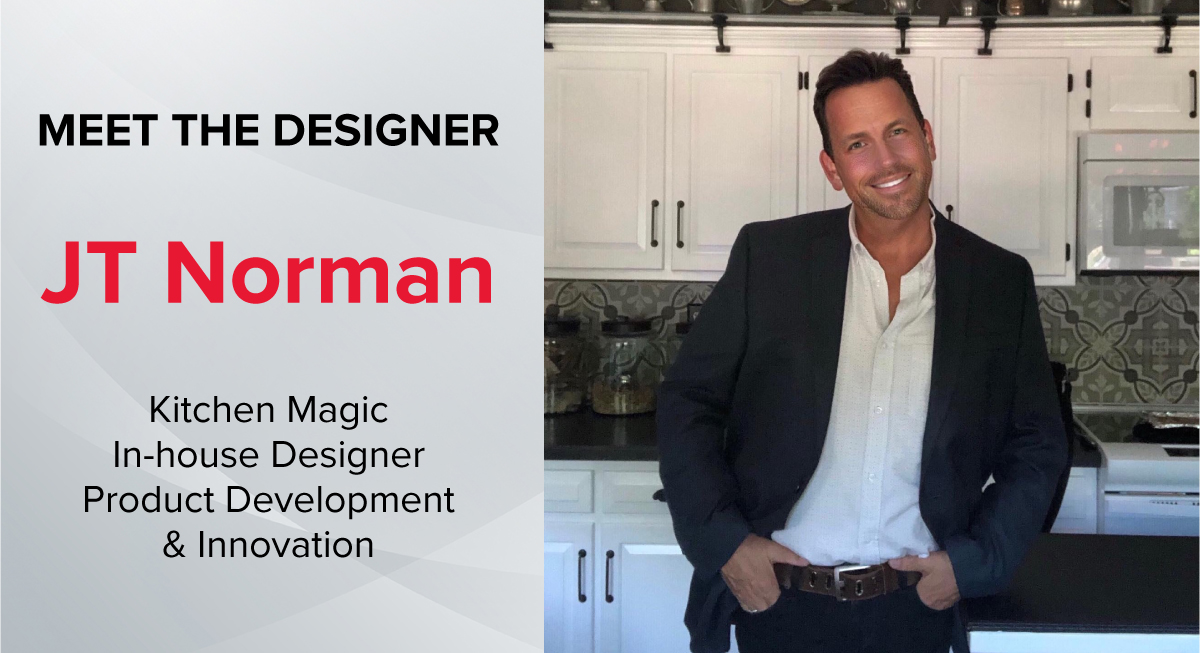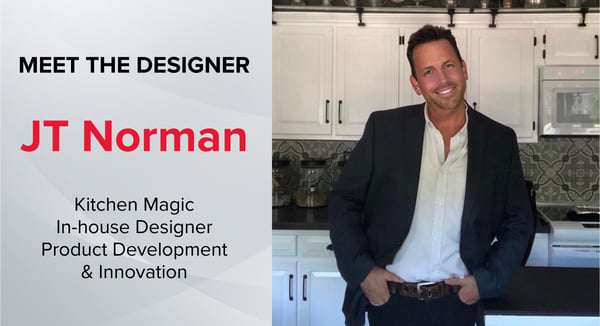 "For our existing demographic audience, neutrals are still popular for kitchen cabinetry and design. However, by bringing new additions to our line-up, we will keep our palette modern and fresh for 2023 and beyond," says JT Norman, In-House Designer, and Product Development.
"I looked to nature for inspiration when assembling the new palette. Bringing in natural elements will always keep a design timeless. There's no better designer than nature" continued Norman, who developed the following looks.
Where in the Lehigh Valley, PA, and surrounding areas can I book a reputable kitchen remodeler?
Kitchen Magic is a family operated company, providing Lehigh Valley homeowners and other Pennsylvania residents with a range of interior design services that meet their specific lifestyle needs. Our true success is based on a long list of successfully conducted kitchen remodeling projects. No matter if you're looking for personalized kitchen cabinet doors or for the perfect color combination, we're here to help.
Explore how you can change the way your kitchen looks and functions with a free design consultation. It's fun, informative, and completely free! Just give us a call at 866-525-7999, or click here to schedule your free design consultation with us today!