It's estimated that most Americans spend up to twelve hours washing, folding and putting away their laundry each week. You may be spending more time in front of the washing machine than you originally thought, and if your laundry room isn't properly organized, it may be taking up a lot of your time.
So, if you're planning a laundry room remodel, read on, as we're about to discuss how to design the perfect laundry room.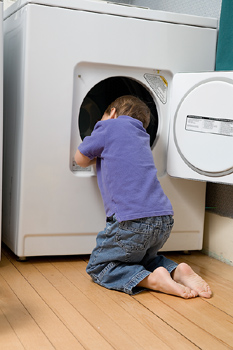 How do I style my laundry room?
Get the most out of your laundry room layout with these expert design tips:
1. Add a sink
Adding a sink to your laundry room will instantly make your space more efficient. A utility sink is great for spot cleaning certain items, washing delicates, or pre-washing and soaking stained items. It's also very easy to install a utility sink into your laundry room, because you already have the water line in place.
2. Height-varying countertops
If you install a sink into your laundry room, it's a great idea to also add some countertop space around your sink and the rest of your room. Installing these countertops in varying heights can help you do all of your laundry work in one room. Sink-level countertops are best for keeping your favorite items on hand, while taller countertops are ideal for folding.
3. Cabinets & storage
If your aim is to have a more organized space, installing some laundry room cabinets is the best way to optimize your storage space. Cabinetry can be arranged in a variety of ways, and professional craftsmen are able to customize it to your liking, so that you can make space for just what you need.
There are many organization and storage options available that can help you organize your space. Starting from various shelving ideas to hanging-rack that can be installed within cabinets, either standing, retractable or fold-up. We also love custom storage options, like a retractable ironing board or a pullout hamper.
4. Task lighting
For most of us, our laundry rooms are closet-sized dark spaces we dread. Adding some simple task lighting will easily brighten up your space. A couple of task lights underneath your cabinets and above your countertops will make spot cleaning and folding much easier.
5. Baskets, bins & bottles
A great way to become more organized and add some style to your laundry room is to utilize some inexpensive bins and bottles to decorate. Inexpensive woven baskets look great on open shelving and can help separate types of clothing for later washes. Large glass bottles, hurricanes or mason jars are perfect for keeping detergent on the counter and out of a messy half-open box.
Where can I find professionals who specialize in laundry room remodels?
Having problems with your laundry design? Need some creative solutions? A key part of our mission is to create modern laundry interiors, all the while remaining warm and welcoming at the same time. Our top priority is providing you and your family with the perfect space you'll be proud of. So, get in touch with us and book a design consultation to discuss your needs and ideas. We promise to pay attention to every detail and bring your vision to life!