Most designers, television shows and online style sites are offering up pictures and design advice for farmhouse style kitchens with over-the-top distressed details or modern style kitchens with sharp lines and cold details. While these kitchen photos might be fun to look at, the truth is that most of us are looking for realistic kitchens that we can cook in and live in for a long time. These new kitchen styles can prove to be too costly for most average homeowners, and the fleeting designs may not stand the test of time.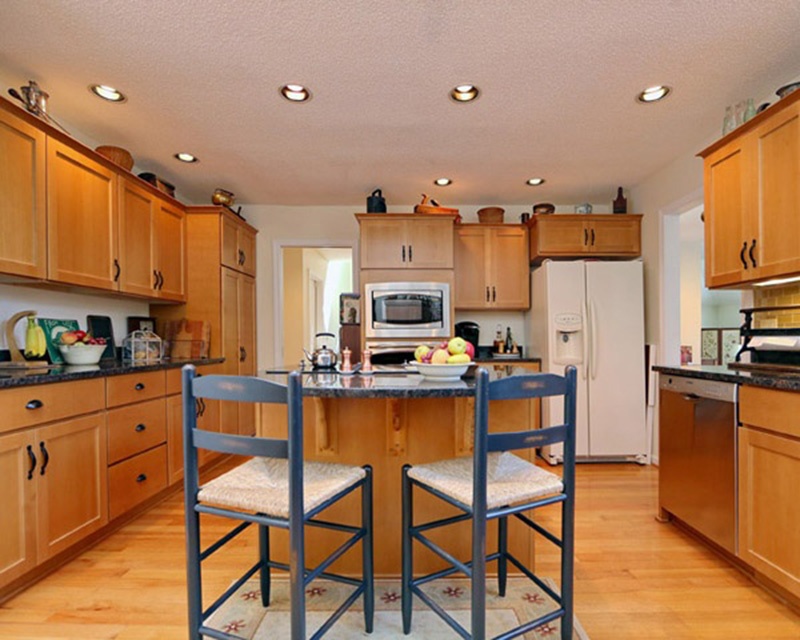 If you're looking for a realistic style kitchen that will work with your personal style and your family's needs, then a classic kitchen is the right style for you. Classic kitchens are still the most popular style because, well, they're classic! The simple design enhanced with traditional details makes for the perfect canvas to add your personal style and to easily change up the design on a whim.
1. Go for a neutral color palette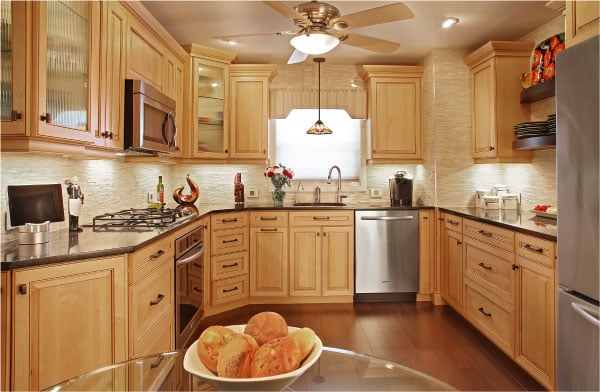 Classic kitchens stick to a neutral color palette, which consists of deeper whites, creams, beiges and lighter browns. Sharp contrasts are not typical for classic design schemes, because the popular contrasting colors tend to change with the season. Neutral colors bring ease to the eye, plus you can easily add a pop of color with your favorite seasonal piece of home décor.
This kitchen features one of our favorite neutral colors: Natural on Hard Maple cabinets with a Caramel Glaze. The rich Cambria quartz countertop in Wellington elevates the neutral palate and compliments the lighter Caramel cabinets.
2. Keep the cabinet styles simple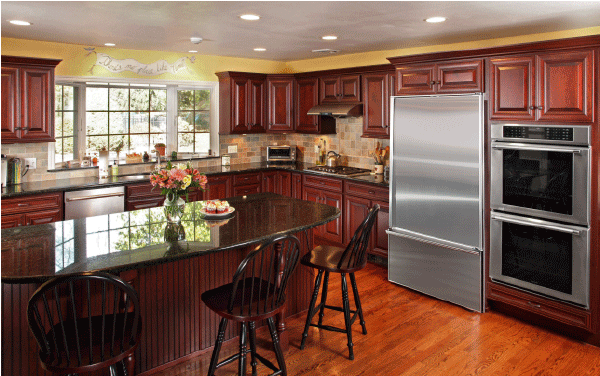 Classic style kitchens are all about simplicity mixed with traditional elements, and simple cabinet styles are the best place to start. Think Classic Raised Panel style #10875, like the cabinets featured in this kitchen.
The trick is to pick a style that's not too simple, or else you risk getting a contemporary design, and not too ornate, or else you risk getting a traditional style kitchen. You can easily design the rest of the space based upon the style of cabinets you choose, so think simple, not plain.
3. Stay away from fussy backsplashes
Sticking with the neutral color palette and simple styles for your cabinetry, the same should be said for your backsplash choice. Multi-tonal glass backsplashes that add massive amounts of color are popular, but we're not too sure how long this trend is going to last.
The main benefit of a classic style kitchen is that it won't become obsolete in a few years. For your backsplash, think simple subway style or a textured tile that keeps to the creams and beiges in your color scheme.
4. Don't overdo it with decorative accessories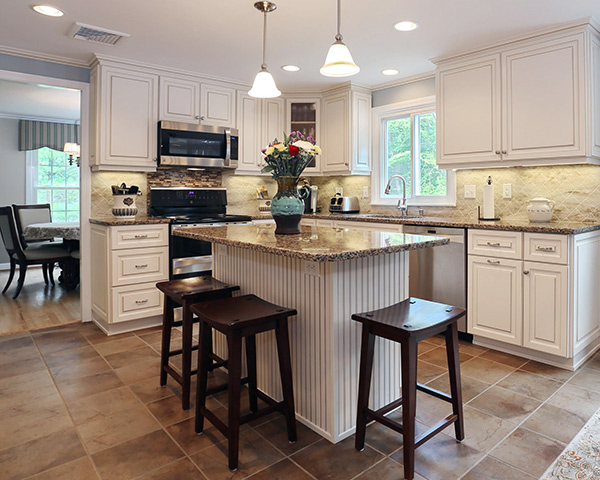 While Classic style kitchens do include the use of decorative accessories, it's important not to use too many or your kitchen can look crowded and will too closely resemble a traditional style kitchen. But this does not mean that you should stay away from decorative accessories all together, or else your kitchen will too closely resemble a modern style kitchen.
Think simple elements, like wainscoting if you have an island, small crown molding or just a couple of corbels to help create a focal point.
5. Have some fun with it
The best part about classic style kitchen designs is that they're super flexible! Whether you like to change your mind every few months, or you're planning on selling our home in a few years, classic kitchens are easy to update and with the simple addition of a few key décor pieces, you can let your personality really shine.
To see more classic style kitchens, visit our Classic Style Kitchens page or download our free guide below to learn about different kitchen styles.