Now that we're halfway through the year, kitchen design trends have become a lot clearer.
In the world of countertop sales, homeowners have shown interest in the form and function of their countertops more than ever with many turning to customization of existing designs, or creating designs from scratch, to fit their lifestyles and unique needs.
Which custom countertop trends should you consider?
Malleable Granite Alternatives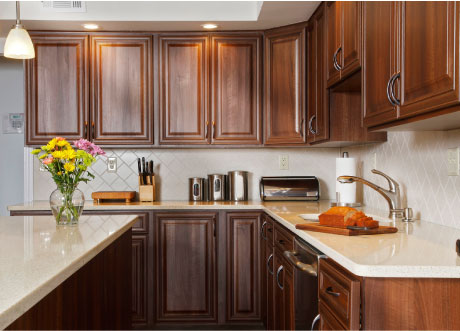 One of the biggest trends is a shift away from granite to materials that offer greater design flexibility, such as engineered solid surface, concrete, wood and glass.
Granite alternatives make it easy to move from standard straight edge countertop and other traditional designs to ones that better express your personality and creativity. For example, installers can effortlessly cut them into various shapes. Although some of the materials are available in a wide selection of designs, you can also order many granite alternatives to be modified or crafted with custom solid or patterned color tint, surface texture and/or embedded objects.
Besides providing new forms and designs, these materials are also usually heat-, stain- and scratch- resistant; or at least easy to repair. Additionally, you can usually find them at a much cheaper price than granite -- especially if you go the recycled material route.
Extra Counter Surfaces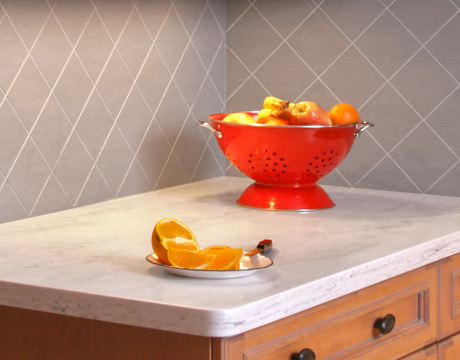 If you have a small or oddly shaped kitchen, or need extra prep or dining space, wall, peninsula and island counters are often not enough.
Extra counter surfaces easily solve this problem. You can find custom hidden cutting boards and tabletops that slide out from under a counter or pull out in a drawer. You can also set up your kitchen with a fold-out counter that hangs off the side of a cabinet when not in use and then, when needed, folds up to rest on one or more pull out beams or table legs.
If you prefer a more permanent solution, you can add a narrow counter supported on L brackets to the side of a peninsula or island. You can also install a piece of countertop on a rotating metal post several inches above a main counter. When you don't need the extra counter space, you can use it as a shelf. When you need it as a food prep, display or dining surface, you can then remove shelved objects and simply rotate it into position.
Mixed Material Arrangements
Another huge counter trend is combining two or three materials in different areas of the kitchen.
Love the look of stone, but need a butcher block?
You can design wall countertops in one material, such as an engineered solid surface like Corian or Quartz, and opt for butcher block made from reclaimed wood for your island; or inset a wood cutting board into a solid surface counter next to the sink or other food prep area.
Efficient Countertop Access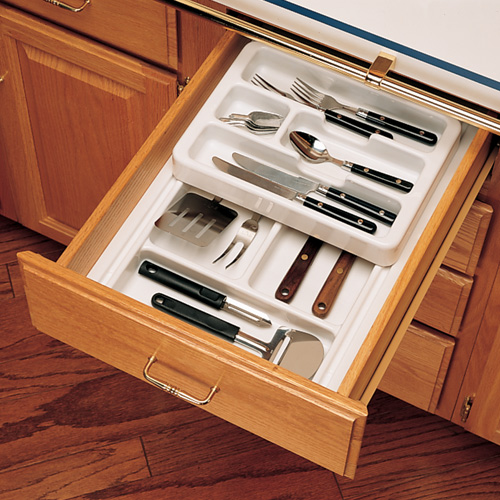 If you love efficiency, or just hate cleaning, then this last practical custom countertop trend is right for you!
Besides built-in cutting boards, more homeowners are making food prep faster and cleaner by ordering counter surfaces with carved out openings that provide quick access to certain regularly used tools, such as knives, spice jars and napkins holders, located in trays or canisters on top of or inside the cabinet box. You can also use this custom design to throw trash or scraps into a removable trash can resting on the cabinet bottom or a pullout shelf.
Worried about dust or smelling trash? These designs can also be customized with lids that fit into counter surfaces to block access when you don't need it.