Look at the before picture below. Notice the beautiful new countertops and the old, outdated cabinetry. So how can you update the cabinets to match your new countertops?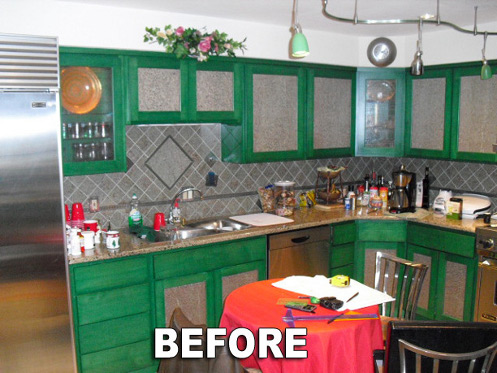 You repaint the house - you notice the landscaping needs work. You replace the carpet - now the interior walls look dingier than ever. It's no surprise when customers come in and tell us, "We love our brand new countertop...but now our kitchen cabinets look terrible!"
You can update your cabinets without harming your countertop
Sometimes, one "small kitchen remodeling project" morphs into an entire kitchen overhaul. If you updated one part of your kitchen, but it made your cabinets look more outdated than you realized, refacing kitchen cabinets is the perfect solution. It's affordable, eco-friendly, and can transform your kitchen without you having to move a thing...well, almost.
Cabinet refacing is the answer if your brand new countertop made the rest of your kitchen look old or outdated.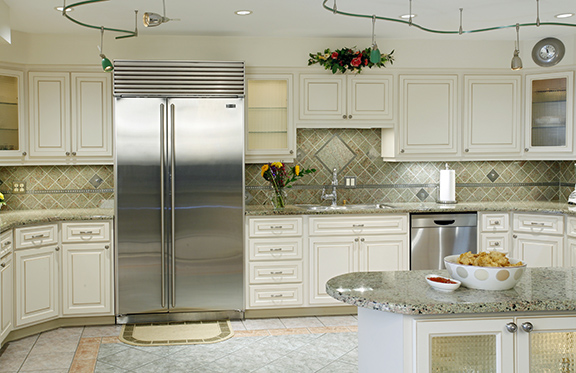 The cabinets were refaced while the beautiful stone countertop remained unharmed (After). Yes, this is the same kitchen in the before picture above!
So What is Cabinet Refacing Exactly?
Refacing kitchen cabinets is an easy 4-step process. We use the structure of your existing cabinets, which means we don't have to do any ripping out or removing of quality structural materials. The only thing we remove, discard, and replace, are the cabinet doors. Then we cover the surfaces with the material you have chosen. Cabinet refacing can be done using wood or laminate cabinet surfaces. There are a wide variety of cabinet finishes to choose from.
Laminate Cabinet Refacing
Laminate kitchen cabinet faces have multiple benefits:
They're highly durable

Laminate cabinets can be used on almost any surface

They come with a lifetime warranty for cracking, blistering, or peeling, under normal conditions. Excessive wear-and-tear may not be covered...like the time you accidentally broke a wine glass when you were putting it away and the broken stem gouged the cabinet face...

They come in faux-wood or colored finishes

They can be painted any color you like
Wood Cabinet Refacing
While they may require a bit more maintenance, wood cabinet refacing is also a great option.
It's gorgeous...lovely, grainy, beautiful wood patterns.

There are hundreds of stains and glazes to choose from

With proper care and maintenance they can last a lifetime

Wood comes in an infinite array of colors and tones

There are eco-friendly wood cabinet options


Affordable Kitchen Cabinet Refacing - doesn't that have a nice ring to it? Most of the time, our customers save up to 50% by opting to reface, rather than replace, their kitchen cabinets.
Come on over and we'll help you choose cabinets that will give your new kitchen countertops a run for their money.