Life is better with a little bit of spice. Something to enrich the flavor of what might already be good but could be better. And the perfect blend of creativity and your personal taste could be just the thing you need to feel fulfilled.
Where are we going with this? Try and think of every element for your next kitchen remodel, from cabinets to countertops and backsplash. But an often forgotten yet vital part of your remodel is…the accessories!
Whether we're talking about more hidden but useful hardware or the shining gems of pulls and handles that will compliment your cabinets and kitchen aesthetic, accessories can make or break your next remodel.
So, without further ado, let's look into exactly what accessories are, factors you should consider before selecting, and why they're more vital than you might think.
Why are kitchen accessories important?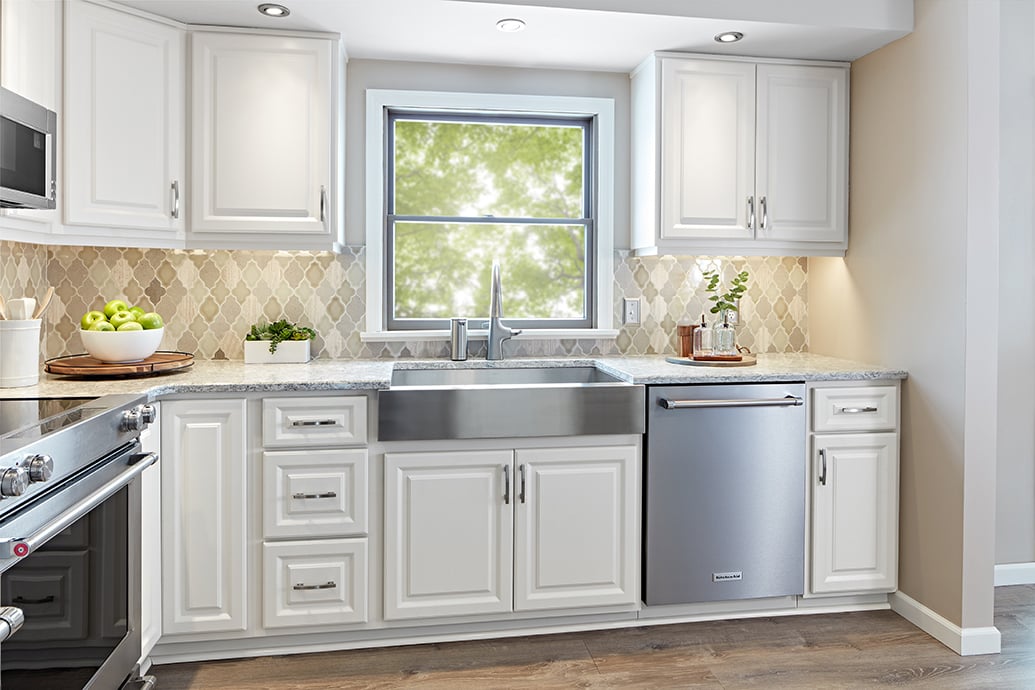 Design vs. Functionality: Accessories are first and foremost a bridge between the design and functionality of your kitchen. Knobs and pulls are not only a necessary piece for your cabinet doors and drawers, but they can be an extra layer of expression for your aesthetic tastes. Additional hardware such as trash inserts or organizers, however, serve a more functional purpose to make your time in your kitchen an efficient experience and tailor your kitchen to your personal workflow (or should we say "cook flow").
An addition to any project: From refacing to full remodel, accessories can reinvent your living space, whether you're on a budget or looking to splurge. Opting for a more budget-friendly project? Additional hardware from organizers to lighting to additional cabinets and increased storage space is an effective way to freshen up your space without breaking the bank. Looking to go all-out? A plethora of options are at your disposal that can bring an extra edge to your project. Accessories are accessible at any level of project.
The ability to tie the room together: An often-overlooked element of hardware is their ability to tie your room together. Picking specific hardware finishes that match anything from the veining in your countertop to the color of your cabinets will completely change the aesthetic of your remodel. From modern to contemporary and rustic pulls and handles, accessories will add more personality and a different look and feel that other elements of your remodel might not be able to.
So, by making your time in the kitchen as seamless as possible, these additions to your remodel can help keep your kitchen clutter free as well as ensuring everything in your kitchen, from utensils to spices, has a dedicated home.
What are must-haves in the kitchen?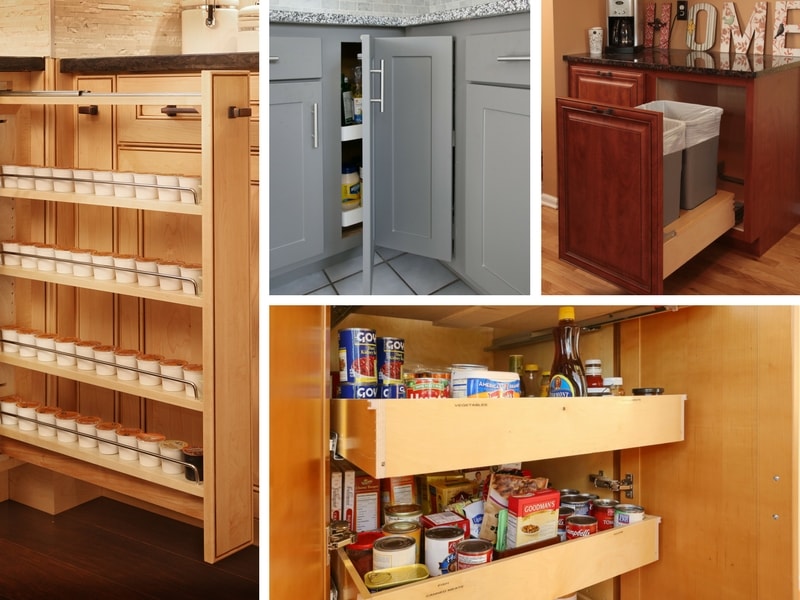 Here's a list of common function-forward and design-focused kitchen accessories you can expect to come across during your remodel:
Cabinet Organizers: Great for homeowners who want uniformity in their kitchen as well as a home for everything from spices to utensils to dry goods and cans, this category features:
Cabinet Organizers: Lazy Susans, adjustable shelving, tray dividers…

Pull-Out Cabinet Organizers: Food container organizers, utensil bin base organizers, soft-close waste bins, roll-out drawers…

Drawer organizers: Drawer peg systems, cutlery inserts, spice drawer inserts, and tip-out trays…
Knobs & Pulls: An essential part to any remodel, knobs and pulls allow you to easily access contents in your cabinet doors and drawers without scratching and ruining the integrity of your cabinets. The wide variety of finishes and styles allows you to put more of your personality into your own special remodel.

Corbels, molding, and other decorative accessories: Often used for softening the transition from cabinet to ceiling or as a complement to your counter island, these decorative accessories offer a more traditional aesthetic, reminiscent of the European countryside

.
How do I choose the right accessories?
When choosing accessories for your remodel, it's important to keep some questions in mind:
What is my current kitchen lacking, whether in terms of design or functionality?

What are my goals for my remodel?

What style am I going for with my kitchen remodel?
Being able to answer these three questions will help you with your decision making. Do you feel your kitchen lacks organization or storage? Do you wish you had less clutter and things were more easily accessible? And what style are you trying to achieve with your remodel? Are you looking to go for a more minimalistic approach? Farmhouse style? The list can go on and on. And as accessories are often one of the last steps of your kitchen installation, they're a way to wrap up your remodel and make it a complete project.
A Designer's Perspective
In the past, hardware was less of a priority. But that's changed in recent years. And especially in 2023, one thing that is trending is that 'jewelry of the kitchen'. Think of it like this. You're ready for your big night out. You've got a beautiful new dress or hand-tailored suit. But what truly makes or breaks that evening attire? The accessories, from your shoes to a watch that ties the entire outfit together. Your kitchen is no different and from different finishes on your knobs and pulls that aesthetically change your space to different size hardware that can alter your kitchen architecturally, your options are limitless.
Some homeowners may even adopt a more minimalistic approach to their kitchen, where they prefer everything behind closed doors and organized in a specific way. Some may prefer to organize their kitchen, inspired by a general store where glass door fixtures let you see all your dry goods and assorted ingredients. What type of homeowner would you consider yourself? A big family might need quick access to things when you're cooking a lot versus someone who prefers everything behind closed doors and may not use their kitchen daily. So, when approaching your remodel from a design-oriented mindset, try to keep in mind the way you utilize your kitchen. Hardware will help bridge aesthetic tastes and functionality together.
Visualize and Accessorize
While accessories are an important part of your kitchen remodel, it's one element of many. But if you think your kitchen might be missing something and could use some pizazz, pairing your hardware - in terms of finish and aesthetic - to another element of your remodel is a great way to tie your kitchen together.
Where can I find trustworthy kitchen remodel professionals?
If you're searching for professional cabinet refacing, custom cabinetry, or professional advice on the best countertop material for your home, don't hesitate to contact a Kitchen Magic design team. Not only is refacing an environmentally-friendly solution, but it's also a cost-effective one.
Simply give us a call and book an in-home consultation right away! We're excited to hear about your kitchen ideas and create a cooking space that you've always dreamed of.