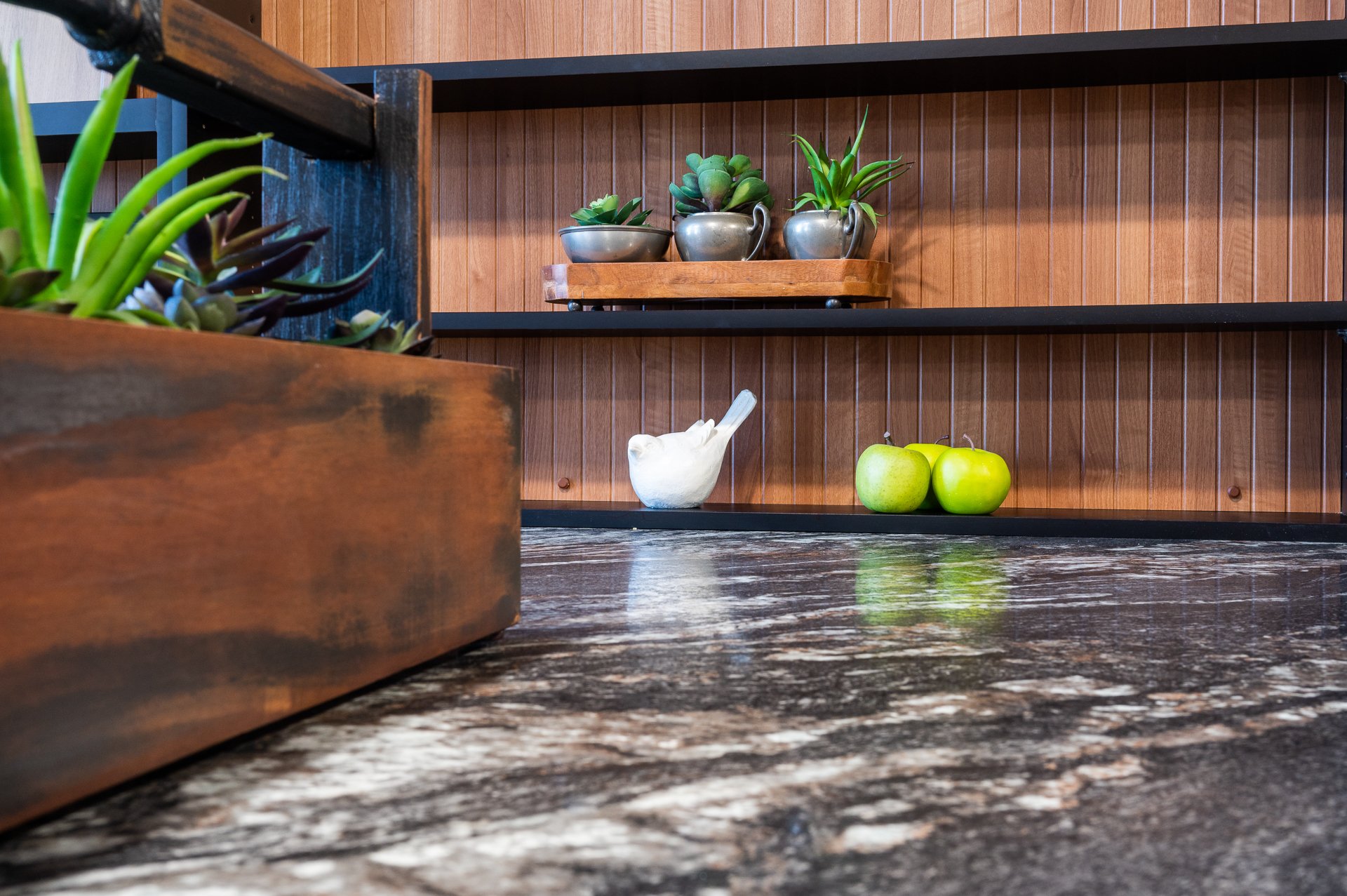 Finding yourself in panic mode? Your kitchen table may likely be scattered with designer overload - colors, materials, elements…and you might just be ready to pull your hair out. But how does one start a kitchen remodel with so many moving pieces? And how do you choose the main element that will help guide your remodel? Think of your remodel as a dance, with movements layering on top of each other, your personal style influencing your movement until you have one coherent number. And in previous years, your first move would traditionally be your cabinets, dictating every other element in your kitchen. But a new and rising trend, and an exciting new opportunity to bring unique aesthetic influences under your control and into your dream kitchen, can be made possible with your countertop.
In What Order Should You Design Your Kitchen?
For a moment, think about the process of designing your kitchen like this - starting with your countertop, consider overall style. From the color to the texture to the veining. Creating a cohesive kitchen starts with finding ways to pair elements together that are complimentary. By choosing the primary color of your countertop as your starting point, you can then consider your flooring, finding a design that aligns with your vision. Moving up from your flooring, your next challenge is finding cabinetry that reflects off your flooring, a contrast here providing a refreshing splash of new color. Lastly but certainly not least, your backsplash is the final piece of the puzzle, offering you two deviating options: one where your design and color choice works with or against the countertop, your personal preference on monochromatic design is really the deciding factor.
This is an example of how you can consider remodeling your kitchen, branching out from your countertop. But right about now, you might be curious about some factors that might influence your initial decision on what countertop to get. We've got you covered.
What is the Right Countertop for You?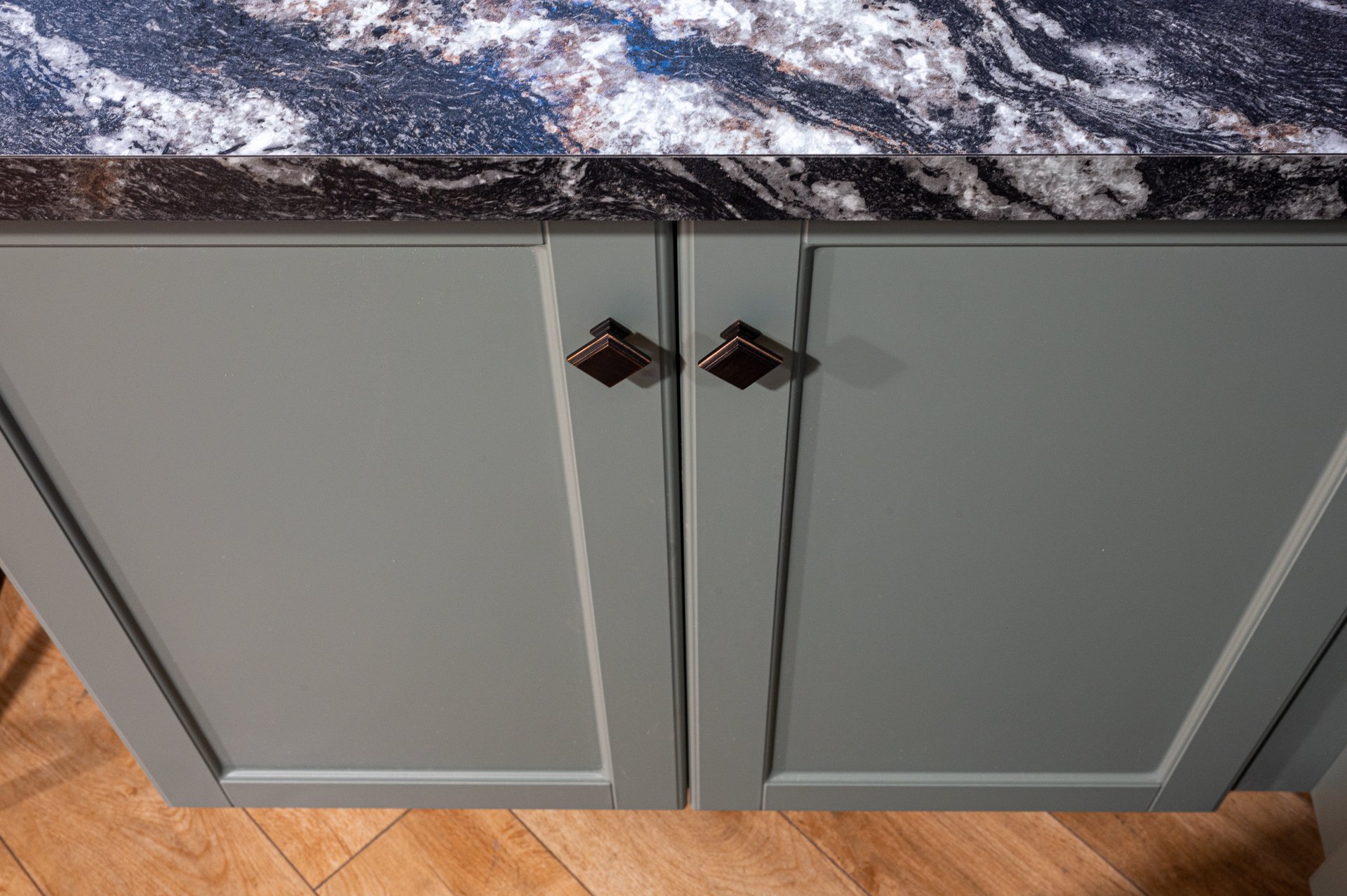 For a kitchen element so vital, it can be overwhelming knowing how to pare down your options. Let's look at some factors you should consider that might help make the search stress-free.
Durability and Maintenance

: At this point, it can be helpful to consider how you'll be using your kitchen as it can help to match materials to particular lifestyles. Material selection can be important, especially if you're an avid cook or entertainer. Durable materials such as quartz or granite are great options for homeowners who are active in their kitchen and don't want to worry about more upkeep as well as the possibility of chips, cracks, and stains with less durable materials such as marble or wood (butcher's block). However, it's important to note that durability and maintenance are not the 'be all end all' of your remodel and at the end of the day you should go with the material that matches your aesthetic preferences the most.
Style and Aesthetics

: And speaking of aesthetics, this is perhaps the most important factor. What material are you leaning towards? Quartz or granite? Concrete or butcher's block? Do you prefer more or less veining? What color? Do you want a thinner or thicker block? This is your chance to make your kitchen a personal space to show off to the rest of the world. With that in mind, taking your time to find what's right for you and how it'll reflect and mesh with the rest of your project is vital. Above all, have some fun with the process.
Functionality and Purpose

: The countertop is your primary workspace in your kitchen. It's the blank canvas that can produce homemade recipes, it's the table that serves late night study sessions, and it's the focal point of any get-together (and not to mention another storage space in some cases). When considering the best material to go with for your countertop, think about how you'll be using your kitchen space. Cooking higher temperature meals that'll require heat resistant materials to place pots and pans down on? More heat resistant materials like quartz or granite are great choices. Are you a meal prepper? Utilizing a butcher's block could be functional but stylish. For bakers out there, marble and soapstone have been known to help retain cooler temps and keep dough firm. Understanding how you will use your kitchen can be a useful first step in planning out your kitchen remodel.
Budget

: While quartz and granite are popular options, it's also important to note they come with a higher price tag, especially quartz that sits right at the top of the list. But while quartz may come with a higher price tag, it's functional, stylish, durable, and requires little to no maintenance, making it one of the two most popular options. More affordable options include solid surface or laminate that may be more prone to scratches but can give you a texture and look like quartz or granite at a fraction of the cost.
Being able to answer these following questions is a great way to break down what you're looking for:
Is keeping up with the maintenance of a countertop a deal breaker?

What are your aesthetic goals for your remodel?

How will you be utilizing your kitchen?

Are you working within a budget?
Countertop Trends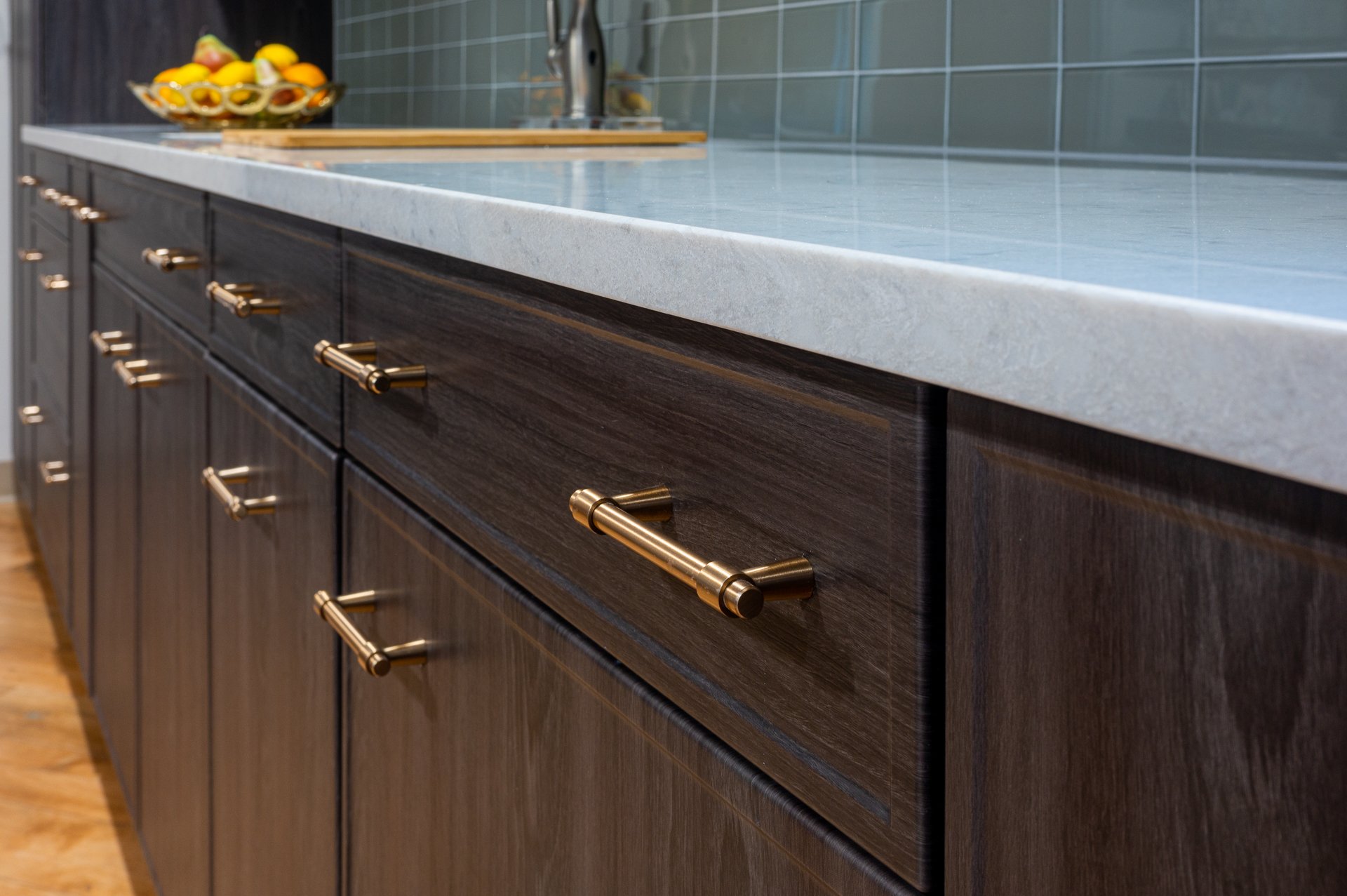 While understanding factors that could influence your countertop decision, it can also be fun to consider trends too that are making waves in current kitchen design. So, let's shift focus to some new and inspiring ideas:
Materials Galore: While serving less of a functional purpose, materials such as glass, bamboo, and concrete have been trending for their ability to bring new and unique styles to the kitchen. While their overall maintenance can be a bit more tedious, choosing any of these materials for a countertop will turn heads at any get-together. While glass may be more prone to scratching and chipping, bamboo and concrete require heavy maintenance, such as keeping these areas clean and spotless and also regularly sealed as they're more porous options. If you see these materials as too experimental for your next project, quartz and granite are two options that never go out of style.

Cleaner looks: Another countertop trend is thinner, more minimalistic countertop designs. Some homeowners are finding that "less is more", opting to store smaller appliances, dry goods, and otherwise any other item that would usually rest on their countertops behind closed doors. This gives your kitchen not only a cleaner look but more workspace for what's important to your own workflow, whether that's entertaining or preparing a home cooked meal.

Functionality: Many homeowners are adopting a function-forward mindset when designing their kitchen. Reflecting on your own workflow in the kitchen can oftentimes give you the best answers about how you can design your kitchen to suit your needs. When building your dream kitchen, try to find options that mesh function and design effortlessly. Many homeowners are also opting to meal prep right on their countertops, utilizing a butcher's block countertop design. While this will require frequent maintenance, from immediate clean up and often applying wax to the countertop to even sanding it down to remove tougher stains, some homeowners consider this a fair trade-off for the stylish benefits.
A Designer's Perspective
From a plethora of materials, designs, shapes, and sizes, countertops have a way of tying your kitchen together that no other element can accomplish. From subtle to more dramatic veining, to length or width, the countertop is the heart of your kitchen's workflow. Designing your kitchen with functionality and design in mind as well as considering which countertop is best for your remodel as early as possible will ensure a coherent aesthetic all around.