If you've been researching countertop materials for a kitchen or bathroom remodeling project, you have probably encountered engineered stone countertops such as Zodiaq, Silestone or Cambria as an alternative to granite. These materials, made of 93 percent pure quartz bonded with an acrylic resin, are harder and more scratch-resistant than granite. Unlike granite, they are non-porous and non-absorbent, meaning that they resist stains, do not support the growth of mold and bacteria, and do not need to be chemically sealed. While countertops from the three manufacturers are similar in these fundamental ways, several individual differences distinguish Zodiaq, Silestone or Cambria from one another.

=
Manufactured by DuPont, Zodiaq is tremendously durable, easily shrugging off stray knife slips without scratching. Zodiaq is highly resistant to stains and damage from heat, though you should never place hot pans directly onto any stone surface, and should follow manufacturers' instructions for slow-cookers and other small appliances. You'll never need to polish, seal, or wax a Zodiaq countertop to help it keep its beautiful shine.
Zodiaq countertops come with a 10-year limited manufacturer's warranty.
Choose from more than 40 beautiful color options!
Silestone is unique among engineered quartz countertop brands in that it has Microban bacteriostatic protection built right into every slab. This anti-microbial protection helps to discourage the growth of mold, mildew, and bacteria on the surface of your countertop, and helps your counter stay cleaner in between routine cleanings, making your kitchen easier to clean and keep clean.
Silestone offers a 15-year limited manufacturer's warranty, and a 10-year Microban Antimicrobial Protection warranty.
Available in over 60 color choices, Silestone is sure to have the perfect style for your home!
A family-owned company, Cambria is the only manufacturer of engineered quartz countertops in the United States. In addition to supporting the American economy, Cambria is also very conscious of protecting the environment. They use American quartz, keeping their transportation needs lower, and 100 percent of the water used in the fabrication process is reclaimed and recycled. Scrap material left over from the fabrication process is collected and used as road base material in local construction. Cambria engineered countertops are radon-free, and are certified for use as a safe food preparation surface by NSF International.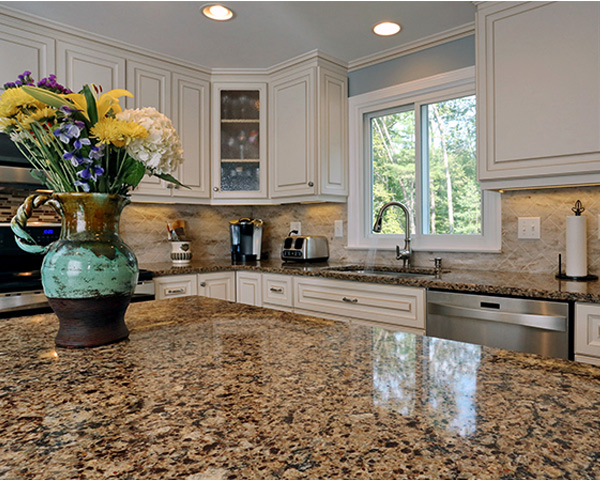 Cambria countertops carry a lifetime limited warranty from the manufacturer, valid for as long as the original owner keeps them.
Over 90 color and style choices available!