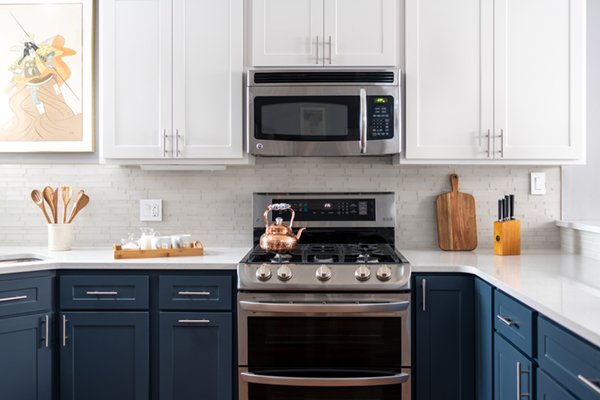 When planning your budget for a kitchen remodel, the National Kitchen & Bath Association (NKBA) recommends allocating 10-25% of your home's value. The NKBA also cites kitchen cabinetry as the largest expense, accounting for up to of 30% of your overall kitchen remodeling budget.
So, there are two things to consider with these costs in-mind:
Can the cost of kitchen cabinets be reduced?
And, since the investment is so substantial for cabinet doors,
How can I maintain the like-new appearance of my cabinets and extend their lifetime?
Budget-friendly Kitchen Cabinet Refacing
Kitchen cabinet refacing is both an eco-friendly and cost-effective solution during which your existing kitchen cabinet boxes, or frames, are first reinforced followed by an application of a real wood or maintenance-free laminate veneer. The team of experts at Kitchen Magic use precise measurements to ensure your new doors and drawer fronts meet the highest of standards with a finished look just like brand new cabinetry. Refacing, which can be completed in as little as a week after installation begins, can also include upgrades to islands, peninsulas and new cabinets as part of your new kitchen design. While cabinet refacing may not be right for every kitchen remodeling project, it's an especially appealing solution if you're looking to completely transform your kitchen on a budget. Plus, the kitchen refacing cabinet door color and style options are nearly limitless!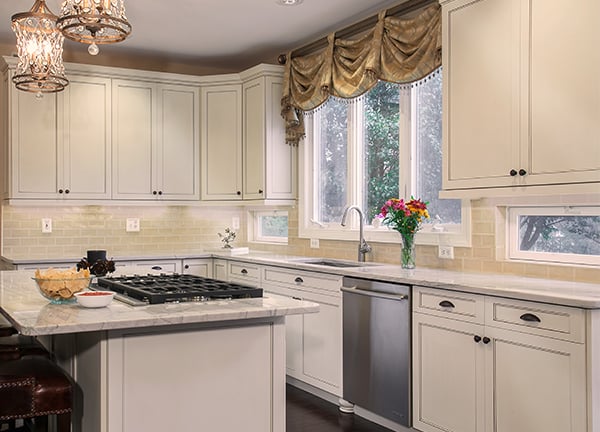 Keeping Your Cabinet Doors Clean
Properly maintaining and cleaning your cabinets is critical to keeping your kitchen sanitary, as well as looking like new. Keeping sharp knives, utensils and abrasive objects away from cabinet doors and drawer fronts will help them remain scratch-free, preserving their overall surface integrity. Try to avoid inadvertent kicks or banging of stools and chairs against lower cabinets. A regular wipe-down of cabinets, every two weeks is the recommendation, and this will ensure that the grease and dust, which naturally accumulates does not build up on the laminate or wood surface.
How to Clean Wood Cabinet Doors
Wood cabinet doors and drawers are backed by a 5-year Kitchen Magic warranty and are built from furniture-grade wood. Door styles, finishes, stains and glazes offer you the customized outcome you may have thought unachievable through refacing. Caring for wood cabinetry requires only a mixture of two parts water and one-part mild dish soap. Wiping down cabinets frequently will keep the wood shining. Natural wood cleaner can be used periodically to ensure the wood remains healthy and enduring. No harsh chemical cleaners or scouring pads should be used as this will damage the surface. A loose paste of baking soda and water with a paper towel is the solution for dried-on spills or stains.
Caring for Maintenance-Free Laminate Cabinet Doors
Maintenance-free laminate cabinet doors, contrary to popular belief, are often more durable and affordable than wood doors. Plus, they are easy to keep clean! And each maintenance-free finish offered by Kitchen Magic comes with a lifetime of home-ownership warranty against peeling, blistering and cracking under normal conditions.
If you select glazed laminate cabinet doors and drawers, they do require some specific considerations, but when properly cared for they offer a durable and 'wow-worthy' cabinet refacing solution too. For regular cleanings, simply use dish soap diluted in warm water. Never use ammonia-based cleaners, citrus based cleaners, abrasive cleaning agents, abrasive pads or granulated detergents on glazed cabinets.
Cleaning Solutions You Can Find at Home
There are three readily available cleansing agents that are safe for most surfaces, with certain exceptions including glazed laminate surfaces. They are white distilled vinegar, lemons or lemon juice and baking soda. Always check the care and maintenance specifications of the cabinetry you end up selecting and once proven.
No matter what you're looking for, the dedicated team of experts at Kitchen Magic will help you select the best solutions for you and your lifestyle. We think you'll be surprised at just how affordable a stylish new kitchen can be! Contact us today to schedule your free virtual or in-home design consultation, complete with a personalized quote for your project.