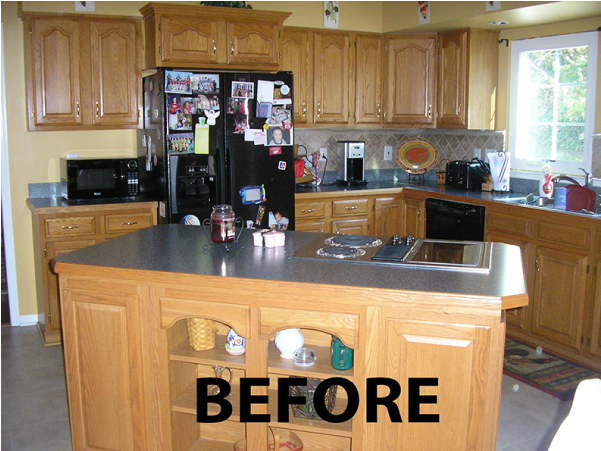 Mr. & Mrs. Bell, from New Jersey were tired of walking into their outdated kitchen each morning. While their wooden cabinets were sturdy and in good shape, the dark colors made the whole room feel dull. The laminate countertops were scratched and stained after suffering years of hot-pot abuse and far too many family meals prepared at the beaten down island. Mrs. Bell loved this kitchen because it housed so many happy memories; after all, she did raise her children in this kitchen. But it was time for a much-needed makeover.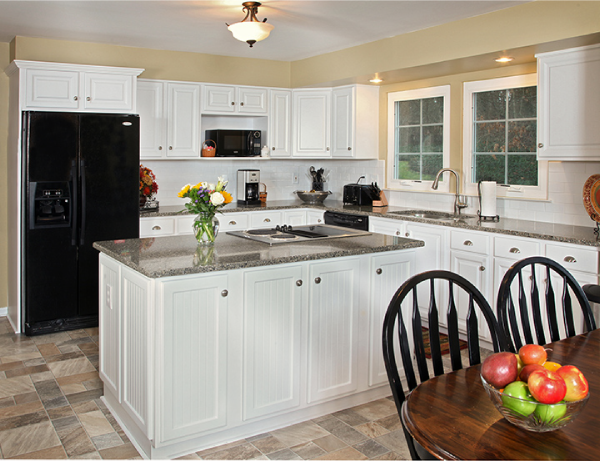 Ready to update their drab kitchen, Mr. & Mrs. Bell contacted Kitchen Magic for an in-home consultation. When it was time for their appointment, all they had to do was sit back and relax, while their kitchen specialist brought helpful design advice and samples with him so that Mr. & Mrs. Bell could dream up their perfect makeover in the light of their own home.
Not only did their consultant come equipped with style advice to bring their dreams to a reality, but he also helped build an estimate that kept Mr. Bell's first priority in mind: price. It was necessary that the Bell's stayed within their budget; they were a busy family that was looking for the kitchen of their dreams at a price they could afford. After listening to their desires and concerns, the consultant knew which remodeling project was right for this couple.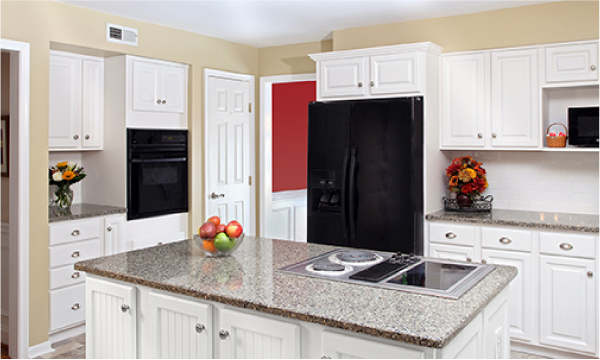 Refacing is a process that keeps the 'bones' of the cabinetry intact, while removing all of the door fronts and drawers for a completely new kitchen transformation. Because it retained about 80% of this kitchen's existing cabinets, refacing saved Mr. & Mrs. Bell up to half the cost of a traditional remodel with all new cabinetry, and took about a week to complete.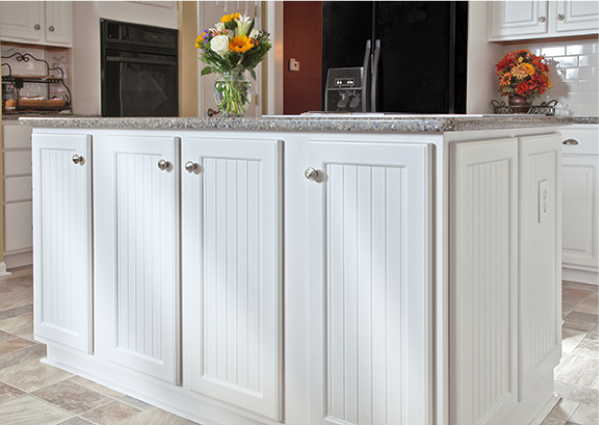 And refacing wasn't the only place where the Bell's were able to save some money. The beautiful Prestige Square cabinet doors in Frosty White are maintenance-free. Maintenance-free laminate doors are more cost-effective and durable than commonly used wood doors. Their island also features maintenance-free doors in Frosty White with an Elite Plus Broad Stripe style. The Frosty White colored cabinets have become a popular choice among homeowners because they make small kitchens appear larger, and unlike wood, these maintenance-free cabinets won't warp or fade overtime, keeping their color much longer than wood.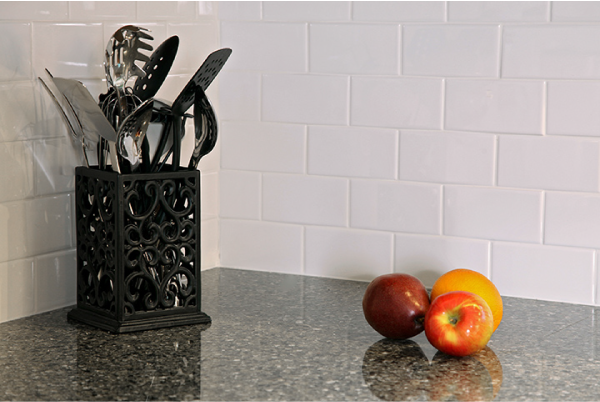 When it came to picking the countertop, Mrs. Bell wanted something unique that would really bring some style to the space. Mr. Bell knew that it was time to install a more durable material than the laminate their kitchen had for years. A Cambria Quartz countertop was the clear choice, because it is the most durable and beautiful countertop material available on the market today. Engineered Quartz countertops are more stain and impact resistant than natural stone Granite, meaning that Mrs. Bell could cook in her kitchen without worrying too much about damaging her countertops. The couple chose the color Preston with a Bevel edge, which has a light gray base color with multi-tonal variants that range from speckled blues to metallic pearls.
Kitchen design schemes featuring white cabinets with gray countertop pairings have become increasingly popular over the past few years. The combination of contemporary, cool tones and traditionally detailed elements make the Bell's kitchen a trendy style that is sure to last them a lifetime.