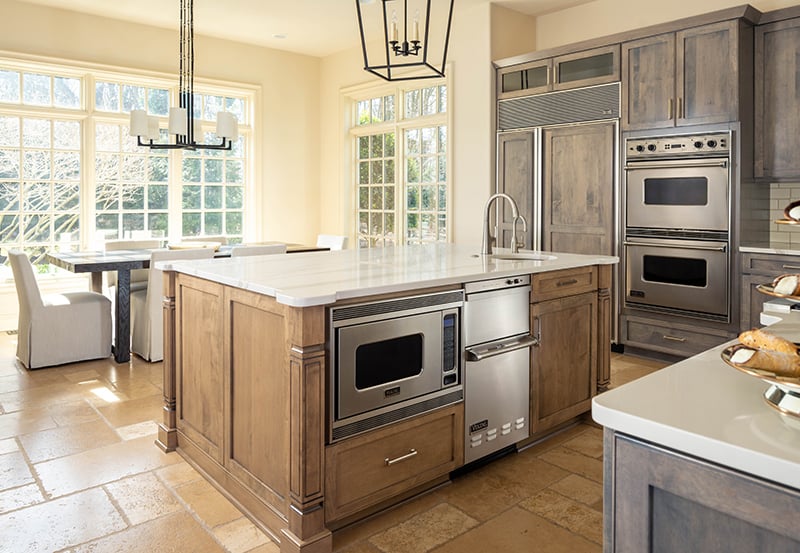 As you're thinking about kitchen improvements, or contemplating a whole remodel of the most frequently used room in your house, a quick check list will likely include kitchen cabinets, flooring, appliances and countertops. However, before you get too far down the path in planning, pause to also consider how to make your kitchen distinctly yours. There are ways to incorporate your unique lifestyle and design tastes into your kitchen and they are well worth the time and expense because personalized elements are almost always what make your new kitchen your favorite room to walk into.
Creative Design in Glass Cabinets
PHOTO CREDIT: RAYON RICHARDS, 2019
Instead of hiding everything behind solid cabinet fronts, try incorporating glass cabinet doors to allow you to show off your favorite dishes or decor. Maybe you have a collection of glassware that speaks to your personal tastes, which is perfect to highlight behind glass cabinet doors.
Glass kitchen cabinets on top paired with solid lower cabinet doors creates a beautiful contrast that can be achieved using a range of door styles. You can even use two-tone cabinets for additional distinction and to break up a monochromatic feel that just may not be your style.
Mullion glass, leaded glass and textured glass all offer a variety of options from contemporary to traditional. If you have a unique or specific idea in-mind, consider custom glass cabinets.
Form Meets Function with Open Shelving
Standard wall mounted cabinets above your kitchen counter doesn't have to be the automatic choice. Open shelves above countertops and prep spaces have benefits that go beyond great looks. Glassware and dishware used-daily can be quick to reach and accessible without the added step of opening a cabinet door. It may seem like small step to eliminate, but in today's busy world, you may appreciate a few extra seconds every time you reach for plates and bowls. But, open shelves are not only for utilitarian purposes. They can also be used to display art and decorative accents in the form of a treasured collectible or two, framed black and white photographs, your inherited family cookbooks or small whimsical sculptures and pottery pieces. The shelves themselves can be considered an artistic element in your overall kitchen design. You can keep it simple and streamlined, or get creative with different finishes including high gloss, industrial or maybe a unique color to make your new kitchen really feel like yours.
Customized Storage Solutions
Cabinet storage solutions also create unique features in your kitchen that can help you stay organized too! Think cookware and utensil bin base organizers, roll-out drawers, drawer peg systems, K-Cup tray inserts, Lazy Susans, tip-out trays and soft-close waste bins. Don't underestimate how the power of a high-performing kitchen can positively affect your daily quality-of-life.
Wine Storage for Connoisseurs
KITCHEN PHOTO CREDIT: PhotoSynthesis Photography, 2019
Whether you're a connoisseur or an avid enthusiast, wine storage may be something you'd like to incorporate into your kitchen for dinner parties and family gatherings alike. There are numerous ways to efficiently store wine in your new kitchen, and it all comes down to your personal preferences.
While we're all spending more time at home than out, the littlest detail can be among the most impactful aspects of your kitchen. Allowing yourself ample time in the planning stage and working with a Kitchen Magic design consultant will ensure that your every wish and desire is met with the perfect solutions in your new kitchen. Start by making a kitchen wish list and prioritize each item by importance. Then, get ready to explore your new kitchen's potential with Kitchen Magic!