A kitchen serves a variety of functions in a home. It can provide an oasis from activity occurring in other rooms or act as party central. No matter how you use your kitchen, the design choices you make affect how you and others feel when in it.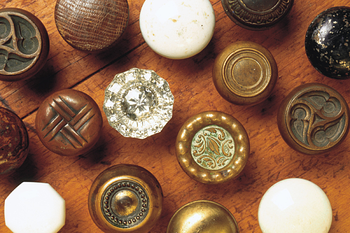 Renovators might use the same style of kitchen cabinet hardware throughout their kitchens for various reasons. Perhaps a homeowner went with basic hardware included with the cabinets or had concerns that mixing styles would reduce the kitchen's appearance or value.
These reasons don't mean that your kitchen must have matching hardware. It's your kitchen and mixing styles is one way you can show off your creativity, while separating or incorporating the room design with the rest of your home.
Shapes
One popular hardware trend for kitchen cabinets is to mix pull and knob shapes. For example, you might contrast long horizontal bars aligned near the top edges of wide drawer fronts with cup pulls centered on short drawer fronts and small round knobs on doors; or you might use short horizontal bars on all drawers and vertically aligned round line-style handles on doors.
Designs
Another popular trend is to mix pull, knob and hinge designs. For example, if your kitchen has a mix of rustic distressed and contemporary cabinet styles, you might use a rustic style of hardware, such as big, chunky black cast iron pieces on the rustic cabinet fronts and black, nickel, stainless steel or brass smooth geometric modern hardware on the contemporary cabinet fronts.
Special Considerations
When you don't want to mix up your hardware, or you want the design of one style to carry over to the other style, you can use backplates to create the look you want. For example, you might place a scrolled backplate behind straight or smooth geometric-shaped pulls or knobs. From the rust/contemporary kitchen example, you might use a black, nondescript cast iron backplate behind the modern-style pulls or knobs.
You can also mix hardware materials. One example: If your kitchen has open beams and salvaged wood top cabinets mixed with modern utility-style bottom cabinets and countertops, you might use wood pulls and knobs for the top cabinets and metal for the bottom ones.
If you're uncertain whether the mixed hardware styles you like will work with your kitchen theme and cabinetry, contact Kitchen Magic for assistance. Kitchen Magic's kitchen specialists can provide you with expert design advice. You can even get started by downloading the FREE guide below.