Walk into your kitchen and look around.
Do you have knives thrown haphazardly into drawers?
Is there a scouring pad, brush, sponge or bar hand soap on the sink top?
Are your herbs and spices wherever you last used them or near heat sources?
If you answered "Yes" to any of these questions then your kitchen lacks an organized cabinet storage plan.
Organized storage goes beyond placing specific items in certain kitchen cabinets or drawers, or kitchen areas. Affordable modern cabinet storage solutions exist that can reduce storage-related kitchen accidents and health risks, as well as improve food prep, cooking and cleaning efficiency.
Drawer Inserts
When you throw knives into a drawer, you risk damaging the cabinet frame exterior above the drawer and the drawer interior. You might also have difficulty finding the knife you need during food prep or cut your fingers. A custom knife board or cutlery drawer insert is the best solution for these problems. A drawer insert provides slots and sections for different sized knives and blade rests designed to force you to store knives carefully.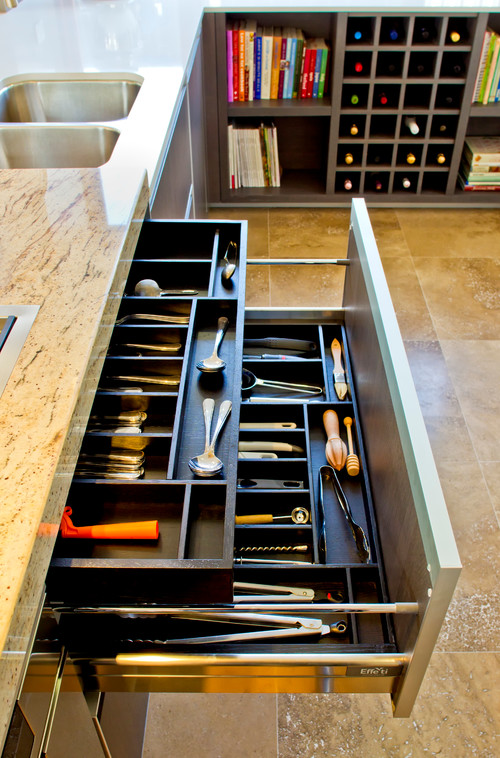 Tip Out Trays
A steel wool scouring pad or steel brush, besides being an eyesore, creates rust stains on a sink top over time. A wet sponge or bar of soap leads to bacterial growth. Plastic tip out trays are the perfect solution. A cabinet face at the sink has two fake drawer fronts that only serve a cosmetic purpose. Tip out trays fit conveniently behind these fronts turning them into functional, hidden storage solutions for small items commonly used at the sink. No one will ever see the rust stains and you can remove and clean the trays effortlessly, as needed.
Pull Out Spice Racks
You know it's time to organize seasonings when you can't find the salt shaker or, worse yet, injure yourself while rummaging through cabinets or tearing around the kitchen. Herbs and spices can also lose potency, and suffer bacteria or insect growth, without cool, dark storage. A pull out spice rack in a lower cabinet away from heat sources conveniently places all of your precious food flavor enhancers in one location. A cabinetmaker can even customize this type of rack with bins for small bottles and shakers, and shelving for large bagged or boxed items and seasoning-related tools, such as a pepper mill, garlic press or mortar and pestle.