When most people consider remodeling their kitchen, one of their first thoughts is, "Yikes! Just think of the expense of replacing our cabinets..." If that was one of your first thoughts, it means you haven't taken Cabinet Refacing 101 to learn about the affordable, and relatively simple process, which can take old, dingy, and beat up cabinets and give them a 100% transformed appearance.
Here are 3 New Cabinet Refacing Ideas to Get You Started
1. Use Bead Board
Cottage kitchens are a look that is coming back into style. In some ways it has never left - a homey kitchen aesthetic is always in style. A bead board cabinet face is an affordable cabinet refacing option which can completely alter the way your cabinets look.
Bead board is mold resistant, easy to repaint if you tire of the color, and comes in a variety of pattern options so you can choose one that works with your taste.
2. Change Their Function?
Unless you are a visionary, it might be difficult to imagine your cabinets in any other configuration than their current status, i.e. doors which open and have shelves inside. But modern cabinets are so much more than shelving. You can come visit our showroom and see how much cabinet function has changed.
Drawers that contain spice racks, "doors" that slide open to house hidden trash receptacles, corner cabinets with ultra-space saving lazy susan style storage, etc. are all examples of how your cabinets can be overhauled during the refacing process.
3. Get High Tech Hinges
Do you find yourself cringing every time someone closes the kitchen cabinets with a slam? New Blumotion hinges are amazing. You can try to slam your cabinets with all of your might and they will still just close with a soft, slow-motion finish.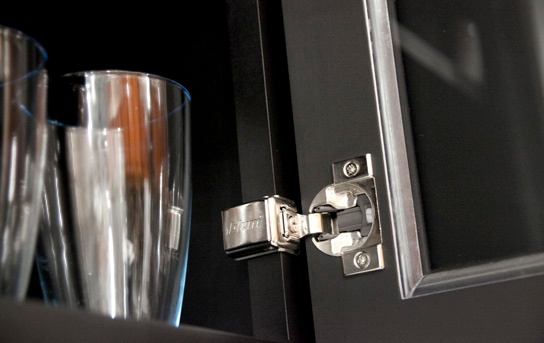 Photo courtesy of blum.com
That's because new hinge technology includes a special mechanism which engages when the door is about 1-inch or so from the cabinet and then slowly releases the door until it closes completely. Blumotion also makes whisper quiet cabinet drawer glides. You'll love them!
Although today's article may not have been a comprehensive cabinet refacing FAQ, we hope these "things you didn't know" can help to jump start your Cabinet Refacing project. We look forward to helping you complete it!
If you still have questions about what cabinet refacing entails, check out our video below for a full explanation.