These days, people are always looking for "Cheap" and "Inexpensive" things. That's understandable given our current economic situation. At the same time, it's important people recognize the difference between, "cheap" and "affordable". The difference can be enormous and, when it comes to things we value, cheap often comes at a larger overall cost than the original price. So what are people really asking for when they're looking for cheap versions of what they want?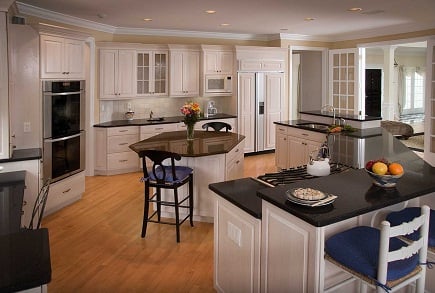 Do they expect something that lasts? Or are they looking for something to tie them over for a short while? Do people care where their products come from, how workers are treated, and whether their money is supporting the United States economy? These are the questions that consumers need to be thinking about before they set out to buy the cheapest things.
Kitchen Magic - Creating Affordable High Quality Kitchens for Over 30 Years
First, we need to look at the difference between the words cheap and affordable. As trite as dictionary definitions are, we'll start there anyway for an objective sounding board. These definitions are courtesy of Oxford Dictionary:
Cheap
low in price, especially in relation to similar items or services

of little worth because achieved in a discreditable way requiring little effort
Affordable
inexpensive; reasonably priced
You see, the word cheap is not just about price, it's also about the lack of quality and/or effort put into the item in question, whereas affordable is about "reasonable pricing." In other words, there can be a vast difference in quality - and price - between things considered to be cheap and things considered to be affordable.
Kitchen Magic, Inc. is Affordable not Cheap
Our work, products, and services aren't cheap, but they are affordable - and we hope that fact will never change. Here at Kitchen Magic, we take great pride in our products and our dedicated customer service. If we cared only about aesthetics, and not about the quality of our final product(s), we could be one of the cheapest kitchen kitchen remodelers in the nation. However, since 1979 we've been committed to our Kitchen Magic Pledge - and our pledge is about quality American-made products, customer satisfaction, and lifetime of home-ownership warranty. Those things might not come cheap, but we feel confident we offer competitive and affordable prices for our work.
If it is truly a cheap kitchen remodel you are looking for, you are in luck! There are a myriad of big box stores that offer exactly that: prefabricated cabinets that look absolutely luxurious, but are almost entirely particle board, meaning they'll last a decade if you're lucky. Here, even our most affordable cabinet doors - which are often paired with refacing existing cabinets - are made with high-quality furniture-grade core that doesn't fall apart, rip away from the frame, or collapse under the moderate weight of pots and pans.
Or, if you're starting from scratch and want a 100% custom-designed kitchen remodel, we offer that too. Our cabinet makers - working right here in our own workshops in the US - design and build completely custom cabinets as per your order. While pricing for that may be on the more expensive side- they're still considered competitively priced - and will last a lifetime. Our countertop selections run from the higher end Granite and Quartz options to the more affordable Corian or high-quality laminates, and we only work with products we can back 100%.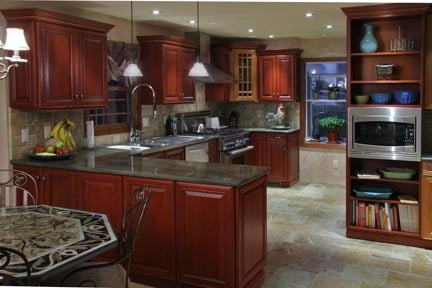 Ultimately our goal is to combine quality craftsmanship and customer satisfaction. Whether you're in the market for kitchen cabinets, countertops, or both, we'll work with your budget to the best of our ability and create an affordable kitchen we're all proud of.