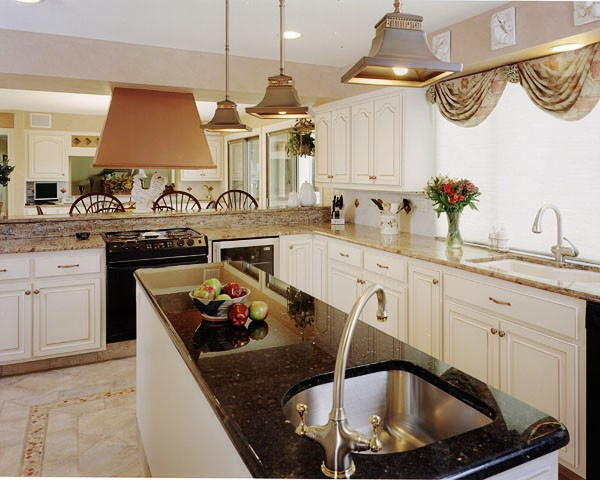 Should the Bottom Kitchen Cabinets Be the Same Style As the Top?
Questions such as this can't be answered with a simple "yes" or "no," as there are an abundance of kitchen cabinet element style options. Additionally, the style options you select will depend on renovation-specific factors such as your kitchen layout, budget constraints and personal preferences.
Mixing kitchen cabinet element styles has become increasingly popular over the years because of the nearly endless custom accent opportunities available: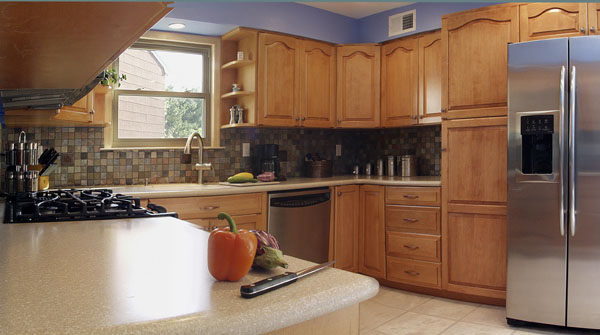 Fronts
Door, drawer and false front styles include wood or laminate slabs and recessed or raised panels featuring eyebrow arch, cathedral or vertical line designs. Clear, frosted or chipped glass doors with or without beading are also available.
One popular front mixed top and bottom combination that can make a kitchen seem larger is cathedral top fronts with standard vertical line flat panel bottom fronts as seen on the pictures in this article.
Overlays
A standard or traditional overlay allows approximately 1-inch of exposed face around door, drawer and false fronts. A full overlay hides the face behind these elements.
Another option is a full exposure -- no fronts whatsoever. One of the most popular modern white kitchen combinations is standard overlay clear glass top doors and open cabinet single or multiple shelf top sections mixed with full overlay slab-style or square panel fronts that place emphasis on the shelf items in the top cabinets.
Color
Many homeowners mix contrasting top and bottom colors when they renovate their kitchen. One popular example is using dark-colored bottom cabinetry to anchor light colored top cabinetry.
Another popular trend is highlighting cabinet fronts with a color that softly or loudly contrasts with the cabinet framework color. For example, retro diner lovers often use white or cream framework and bright-colored fronts. Some also mix white or black framework with top fronts in one color and bottom in another.
Accessories
Accessories are often used to draw two opposing styles together to complete a look or theme. Bridging styles often involve matching top and bottom doorknobs and drawer pulls. Some homeowners opt for a slightly different style of pull in the same color or a different color in the same style. Additionally, you can use decorative accents such as appliqués and molding on both top and bottom cabinets to bridge front, overlay or color differences.
Whatever combination you're considering, consulting a cabinetry specialist is the best way to determine if the idea you have in mind will make your kitchen an inspiration or a shining example of how to best renovate your kitchen.