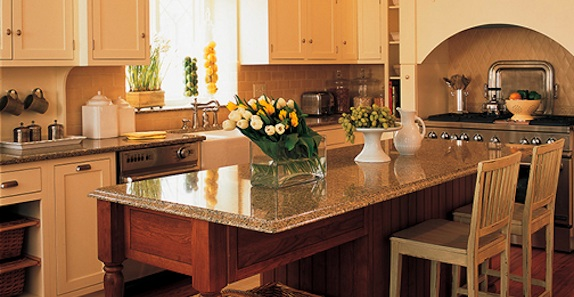 Some of our visitors who were considering a quartz countertop such as Cambria had questions about some of its constituents, namely the acrylic resin. They wanted to know how well the resin will hold up compared to natural granite. We address this concern in today's article.
Cambria ranks highly as a countertop material in part because of the resin. Unlike natural stone, which is porous and will let liquids through, the resin and filler combined render quartz products such as Cambria non-porous. There's no chance for bacteria, mildew or mold to form on quartz providing ordinary cleaning is performed. For this reason quartz countertops are naturally antimicrobial.
The resin also helps Cambria have some give for ordinary use. Granite, when cut thin enough for countertop use, is brittle and can crack. Cambria can take a bit more use and can be installed more easily. Also, unlike granite, Cambria is resistant to stains and will not retain odors.
The resin in Cambria is of the same material they make bowling balls from, but it's the filler that really holds up. Cambria is just 7% resin and 93% quartz. Quartz is about five times harder than granite, and countertop surfaces made from it are maintenance free. It can be scratched or chipped with some effort, so users should chop and dice on cutting boards rather than directly on the surface. As with all kitchen countertops, hot pots or appliances may mar the surface, so it's best to use a trivet or hot pad under electric griddles, crock pots, or in landing zones near the stove. These suggestions are not unique to quartz counters, as no kitchen countertop is impervious to damage.
Cambria is NSF-certified to be safe for food preparation, and also certified by GREENGUARD as a low-emitting product for indoor air quality. Also because Cambria is made in the United States and doesn't have to be imported from overseas, it's likely to be more eco-friendly than granite.