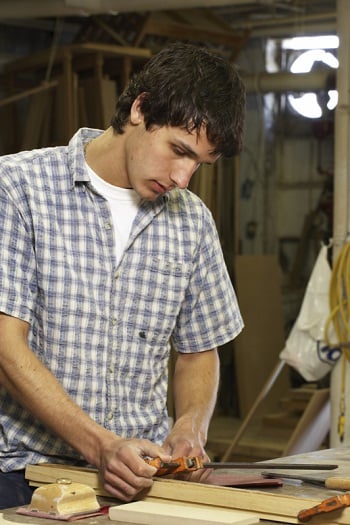 Many homeowners ask themselves this question when considering the types of cabinets to install for a kitchen project. Although it is a good question to ask, the better question to ask is:
Are pre-fabricated kitchen cabinets better than custom cabinets?
Why? Whether custom cabinets are made better than catalog cabinets depends on the materials used by the cabinet maker you hire and his skill and experience.
On average though, homeowners consider custom cabinets better overall.
1. Pre-fabricated kitchen cabinets are often made of pressed particle or fiberboard containing formaldehyde and other chemicals toxic to humans that can cause long-term respiratory issues and even cancer. On the other hand, custom kitchen cabinets built by an experienced master cabinet maker are often crafted from real solid wood or plywood that doesn't contain formaldehyde or toxic glues.
2. Prefab materials are also known to break down faster than their real-wood counterparts and can crumble with exposure to heat and moisture.
3. Pre-fabricated kitchen cabinets, as their name suggests, are manufactured in an assembly fashion to "standard" or "commonly requested" dimensions. Custom kitchen cabinets are built to order. As a result, a professional cabinet maker can build cabinets to fit any space or layout -- small, large or oddly shaped; or any type of cabinet request -- top and bottom cabinets, pantry, extra storage, island, bookshelves, et cetera.
4. Assembly-line cabinets may only receive a quick once over by a quality checker resulting in installation of kitchen cabinets that have damage or missing hardware. Custom kitchen cabinet builders usually double or even triple check their work and do everything they can to perfect their product before and during installation.
5. Many prefab cabinet manufacturers use prefab hardware that's often non-adjustable or easy to break. You can request whatever type of long-lasting hardware you desire for custom cabinets including European internal hinges with three way -- height (vertical), side-to-side (horizontal) and depth -- adjustment capability.
As you can see, custom cabinets almost always come out on top when directly compared to prefab. If the budget and time you've set aside allows, consider custom-built cabinets over pre-frabicated for your kitchen remodeling project.