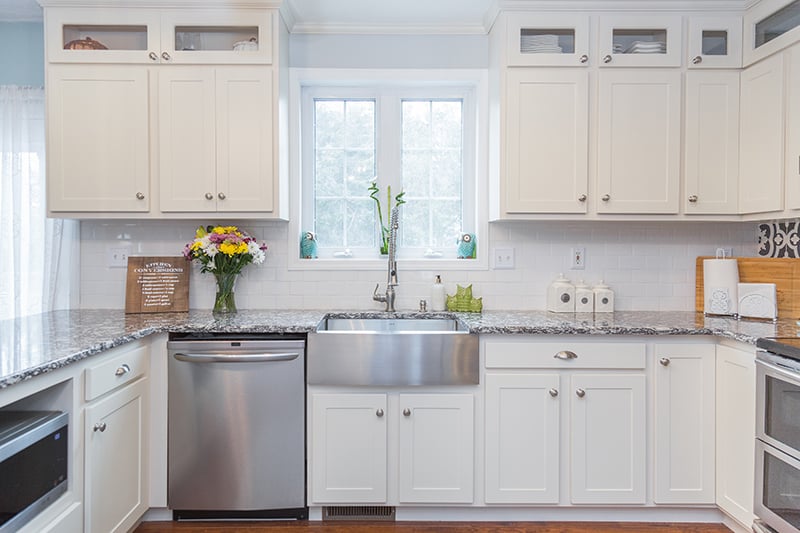 An ideal kitchen remodel improves the aesthetics, functionality and, most importantly, your enjoyment of one of the most used spaces in your home. An updated kitchen design can also increase the real estate value of your property. So, how do you maximize budget and time when considering a kitchen remodel? The answer may be cabinet refacing.
Kitchen Cabinet Refacing is a Key Process in Remodeling for Homeowners
PHOTO CREDIT: Christian Giannelli Photography, 2020
What, exactly, is cabinet refacing?
Cabinet refacing is a time-and-money-saving process that has transformed countless kitchens for decades. This highly efficient method can save an impressive amount -- potentially up to half the cost compared to all new cabinetry. Now that's excellent news!
Is cabinet refacing the right choice for your kitchen renovation?
Are you pleased with your current kitchen layout? Are your existing cabinet boxes structurally sound? Are your storage options sufficient? If you answered yes to these questions, congratulations! You are a likely candidate for cabinet refacing. However, if you're looking for a total kitchen overhaul, or custom cabinetry, then new kitchen cabinets may be the best remodeling avenue to take.
Do all refacing companies offer the same quality?
Homeowners beware! Not all cabinet refacing companies are equal. Some remodeling companies may simply glue a single sheet of laminate or veneer over your existing cabinet doors. But, when inferior laminate or veneer wears, tears, or comes loose, the homeowner is left without recourse — and little or no measure for repair.
On the other hand, Kitchen Magic uses superior materials, expertly installed with an exclusive permanent double lamination process. All exterior cabinet surfaces are covered with a final layer of laminate or natural wood refacing material. The result is a more substantial, brand-new look that transforms your kitchen into a truly unique space.
Can cabinet refacing offer stunning style too?
Yes! You can select from hundreds of styles and colors. Want to reach to the ceiling with your new cabinetry? No problem. Need to add storage pullouts and other solutions? We can help! How about changing up your door style to the newest shaker look in the latest trending colors?
How much time does refacing save?
The average downtime for most homeowners who choose kitchen cabinet refacing is about a week. Installation of additional materials including - but not limited to - countertops, backsplash tile, and flooring may increase the amount of time required.
Looking for custom cabinetry?
Over the decades, Kitchen Magic has assisted homeowners with a plethora of new and custom cabinetry needs. Our kitchen experts are ready to help you with all of your kitchen remodeling details.
Ready to learn more? Not sure where to start? Kitchen Magic will help! Call 800-272-5490 to schedule your free, no-obligation design consultation. Or, schedule online now!