What are a few words that you associate with any home improvement project? For some, their minds might go to "stressful" or "a hassle" while others may think "exciting" or "refreshing".
But any remodel, and especially a kitchen remodel, is associated with one word: investment.
As with any investment, you will weigh your options and consider, "How will this bring me value?" The choices you make will determine that outcome.
Everyone has different wants and needs, from design to functionality, and those factors will dictate what your result will be.
With any kitchen remodel, the two most popular options are to reface your cabinet boxes, doors and drawers or replace them. But what are the differences between the two, what factors will determine your options, and what makes this such a rivalry?
Let's dive in:
Is it better to reface or replace kitchen cabinets?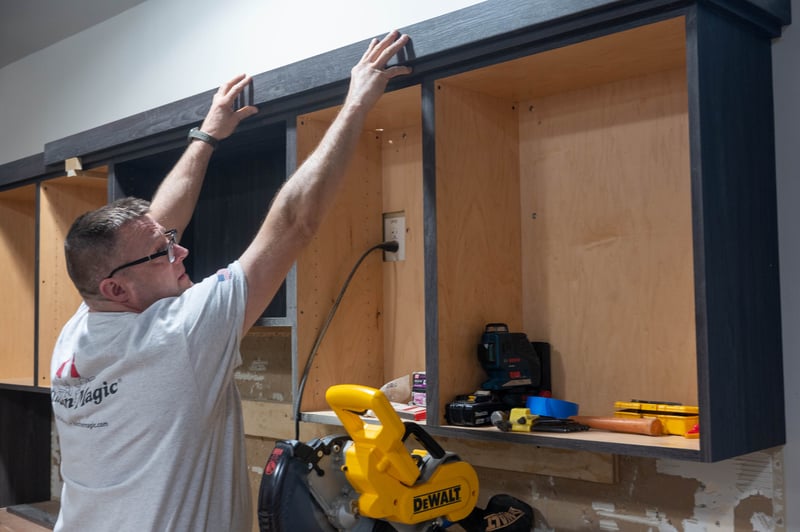 First, let's talk about the "behind the scenes" for a reface vs replace project.
Refacing is best considered a facelift for your kitchen. When your kitchen has 'good bones' the relatively seamless and stress-free process of refacing is the payoff for a kitchen still in great shape. A refacing project will look like the following:
Replacing kitchen cabinet doors and drawer fronts
The cabinet frames are sanded down to a fresh wood surface

Laminate (and in some cases a 1/4" luan plywood subsurface) is applied

New accessories, trim, doors, and drawer fronts are installed
Some may think they're somewhat limited when choosing refacing. In reality, refacing offers a wide variety of styles and color options as well as the potential to create more cabinet space by adding smart organizers or additional cabinetry to increase storage space.
For homeowners who have already replaced their countertop in the past (often with a new stone top) refacing allows your countertop and investment to stay intact and renewing only the cabinets.
Plus, refacing will last in your kitchen for a lifetime. With a faster timeline when compared to a gut job at about half the cost, refacing is a popular choice for homeowners on the go or those wishing for less disruption to their day to day lives.
But some people do prefer to tear out their cabinets rather than reface, also known as a gut job. Of course, all new cabinetry will cover "soup to nuts", and allow for a fresh start and offers homeowners a complete do-over of their kitchen, in most cases including the following:
New cabinetry

New countertops and backsplash

New flooring

And new hardware and accessories
While it's a bigger investment of time and money, your result will be a completely reimagined living space, from layout to functionality to design.
What factors to consider?
Major factors that influence a homeowner to choose to replace their current cabinets is the structural integrity of the cabinetry you already have. For instance, if you recently moved into a home and it's a bit of a fixer upper, your cabinets may be showing signs of water damage or rotting. Opting for new cabinets under these conditions is always the right choice. But it's also ok to simply dislike your current layout and want to entirely change it, even if your kitchen is in great shape. While every kitchen will have general wear and tear, a kitchen expert who can offer all solutions or a hybrid of any of them will be able to determine if your cabinets are on their last legs.
Here's some questions to consider if you're thinking about replacing your cabinets:
Do your cabinets have a shoddy structure and/or not solidly affixed to the walls?

Are you unhappy with your current kitchen layout?
Are strange or musty odors coming from your cabinets?

Is your cabinetry made of metal?
While some homeowners might find the hybrid option, or a mix of replacing and refacing, the attractive choice, keep in mind that it's recommended to opt for a full remodel if you're planning on remodeling more than 40% of your layout and cabinetry.
On the other hand, refacing is a versatile choice if your kitchen has good bones. If your cabinet boxes have minimal to no previous damage, refacing allows you to change the style of your cabinets without as much disruption to your home, taking a fraction of the time compared to a traditional remodel.
Consider these questions if you're thinking about refacing:
Are your cabinets in great shape and have a sound structure?

Do your cabinets have little to no water damage or rotting?

Are you happy with your current layout, backsplash, and countertops?
Whether you just moved into a new house and the cabinets aren't your style and taste or you simply want something new after many years, refacing can be just the refresh your kitchen needs.
What are the pros & cons of refacing kitchen cabinets?
If you're debating between these two remodeling options, consider these 'pros and cons' to alleviate some stress and make your decision-making process easier.
With refacing, you're able to:
Get the look and feel of a new kitchen

Have your kitchen completed without the time commitment of a gut job

Transform your kitchen at a fraction of the cost of all new

Choose any color or style of all e new doors and drawer fronts to suit your taste and style

Give your living space a fresh, all-new aesthetic
Increase your home value at a reduced cost
Remember:
You cannot change the layout of your kitchen (however added cabinetry and storage will help change the appearance of the layout)

Some inherent limitations to the functionality of your kitchen will remain
Alternatively, with all-new cabinetry, you can:
Create a completely new layout

Significantly increase the value of your home, making it a worthwhile investment

Start from scratch with a design that precisely matches your wants and needs
Here are some problems you might encounter when refacing your cabinets:
Longer wait times and installation times

A higher price tag

And more day-to-day disruption to your usual routine
What's best for you?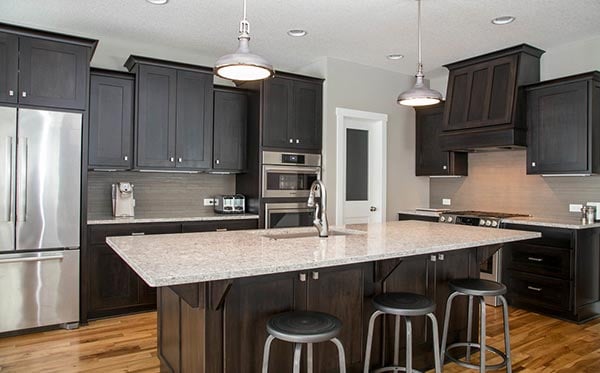 If you're still on the fence, three helpful questions you should take into consideration are:
Am I changing the counters?
How do I feel about my cabinet interiors?

Am I satisfied with the current layout of the kitchen?
Being able to answer these three basics will help give you as well as your contractor better insight into what option might be best for you.
We've all been there when we're faced with a tough choice that will make a serious impact on our day to day. And choosing how to renovate your kitchen is no exception. It's a living space you'll walk into every day, a place that'll house parties, family dinners, and game nights. So, it's important to weigh your options and figure out what's best for you and your home. But whether it's refacing or replacing, each has their benefits and it'll come down to any number of factors, from cost, style, or functionality just to name a few.
Who can I trust for an expert kitchen cabinet remodel?
If you're on the lookout for experts who can perform expert cabinet refacing near you, you'll be glad to know that we've refaced hundreds of kitchen cabinets, giving them a whole new look. Our ample experience and genuine passion for our job have always left our clients completely satisfied with our work.
As leading kitchen remodeling contractors, Kitchen Magic uses some of the most advanced industry practices. Our precise measurements and high-quality tools allow us to create an enhanced cooking space that meets your expectations. Get in touch with us and schedule a free in-home estimate!