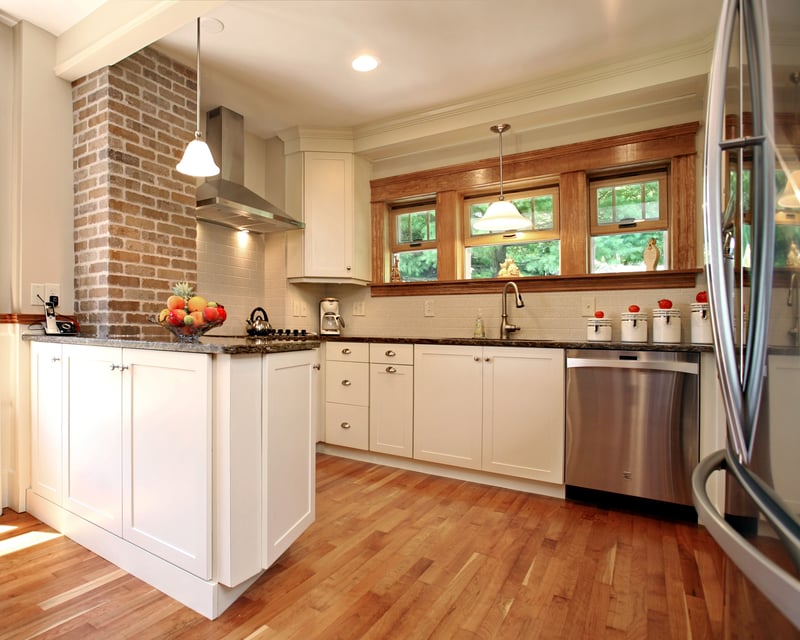 What are the most appealing kitchen cabinets, countertops and other kitchen features for home resale? And, how do you remodel your kitchen to incorporate your future plans to sell your property? For starters, keep it simple. Leading real estate professionals recommend keeping your kitchen design neutral and as timeless as possible. Additionally, if your kitchen does not currently flaunt luxury materials, it may not be ideal to add overtly pricey upgrades such as slabs of granite or marble.
Homeowners getting ready to sell their property should generally consider their home's price point, location and the overall aesthetics of their kitchen. Every home seller's goal is ultimately show-ability, whether selling a starter home or a multi-million-dollar mansion.
So, if you decide your kitchen needs an update before hitting the housing market, be sure to use classic elements and a cohesive plan throughout your kitchen design. All of these details your Kitchen Magic design consultant can assist you with, but to help you get started we've gathered some advice from our kitchen experts:
A Reface Lift
Refaced kitchen cabinets offer a wow factor and a much desired bang for the buck for homeowners. Cabinet refacing is an excellent solution for kitchen cabinet doors that are dated, worn or tattered, but the existing cabinet structures are still in good shape. Refacing is also a quick and economical means to update the look of your kitchen, whether for resale or long term use. Plus, there are plenty of cabinet door styles and colors to choose from, including maintenance-free laminate and natural wood finishes.
Countertop Culture
If your existing countertops are less than stellar, there are many options to consider for resale. Artful laminates are cost-effective and some of today's products from Wilsonart® and Formica® are impressively natural in appearance. IF your budget allows for higher price points, quartz countertops offer sustainability, durability and an added layer of non-porous germ-resistance for your kitchen.
Kitchen designs evolve. Using neutral tones and fresh whites will bring the most longevity. You may think dark speckled granite is appealing. However, the new home buyer may find the look tragically dated. Keep in mind that some buyers may have plans to tear out the entire kitchen and start from scratch. When it comes to updating for resale, keep in mind your return on investment.
Let There be Light
One detail savvy realtors agree on is the need for layers of light, and lots of it, for successful home showings. And, if your current kitchen feels like a bit of a cave, try exploring solutions in kitchen cabinet lighting. Under-cabinet lights, dimmers and lighted cabinets with glass door fronts all offer additional means to illuminate your kitchen and home for sale. This is a great way to brighten prep areas, or with dimmers to add a bit of ambiance for dining and entertaining spaces — all a plus as you continue to reside in your current home or for any prospective homeowners during the resale process.
Small but Mighty Details
Remember, small details pull a room together, and the kitchen is no exception. When reselling your home, have a big picture in place — don't forget the lighting, floor, backsplash and a fresh, clean appearance.
For instance, a change in your kitchen cabinet hardware can significantly alter your kitchen's look and feel. Simply replacing old, outdated pulls with modern polished nickel or stainless steel knobs and pulls can dramatically freshen-up your kitchen space. A fresh, neutral wall color can also give your home a current appeal. If you're feeling a tad stifled by neutrals, add a dash of color to your kitchen with a bright area rug, decorative dinnerware, tablecloths and more!
At Kitchen Magic, our design consultants are ready to assist homeowners, like you, with every step of the kitchen design process — from cabinetry to countertops, backsplashes, tiles, flooring, hardware and more! Why not see what Kitchen Magic can do for you? Schedule your free virtual or in-home design consultation including a personalized quote for your project today!