One of the best ways to increase your home's value is to rejuvenate your kitchen. When potential buyers walk into your house, the kitchen is one of the first and most important areas they consider. Furthermore, remodeling your kitchen can keep it more modern and functional for your lifestyle.
However, if you're not sure where to start with the renovation process, contacting your local experts in Providence County is always a wise move. However, if you want to tackle this task on your own, keep on reading to find out how you can maximize your kitchen remodel on a budget, and revitalize your cooking space without breaking the bank.
How do you plan your kitchen budget and renovation details?
Before you begin your renovation, it is important to set a budget and a renovation plan. You can either work with experts or create one on your own. However, planning ahead is crucial because otherwise it is easy to overspend on unnecessary things.
1. Add molding to your kitchen cabinets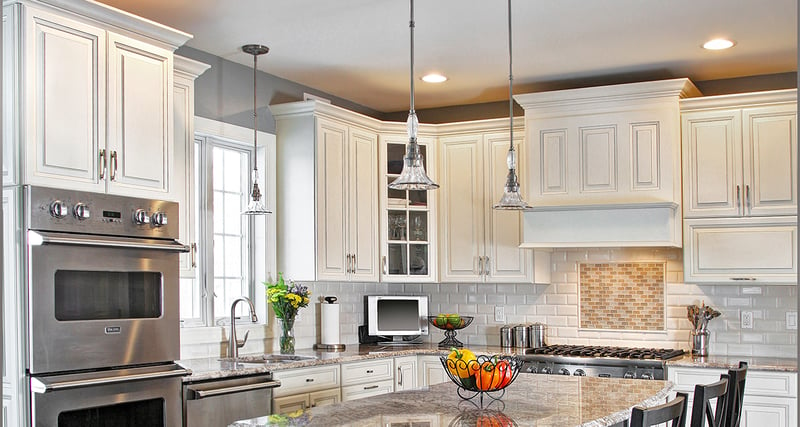 Instead of changing your cabinets completely, consider adding a trim, like crown molding, to your kitchen. Even if you custom-make a trim to add to your kitchen, you will still save a lot of money by making use of your existing cabinetry. Box cabinets can be transformed completely when you add crown molding or under-trim, making them look like they are custom built-ins. Adding crown molding to cabinets that have a lot of space on the top can also give an illusion of a bigger kitchen.
2. Reface cabinets instead replacing them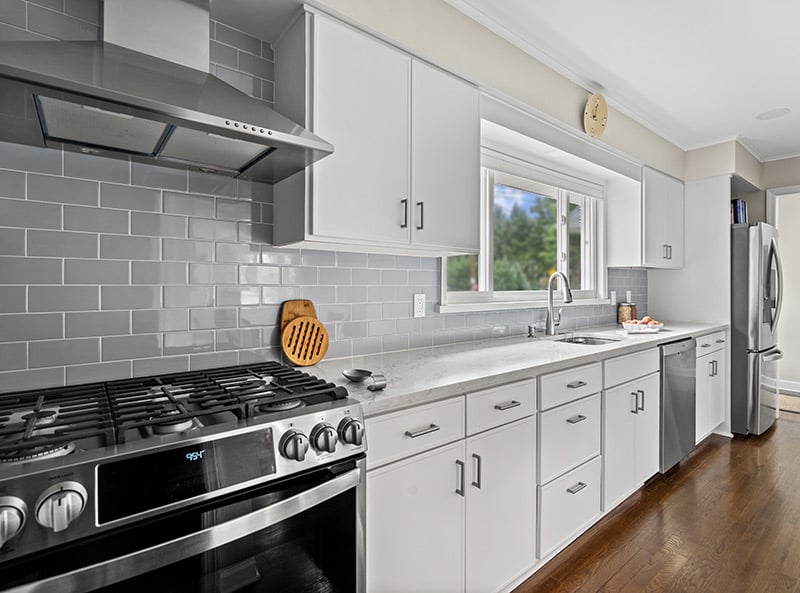 Refacing kitchen cabinets is relatively easy and can be done quickly when installed by experienced professionals. It can transform the look of your kitchen and is an affordable alternative compared to all new or custom kitchen cabinets. If you can make use of your existing cabinet boxes, cabinet refacing allows you to upgrade the style and colors as you please. This is not only functional, but enhances the aesthetics of your kitchen significantly. It also comes at a fraction of the price of replacing kitchen cabinets entirely. Here at Kitchen Magic, we have the skills and the know-how to reface your cabinets, saving you both time and money.
3. Update cabinet hardware

It's possible to enhance the look of your kitchen by upgrading or adding new hardware. One good tip is to research online and find local resale shops that offer complete hardware sets. This can give your kitchen a unique and premium look. However, remember to match your hardware finishes and styles.
4. Demolish the kitchen yourself
By handling your own demolition, you can save some extra money during your kitchen renovation. However, it is important to approach this very carefully, and to have a few different options to consider. Although it can sometimes be tedious and difficult, you can save a lot of money if you manage to pull it off.
Furthermore, some homeowners may find tearing down walls a therapeutic and fun process. But, if you decide to demolish your own kitchen, you must be clear about what should - and should NOT - be demolished so you don't end up accidentally destroying a part of your house that should stay. Remember to research, wear protective gear, a mask and cover your floor to protect it from debris.

5. Find effective kitchen accessories near you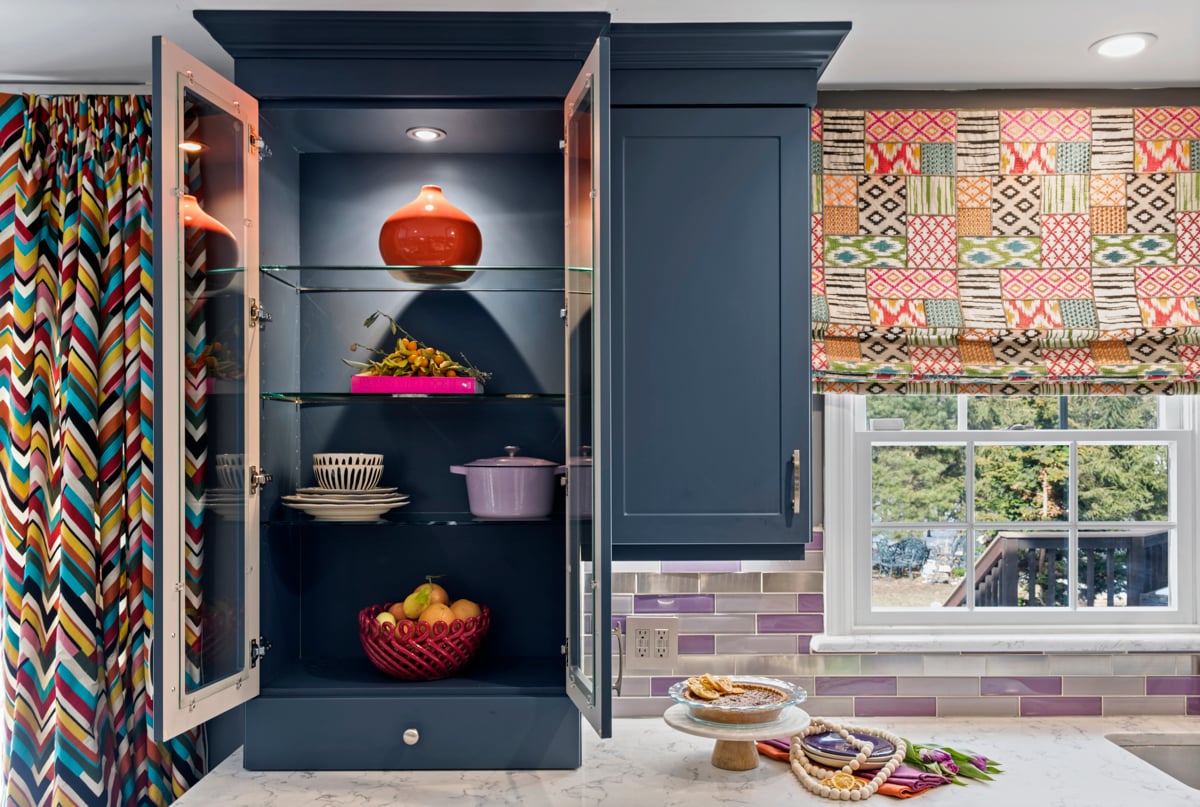 Designer: Keia McSwain Photo: RAYON RICHARDS, 2019
No matter what kind of renovation or remodeling project you're engaged in, it is likely you will need to purchase a variety of additional items you hadn't planned on. Buying everything you need at the first store you visit, chances are you're missing out on some great deals elsewhere. The more research you do, and the more time you spend shopping at different places, the greater your chances of finding an affordable alternative. The 'extras' can add up quickly, from kitchen towels to accessories such as wall hangings or paper towel holders to curtains and island bar stools. And don't forget you may want to update your appliances.
6. Keep the existing layout
Sometimes, people think about their ideal kitchen and lean towards the idea of changing the entire layout. But no matter what type of kitchen layout you opt for, rearranging the entire kitchen can take more time, permits and inspections. You will need to figure out how you want to change windows, plumbing and electrical wall locations and more.
Also, if you are trying to figure out how to move things around, consider keeping any existing appliances in place. If you decide to move these appliances, it means you need to think about how to change the existing electrical configuration, increasing the time and cost of your renovation dramatically.
7. Consider second-hand purchases
If you are replacing appliances and other items in your kitchen, consider purchasing second-hand appliances or pre-loved items from your family and friends instead of buying brand new items to furnish your kitchen. This can range from materials to furniture to anything else you may require for your kitchen remodel. And, up-cycling can save you time and money. You may even occasionally stumble across unique, one-of-a-kind pieces that are unable to be found in stores!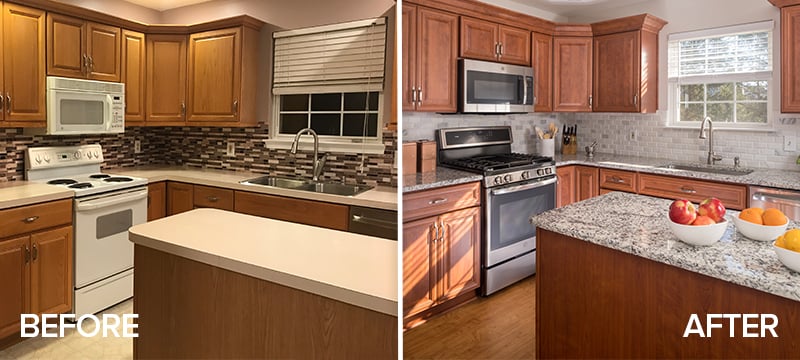 Where can I find reliable kitchen remodel professionals in Providence County?

If you are looking for experienced kitchen professionals to assist you in remodeling your kitchen, regardless of its size, look no further than Kitchen Magic. Over the years, we have remodeled nearly 60,000 kitchens in Providence County and the region as a result of our long-standing expertise, skills and expert craftsmanship. No matter what your kitchen ideas are, you can count on us to help you achieve the kitchen of your dreams. Give us a call and schedule a free in-home consultation today! We're looking forward to working with you and creating a more functional and aesthetic kitchen for your home.