Home renovations are a great way to upgrade certain rooms or get the feel of new living space without having to buy a different home. So it should be no surprise that the home renovation market in the USA alone is worth billions of dollars.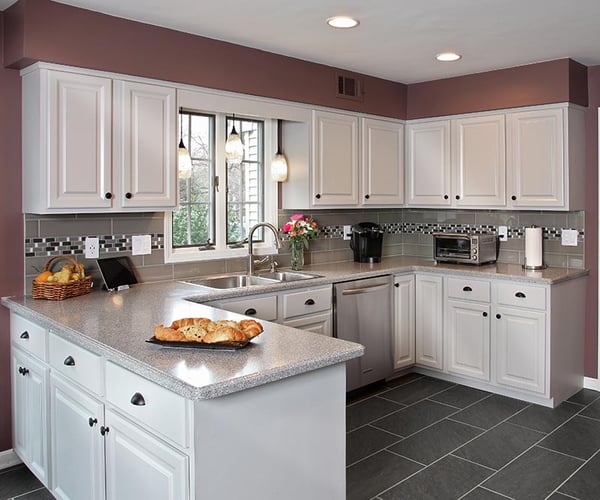 Today's guest post is courtesy of Ashley Lipman, a content marketing specialist. Ashley is an award-winning writer who discovered her passion in providing creative solutions for building brands online like Outreachmama.com. Since her first high school award in creative writing, she continues to deliver awesome content through various niches.
Saving Money On Your Kitchen Renovations
One of the most common rooms to renovate is the kitchen. Not only do people spend a lot of time there it's also one of the better ways to increase the value of your home. Unfortunately, kitchen and home renovations as a whole can be an incredibly expensive undertaking. Full upgrades often cost tens of thousands of dollars or sometimes more. With that in mind, this article will look at nine different ways for you to save money during your kitchen renovation process.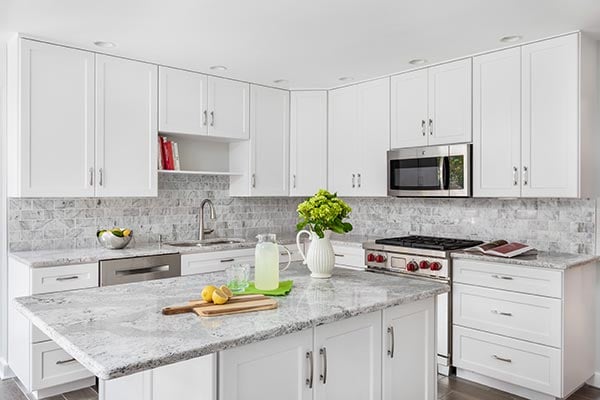 1. Spend time coming up with a kitchen renovation plan and budget
Before beginning your renovations, you need to come up with a plan. Whether you're remodeling a kitchen, bedroom, or bathroom, a plan and budget are incredibly important. Work by yourself or with an expert to develop the blueprint for everything you want to update. Without one, you'll likely end up spending extra money on things and features you don't really need but simply want.
In addition to a plan, you also need to have a budget in mind. While there are many ways to update a kitchen, they all cost money. Know how much you're able to spend. You want to ensure you set a limit so you don't get into financial trouble trying to pay for the entire project.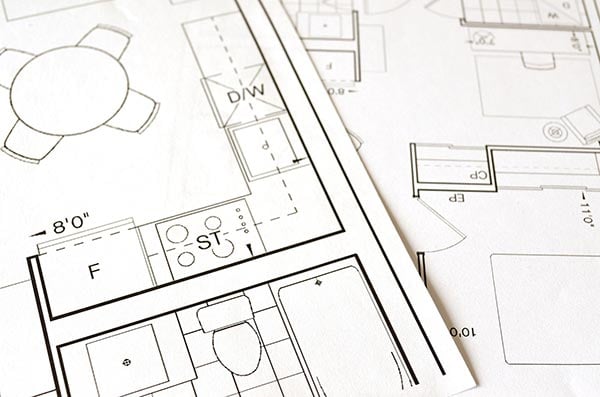 2. Consider refacing your kitchen cabinets
This is something that can easily be done, which is quick, affordable and will make a huge difference in how your kitchen looks. Cabinet refacing is when you reinforce your existing cabinet frames with durable plywood, then a veneer of real wood or maintenance-free laminate is applied over that plywood. You keep the existing cabinet boxes but upgrade the color and style when you replace the doors and drawers.
It gives you the look and functionality of brand new cabinets, but it costs a fraction of the price of having to replace altogether. It's also a time-efficient option because the installation process takes about 3-5 days vs. weeks or even months for a total remodel. Even more, you can add extra interior storage at the same time.
Some serious DIY homeowners choose RTA (ready-to-assemble) cabinets that you order online. To look at some of the cabinet styles and providers available to you, plus get some insight on what other homeowners thought of this option, be sure to visit RTA Cabinet Reviews.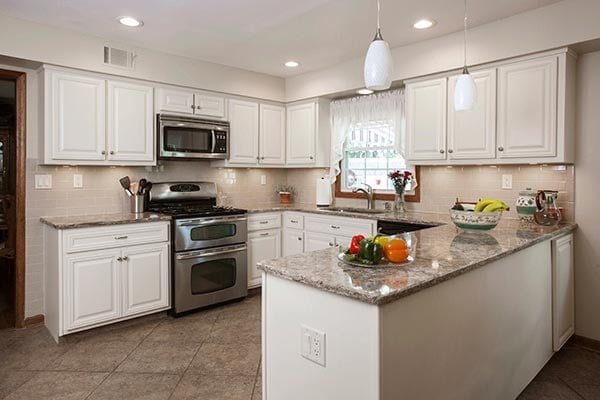 3. Shop around for the best renovation materials
Whatever type of renovation you're looking to do, there's a good chance you'll need to purchase a variety of different materials. If you simply buy everything you need at the first place you visit, you're likely missing out on some money-saving deals. The more you look around, the better your chances are when it comes to finding affordable options to complete the whole project.
In addition to the local hardware and big-box stores in your area, consider searching online. There are cabinet retail sites that offer better and more frequent sales, so your chances of finding something great improve. Be sure to ask your friends and family for their recommendations when it comes to what stores to check out for quality materials.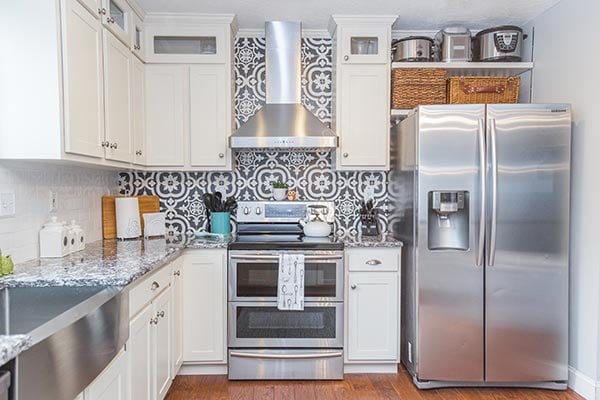 4. Handle the kitchen demolition yourself
One of the best ways to save some extra money during any renovation in your home is to handle all or most of the demolition yourself. This can be unexpectedly expensive, so it's good to consider multiple options. Sure, sometimes it can be a difficult and long process—not to mention messy—but it may be worth it budget-wise.
While you're saving money, knocking down walls might be a relatively fun and therapeutic process too. But be sure you know what's getting demolished so you don't accidentally destroy something that should be staying. If you do plan on handling it yourself, don't forget to wear a mask, protective eye wear and put down coverings to preserve your floor from debris.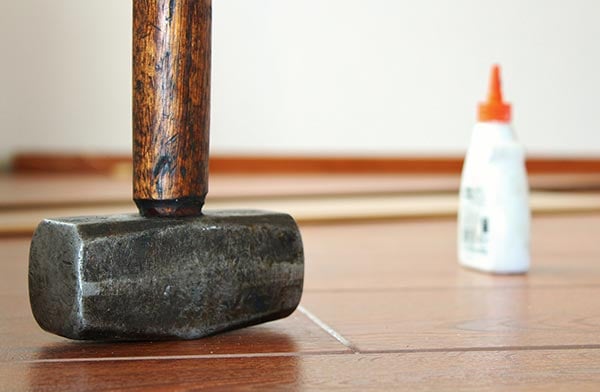 5. Take on a variety of DIY projects
Completing DIY projects are among the best ways to save money during a kitchen and home renovation. This can range from re purposing old furniture and fixtures to creating your own from scratch. Building your chairs, kitchen table or decor can save you hundreds of dollars when compared to buying them in the store.
While not everyone is a DIY-master, the internet has thousands of instructional videos for projects that range from easy to difficult. There's a good chance you'll be able to find something that not only you can handle, but will result in a finished product that'll look great in your home and give you a feeling of accomplishment. Sure, you'll spend a bit of money on materials, but it'll be much less than you would have spent hiring a professional.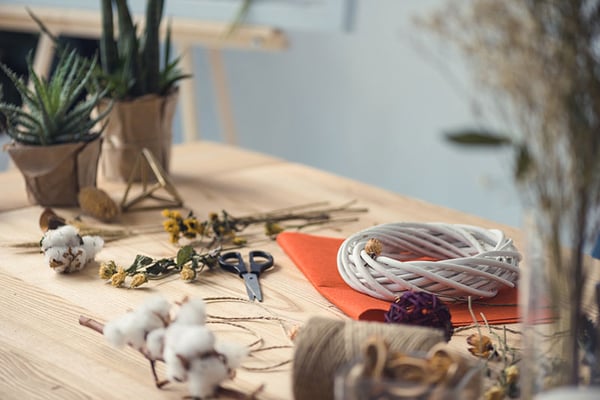 6. Consider track lighting
An often underrated cost of any kitchen renovation is the lighting plan. There are many ways to brighten up your kitchen to shed a unique atmosphere in the room. Many kitchens will have what is called recessed lighting. This is when the lighting is in the ceiling itself. As you could imagine, this includes extra steps like cutting holes, doing more wiring and eventual ceiling repair. When working with lighting, it's always best to hire a certified electrician.
Recessed lighting might work for some, but it can also create another expense. Instead, consider using track lighting. Track lighting is more affordable and an easy way to fully illuminate your kitchen with a variety of lights, without having to pay a ton of money. They also require much less work and labor to install.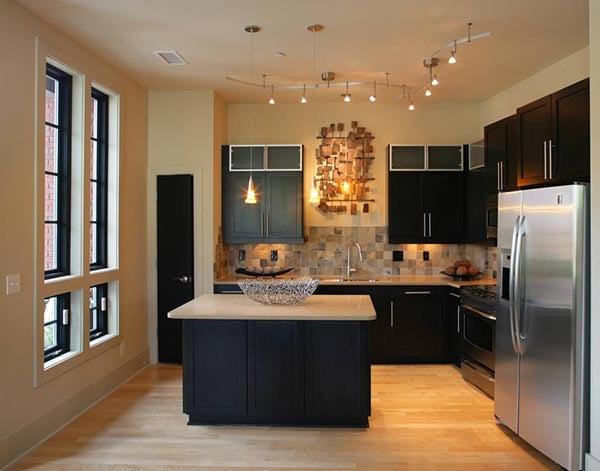 7. Keep the same (or a similar) layout
Many people love the idea of completely changing the layout of their kitchen but they don't like the price that comes with it. Updating the entire layout means more than simply moving a table or fridge. You'd need to change window locations, plumbing, and maybe even walls. Instead of changing up the layout, updating the fixtures and furniture can be enough to breathe new life into the room.
If re configuring the existing layout, you should also look to keep the appliances in place. Moving these items around will mean changing the electrical and other mechanics, which can dramatically increase the cost and time span of a remodel. It will often require updating the walls, ceiling or floor.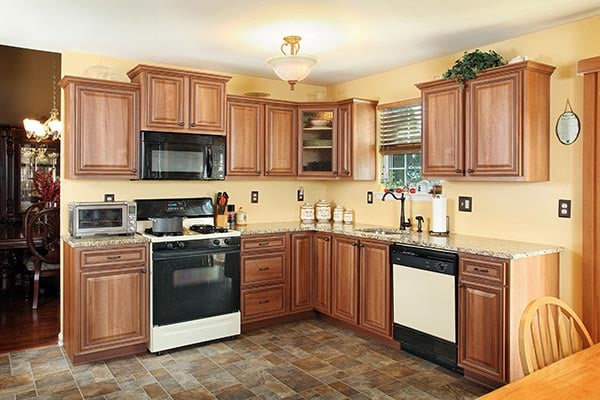 8. Go with laminate for countertops
If you ask people what type of countertop they plan to get during a renovation, many will say granite or quartz. While these are good looking and popular options, most of them are incredibly expensive. A good way to get an attractive countertop without breaking the bank is to go with laminate countertops.
Laminate has come a long way over the past few decades. It comes in a variety of different colors, patterns, and textures so it's customizable to your liking.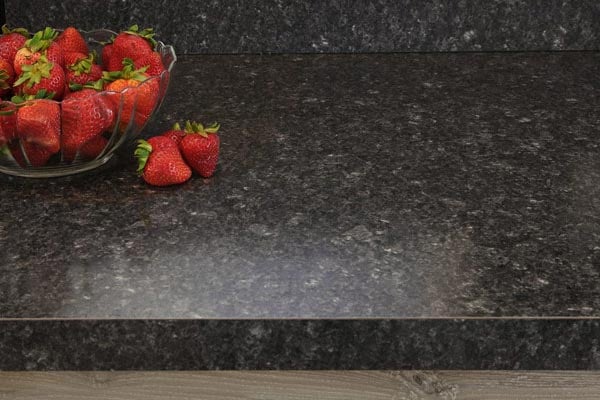 9. Look into second-hand purchases
Instead of buying everything new, look around and see what you can find on the second-hand market or passed along family heirlooms. This can be anything from furniture to materials or anything else you may need for a reno. Not only is this sure to save you money, but you might also find unique pieces or items that you wouldn't be able to find in-store.
Know what things to purchase regarding used items and what should be bought new. And whatever you buy used, make sure it's in good enough quality to make it worthwhile. If not, you'll end up spending more refurbishing it. While second-hand shops are an option, consider online classified ads or websites in your local area.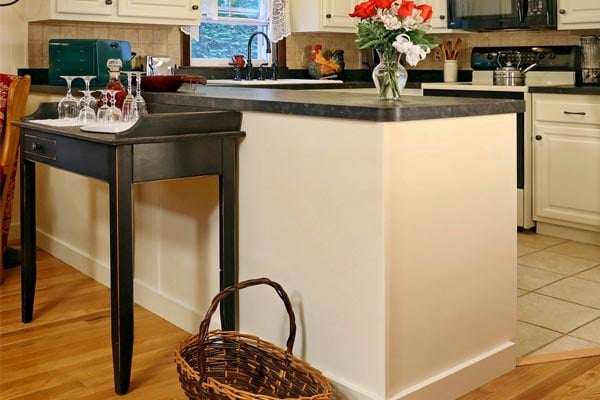 Not all contractors are created equally
Just as you spend time shopping around for materials, furniture or appliances, take time to find the right contractor. While you can handle some of the renovations yourself, you'll likely need a contractor at some point in the process. The choice you make can be the difference in spending a little or a lot.
Don't just go with the cheapest option though. You may often get what you pay for—their work might not be as solid and you'll end up spending more correcting mistakes. Find a contractor that is highly rated or reviewed, has a good reputation but won't break the bank.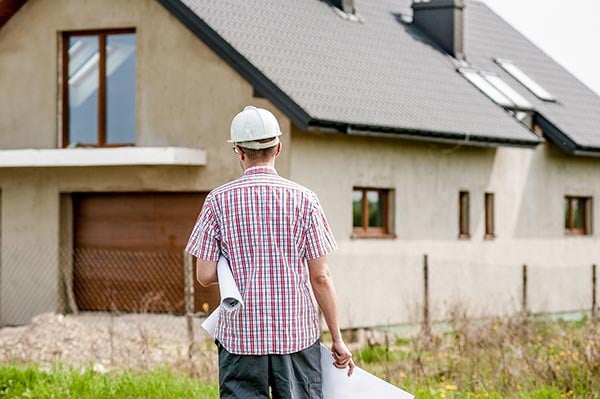 Hopefully, this article provided some awesome ways to save money on a home renovation. Looking for more cost saving remodeling ideas, we'll provide some that'll guide you along the way.