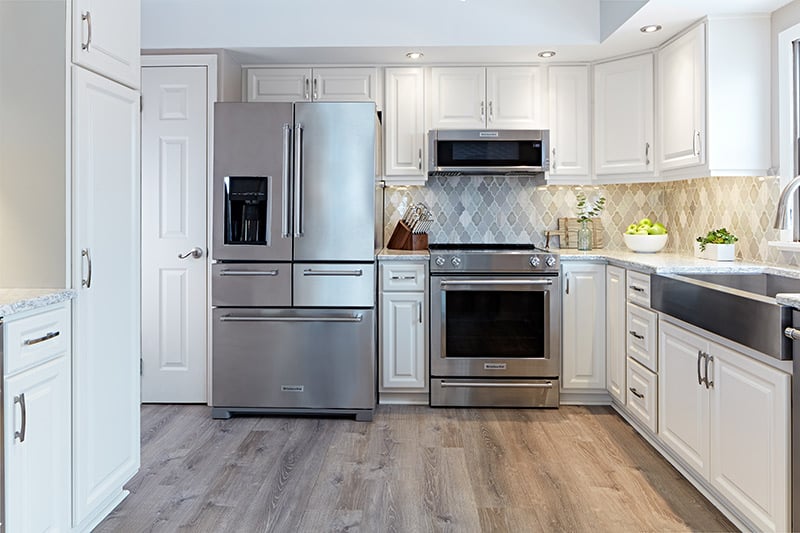 Planning to renovate your kitchen? Visualizing new materials in your cooking area can be a challenge. Besides refacing your cabinets or replacing them completely, countertop installation is crucial to the success of your kitchen remodel. However, the experts at Kitchen Magic are here to help make the design process more comprehensive and straightforward.
For starters, we always suggest becoming familiar with current kitchen materials, products, and design styles. Create a wish list of your favorite looks to better define your own personal style. Other key advice? Always hire a certified kitchen design professional to eliminate any potential woes or design flaws later.
How can I make my kitchen more stylish?
So, is your preferred style traditional, contemporary, farmhouse, or transitional? Which palette works best for your desired result and personal preferences? Our kitchen designers share three simplified steps on coordinating kitchen countertops, cabinets, and floors—the main focal points of every kitchen.
Step #1: Choose the right kitchen color palette
The classic palette shown above combines sophisticated Cambria® quartz countertops in Weybourne, accented with dark Colonial Blue lower cabinets and modern Satin White laminate above in Statesman. Wood plank flooring in a medium hue completes the look.
Kitchen Magic recommends keeping your kitchen color scheme simple. Step one is to choose three coordinating neutrals. Select one primary color and two complementary accent colors that appeal to your kitchen wish list. Choose neutrals for a kitchen that will stand the test of time. In search of more kitchen looks? Here are a few more great examples of Kitchen Magic's work..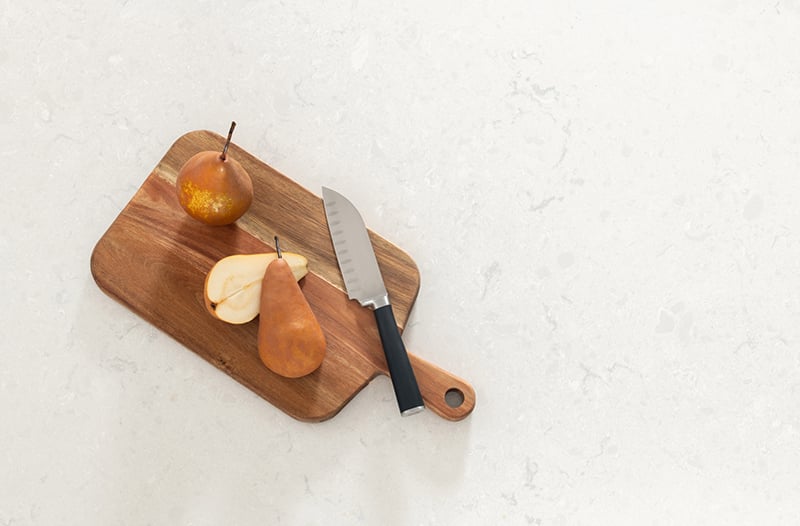 Next, select the best countertop material that will serve both home life and personal style. By choosing the countertop first, the material becomes the foundation of your design. For instance, if you love light quartz paired with classic mid-tone grey cabinetry, then selecting a natural wood flooring that "picks up the tones" from your preferred samples will simplify your final decision.
Whether your price point is luxury, moderate or budget, most countertop surfaces feature a range of flecked, stone, or marble-like patterns. Be sure to keep samples handy to seamlessly coordinate with cabinetry and your flooring solution, and then with your backsplash and accessories.
Step #3: Complete the look with kitchen decor & accessories
The last step in planning your kitchen design and kitchen remodel in Meriden, CT. is to choose impactful kitchen accessories and accents to add some personal flair. Looking to add a bit of dash and splash to neutral elements? Use bold colors and finishes on walls, for decorative pieces and your kitchen appliances.
Kitchen hardware can enhance a style or a theme; think farmhouse, traditional or contemporary. Pulls and knobs can highlight countertops and reflect light. Metallic finishes brighten a space or can highlight countertops with flecks of metallic, gold, or silver.
As pictured, the contemporary matte Desert Gray subway tile backsplash accentuates the shimmering grey and electric blue flecked Parys Cambria Quartz. Satin nickel door knobs and cup pulls bring smooth, clean lines and a touch of farmhouse charm for a contemporary spin.
Where can I find trusted kitchen remodel professionals in Meriden, CT?
Are you ready to design the kitchen of your dreams and find creative solutions to your kitchen design dilemmas? Contact Kitchen Magic today to schedule a free in-home consultation - it's easy, informative, and completely free. As a company, we strive to create aesthetically pleasing kitchens with practicality and functionality in mind. Whether your home is near Giuffrida Park or elsewhere in the area, we're here for you. Give us a call at 800-272-5490 to request your free design consultation today!