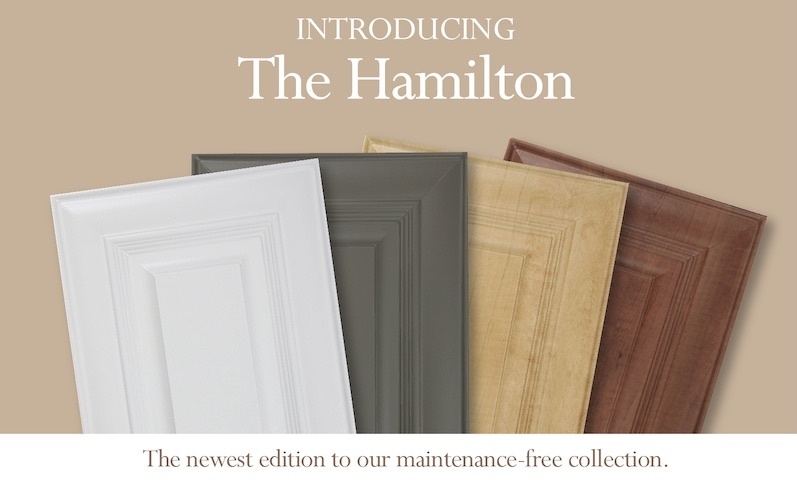 It's very common for homeowners to want to change the style of their kitchen when they remodel. In a 2016 Houzz kitchen study, about 76% of homeowners changed styles during their kitchen project.
While more homeowners switched to transitional or contemporary styles, traditional was still the 3rd most popular style. If you're someone who favors the old-school, traditional kitchen, then you'll love our newly introduced door style, "The Hamilton".
Slightly ornate, yet subtle, its details instantly enrich a kitchen's design. The Hamilton door will create that warm, sophisticated room that a family can really "live in".
The Hamilton style door provides a timeless look that appeals to anyone in search of just the right balance of old-world charm and the modern, traditional kitchen, without being overstated. Composed of the same "maintenance-free" material used in the fences and decks of today, the Hamilton offers the look of real wood or solid colors.
While wood is still popular, over 80% of customers choose a door from our 'maintenance-free' collections—reaping the benefits of never having to break out the wood soap or lemon oil again.
The Hamilton offers similar characteristics of an American, eighteenth-century wood kitchen. Available in flat or raised panel, both prove to enhance any kitchen's design. If you tend to gravitate to the modern styles, the Hamilton's style will simply complement the beauty of your existing motif without changing or converting your décor.
The Finish: The look of painted wood however, is composed of our maintenance free MDF material. Will last years, without the maintenance of wood cabinet doors.
Color Palette: Choose from 16 colors: Antique white, Cherry Pear, Chocolate Pear, Satin White, Satin Black, Classic Cherry, Talas Cherry, Secret, Dark Wild Apple, Suede Gray, Fashion Gray, Frosty White, Tropical Mahogany, Hazelnut, Chestnut and Walnut.
Factoid: The first door in our Heritage Collection, the Hamilton was named after the location of Kitchen Magic's very first office, established in 1979, located on Hamilton Blvd.