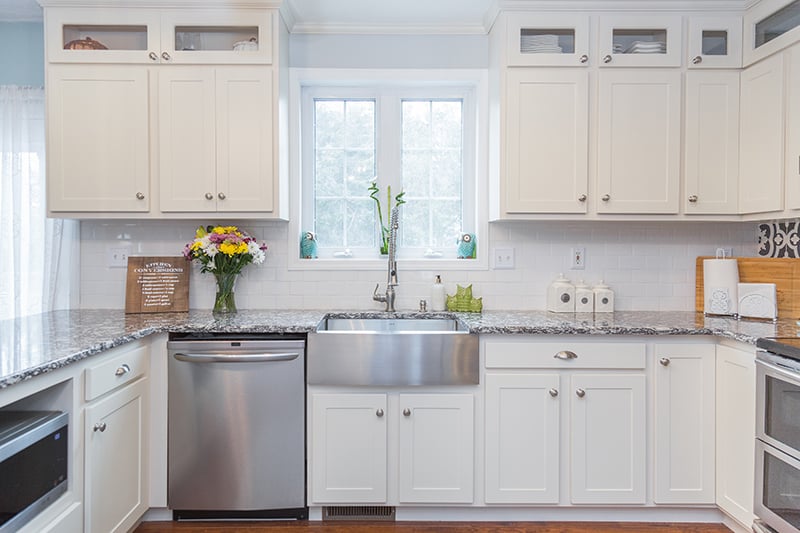 An ideal kitchen remodel improves the aesthetics, functionality and, most importantly, your enjoyment of one of the most used spaces in your home. An updated kitchen design can also increase the real estate value of your property. So, how do you maximize budget and time when considering a kitchen remodel? The answer may be to choose refacing, or a cabinet remodel. Keep on reading if you'd like to learn more about all of the benefits you can get when refacing your cabinets.
Is it worth it to reface kitchen cabinets?
Sometimes kitchen remodels aim solely at changing the cabinets' appearance. In case your cabinetry just looks dated or dingy, think again before you decide to tear them out.. Consider affordable refacing instead of replacing them and give your existing cabinetry a new lease on life. Plus- you will keep them out of the landfill!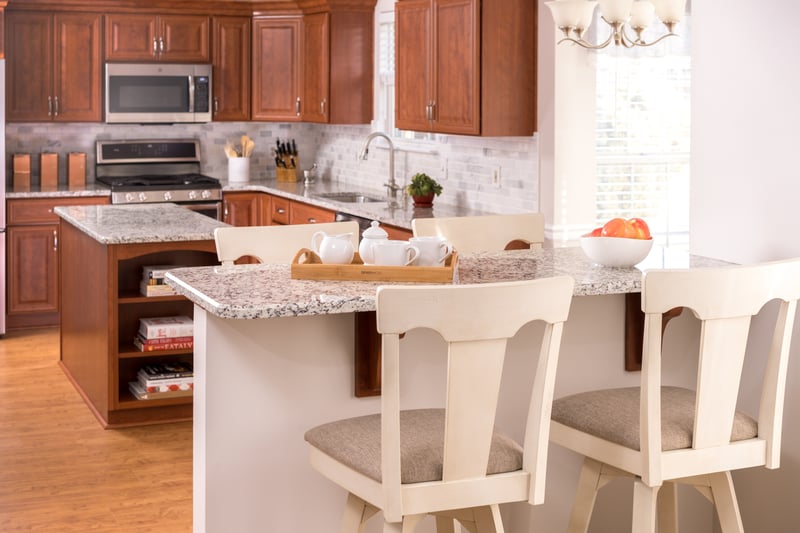 PHOTO CREDIT: Christian Giannelli Photography, 2020
What, exactly, is cabinet refacing?
Cabinet refacing is a time-and-money-saving process that has transformed countless kitchens for decades. This highly efficient method can save an impressive amount -- potentially up to half the cost compared to all new cabinetry. Now that's excellent news!
Is cabinet refacing a good investment?
Are you pleased with your current kitchen layout? Are your existing cabinet boxes structurally sound? Are you adequately storing your belongings? If you answered yes to these questions, congratulations! You are a likely candidate for cabinet refacing. However, if you're looking for a total kitchen overhaul, or custom cabinetry, then new kitchen cabinets may be just what you're looking for.
Do all cabinet refacing companies near me offer the same quality?
Homeowners beware! Not all cabinet refacing companies are equal. Some remodeling companies may simply glue a single sheet of laminate or veneer over your existing cabinet doors. But, when laminate or veneer wears out, tears, or comes loose, the homeowner is left without recourse — and little or no measure for repair.
On the other hand, Kitchen Magic uses superior materials, expertly installed with an exclusive permanent double lamination process. For most cabinetry, all exterior cabinet frame surfaces are covered with a final layer of laminate or natural wood refacing material. The result is a more substantial, brand new look that transforms your kitchen into a truly unique space.
Can cabinet refacing offer stunning style too?
Yes! You can select from hundreds of styles and colors. Want to reach to the ceiling with your new cabinetry? No problem. Need to add storage pullouts and other solutions? We can help! How about changing up your door style to the newest shaker look in the latest trending colors?
Does refacing cabinets last long?
The average downtime for most homeowners who choose kitchen cabinet refacing is about a week. Installation of additional materials including - but not limited to - countertops, backsplash tile, and flooring may increase the amount of time required.
Looking for a custom cabinet remodel in Milford & beyond?
Over the decades, Kitchen Magic has assisted homeowners in Milford with a wide variety of kitchen refacing, remodeling and custom cabinetry needs. Often the best solution is a hybrid of more than one. For instance good quality cabinets can be refaced while a new pantry, island or soffit cabinets can add storage, workspace and enhance the aesthetic of your new kitchen while maximizing value.
The best way to learn about the solution that will be best for you is a free consultation with a Kitchen Matic design consultant who will provide you with the best advice, free and without obligation whether or not we earn your business.
Our company serves Milford CT and surrounding areas in addition to the Tri State region so feel free to contact us whether you live near Silver Sands State Park or the vicinity.
Thanks to years of experience in the field, our skilled kitchen design consultants who know how to combine kitchen finishes in a manner that's both stylish and elegant, and create a space you've always dreamed of. Get a free, no-obligation design consultation by calling 866-339-9099, or schedule online now!