Pure convenience meets seamless style with Blum's Touch-to-Open cabinet and drawer systems.
Blum, Inc., a manufacturer of functional hardware for kitchen cabinets and commercial casework industries, is a leader in developing state-of-the-art motion technology in the kitchen. The company also offers homeowners a range of custom made cabinet door accessories, such as lift systems, concealed hinges, runner systems and storage solutions.
So, let's dig a little deeper and explore what makes this system so popular.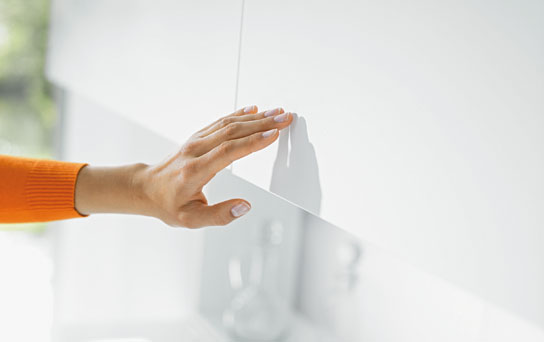 Image via Blum
Why choose touch-to-open cabinets?
Kitchen Magic has provided its customers with the Tandum Plus Blumotion runners and drawer glides since 2006, and has been offering homeowners this same Blumotion technology for cabinet hinges since 2012. Blumotion runners and door hinges are slam-less solutions for kitchens, bathrooms and closet spaces. Blumotion cabinet door hinges, runners and drawer glides are sleek and silent. Upon closing a cabinet door or drawer equipped with Tandum Plus Blumotion motion technology, the door or drawer will slow down, making for a safe and quiet close. Because Blumotion keeps the doors and drawers from slamming, homeowners won't risk injuring their fingers or damaging their cabinet doors and drawers.
This amazing technological advancement, developed for seamlessly closing cabinet doors or drawers, is now available for easily opening them as well.
Blum, Inc. first developed the Servo-Drive for Aventos electronic opening system for drawers some time ago. This technology makes it easy for homeowners to open their kitchen drawers with just one finger. This makes it the perfect solution for homeowners with mobility or motor challenges, or simply those of us looking for a little extra help in the kitchen.
Effortless opening system
The Servo-Drive for Aventos electronic opening system has not been extended to include upper cabinets. It allows homeowners to open their cabinets with an effortless touch of their finger.
A lightweight design
Aventos doors are known for being lightweight, and when combined with Blum's Servo-Drive technology, the cabinets lift upward with ease. Just a light touch of the door and it opens upward, lifting the door up and out of the way.
Easily accessible
A wireless switch closes the door and is typically mounted at the bottom of the cabinet for easy reach. Servo-Drive motors are easily attached to the Aventos lift mechanism by hand. They share the same transformer used by Servo-Drive for drawers, which makes planning an entire touch-to-open kitchen a breeze.
Who offers durable custom made cabinets?
Want to know how to open cabinets without handles? Are you considering a push-to-open system for your home? Let the Kitchen Magic professional team help and remodel your kitchen to your exact specifications. If you'd like to see samples firsthand, schedule an appointment, and our team will be happy to provide all additional info!