Considering a kitchen remodel or perhaps just cabinet refacing? You're probably pondering how best to refresh those dated cabinets and breathe new life into them. Maybe you've come across laminate cabinets as an option, but you're on the fence about their potential fit and flair in your space?
For one reason or another, laminate kitchen cabinets have gotten a bad reputation—but are laminate cabinets really inferior to wood cabinets? Quite the contrary. In many instances, opting for laminate kitchen cabinets could be the smarter choice. Why? Let's find out!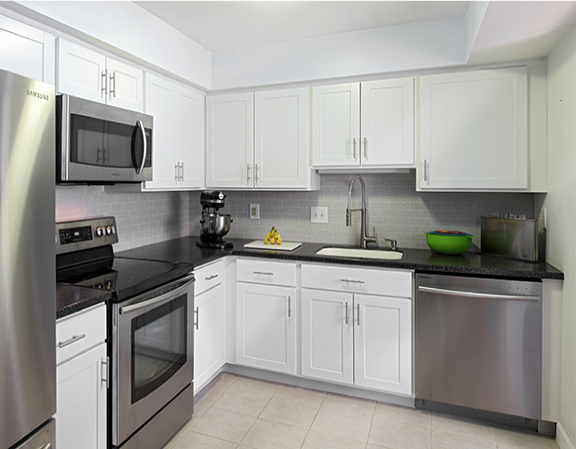 Are laminate cabinets good quality?
High-quality laminate cabinets are created using a thin film of material that is bonded to the exterior surfaces of the cabinet door, while the cabinet interior remains composed of less expensive or pressed wood materials. There are different types of laminate that can be used to create laminate cabinets, and these include resin-impregnated, vinyl films and hot-stamped transfer foils.
Because laminate cabinet doors can be easily installed onto wooden cabinet frames, they are the perfect candidates for cabinet refacing.
What are the different types of laminate cabinets?
Laminate cabinets come in a variety of types, and the type used really depends upon the kitchen craftsman's preferences. The most common laminate cabinets are made from pressed hard plastic, but you can also install wood laminates, which use thin sheets of wood to give the look of high quality wooden cabinets. Types of laminate cabinets also range in durability and price. Low-pressure laminates may have a propensity to chip and crack, depending on the quality of construction materials used, but are less expensive. High-pressure laminates are a great choice for kitchen cabinets, but can be on the pricey side.

Which is best for your kitchen?
So why should you choose laminate cabinets for your kitchen remodel or cabinetry refacing? Laminate cabinets are easier to clean than wood, they offer more durability over time and tend to conceal fewer scratches than solid wood cabinets and cabinet doors.
There once was a time when there weren't many options when it came to designing kitchen cabinetry. But now, laminate cabinets come in a variety of colors, textures and finishes. They are even available in faux wood grain finishes to give your cabinets a true solid-wood feel. They will last you a lifetime, and can be easily painted, stained or re-finished.
Who offers expert cabinet refacing & other remodeling services near me?
Thinking about the next steps for your kitchen? Why not have a chat with one of our Kitchen Matic design experts? It's a no-strings-attached, completely free consultation. And if you decide we're the right fit? Just know we prioritize durability, superior materials, and doing things the right way. Just give us a call at 866-339-9099 or just hop online and set up a free consultation.