Kitchen at a Glance: Refaced cabinets, granite countertops & a marble backsplash
Homeowner: New Jersey Couple
Location: West Caldwell, New Jersey
Size: 150 square feet (10' by 15' feet)
Designer: Peter Mancusi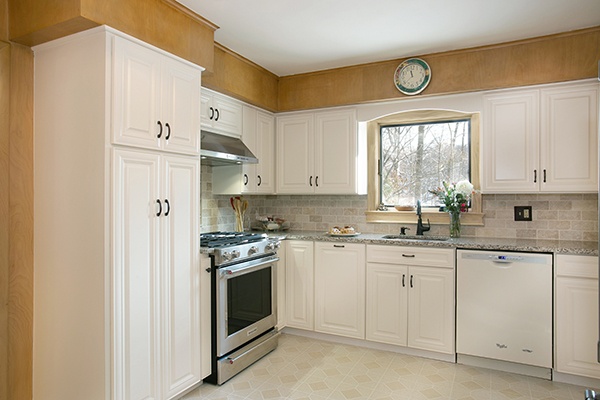 Nestled on a tree lined street in rural northern New Jersey, this home's motif offers a certain mid-century flare. The kitchen however, was, as they say, 'far out man' and in need of an update to match the rest of home's style. This would require only a 'refacing refresh', stone countertops and a marble backsplash. This custom home, designed and built in the 1950s, was thoughtfully composed of quality materials and craftsmanship. The structure, architecture and spacious quarters all exude its classical era. The kitchen already has a strong foundation and serves the homeowners well for their culinary endeavors.
Ideal layout gets a fresh new face
Problem: New color & style was in order
Keep: Open layout
Replace: Doors, drawers, countertop & backsplash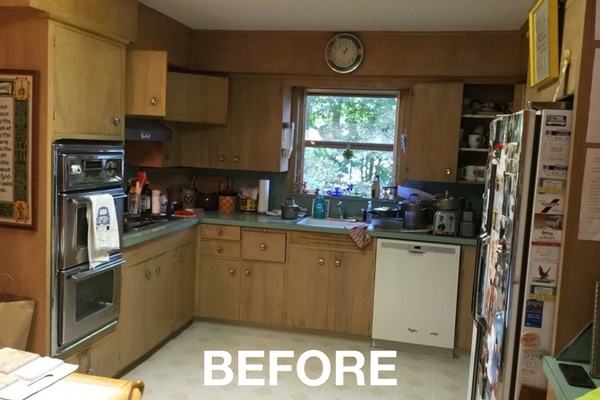 At first glance, the pine cabinetry evokes some 'pretty groovy' memories of the flower-power era. The lady of the house felt it was time to spruce up the kitchen with a more current look. The solution was cabinet refacing in Satin Antique White paired with stone countertops for a more sophisticated kitchen ensemble. The elegant styling would better suit the homeowners' mature tastes and lavish motif of hardwood floors and Queen Anne style. The curves and furniture-like quality of the maintenance-free Hamilton style door unites the kitchen with the rest of the home, elevating it to the next 'design level.'
Cocoa & cream color palette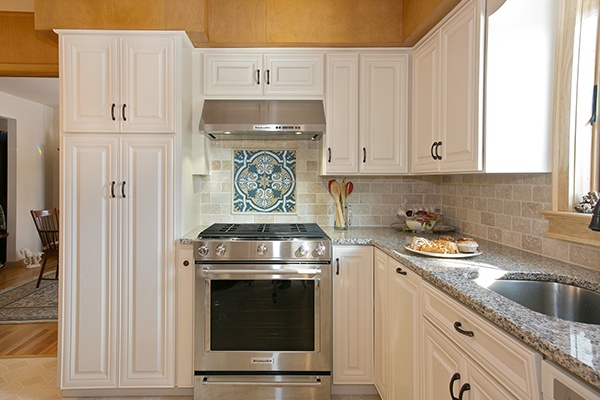 We're sure turquoise countertops had their 'hay day' however that day passed around 1975. Continuing with the cocoa and cream color scheme, the homeowners chose granite countertops in Crema Perla to compliment, but not compete, with the creamy Antique white cabinetry. Homeowners and designers alike are layering one color in different hues and shades of it's palette to create a harmonious blend and a cohesive kitchen design.
Roughing it with a rustic marble backplash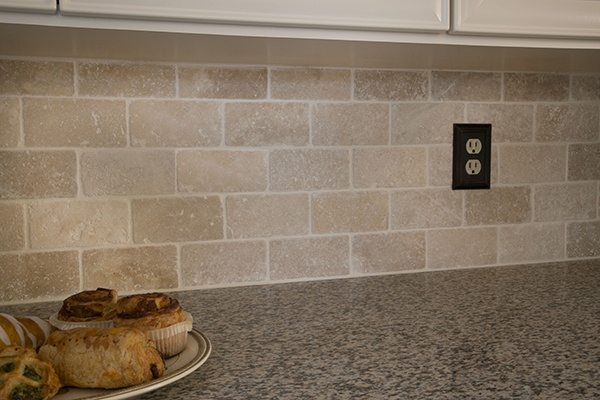 Natural materials are what give this kitchen it's rustic charms. Walking into this room feels like a stroll through Europe, with its use of natural stones. Satin white marble in subway style, unite the backsplash with the granite. The colors swirl together for a creamy duo that adds another layer of texture for interest in this kitchen's design.
Singing our Praise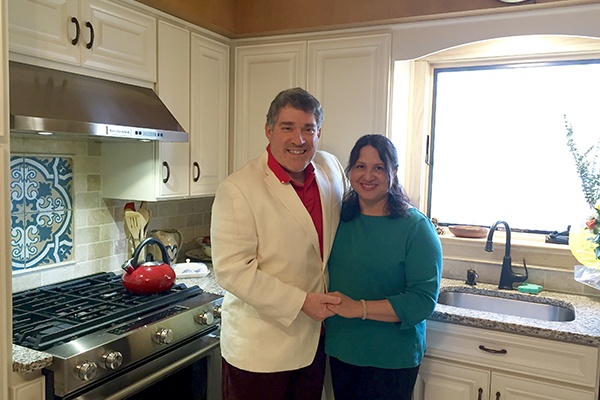 "On behalf of my wife and myself, we want to thank you with all our hearts for the outstandingly excellent job that your team did for our kitchen renovation. Our great appreciation and admiration for Mr. George Sopkovic, our magic installer. His work efforts were beyond stellar in workmanship, pride in his work, and attention to every little detail. I hope you will extend our deepest thanks in appreciation to this extraordinary team of Kitchen Magic professionals."
"Our only regret is that they aren't our next-door neighbors, because they sure felt like family."
Everything within reach
Problem: Countertop clutter
Add: Internal cabinet storage
Result: Makes this kitchen a culinary dream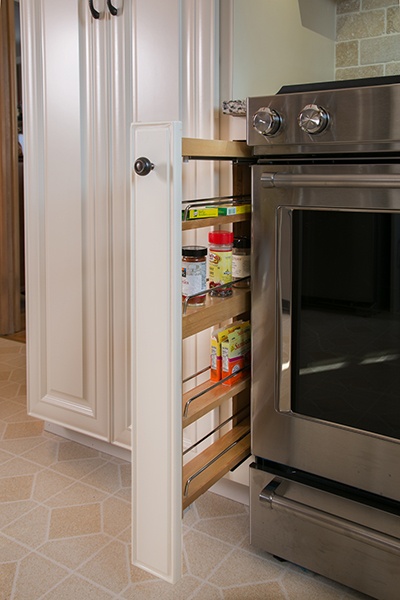 Narrowing the side interior of the cabinet just a smidge, allowed for a spice rack that creates a more pleasurable cooking experience. Storage solutions, customized to the homeowners' needs, means location and ease of access get careful consideration. Traipsing across the room for a spice or cluttering the countertops, does not a pleasant cooking experience make. Peter, the design consultant made sure he discussed the homeowners' habits and hurdles in the kitchen. Our specialists have many design and function solutions to create a state-of-the-art kitchen that is conducive to their personal cooking needs.
The results are pretty 'cool'
Result: A completely new look
Kept: Cabinet boxes and layout
Replace: Doors, drawers, countertops & backsplash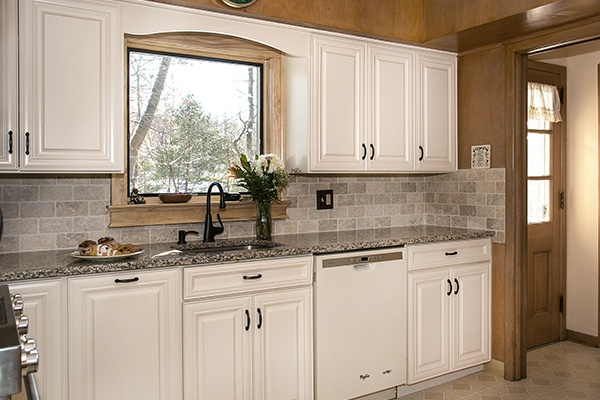 It was of the utmost importance, that the homeowners honor their lifetime long home's existing style. Now, when entertaining, they feel as if they're on an episode of Life Styles of the Rich and Famous! Proudly inviting friends and family to their new showplace gives them a certain pride in their home. On a side note, it's nice not to hear a tune from Peter, Paul and Mary every time you come in the kitchen!
When you're looking for inspiration give Kitchen Magic a call for a free estimate on cabinet refacing too. Request a free in-home estimate on your kitchen project. Call for your Free In-home estimate (800) 272-5490.