One of the best parts about the fall season are the pumpkin flavored treats that line coffee counters and fill bakery windows during this time of year. There truly is nothing like the smell of pumpkin-this or apple-that as you enter your favorite little restaurant or coffee shop. We're keeping up with the pumpkin craze, while adding our own Kitchen Magic twist, of course, as we teach you how to make these delectable Pumpkin Spice and Chocolate Chip Muffins.
Today's recipe comes from one of our very own Kitchen Magic employees, Tina, who loves to bake for her family. Her Pumpkin Spice and Chocolate Chip Muffins are adored by her husband, daughter and son, and make for a homerun of a treat at her son's baseball games. Thanks for the fall-tastic recipe, Tina!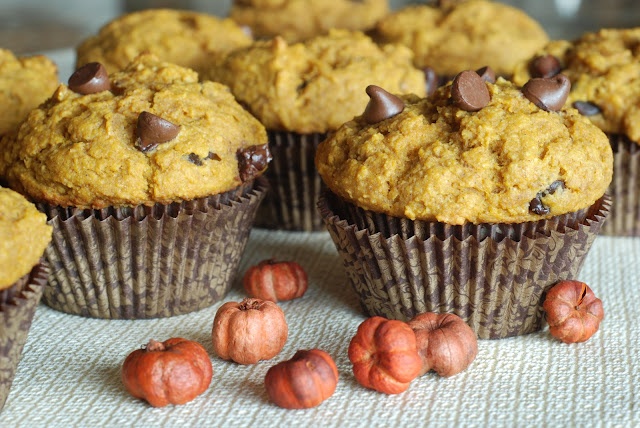 Ingredients:
1 2/3 cups flour
1 cup sugar
2 tsp cinnamon
1 tsp Ginger
1/2 tsp cloves
1 tsp baking soda
1/4 tsp baking Powder
1/4 tsp salt
2 eggs
1 cup plain pumpkin (half of a 1 - pound can)
1/2 cup (1 stick) butter, melted
1 cup mini semi-sweet chocolate chips
Directions:
Thoroughly mix flour, sugar, spices, baking soda, baking powder, and salt in a large bowl.
In a separate bowl, whisk egg, pumpkin and butter until well blended. Stir in the chocolate chips, and pour over dry ingredients. Mix wet and dry ingredients together until you have a moist batter.
Scoop batter evenly into greased muffin cups. Bake 20 to 25 minutes in a 350 degree oven, or until puffed and springy to the touch in the center.
Perfect with steaming cup of espresso, or cold glass of milk. Taste best made day in advance.
For more delicious recipes, visit our Pinterest page.