Painting vs Refacing: Key Differences
We get a ton of questions here at Kitchen Magic about whether customers should paint or reface their kitchen cabinets. A common misconception is that they are both short-term solutions, however that is not at all the case. There are a multitude of differences between these two remodeling approaches. We are here to bust any and all myths about both painting and refacing.
After more than 40 years in the industry, we know how frustrating and overwhelming remodeling can be at times. So, if you're stuck between painting or refacing and are looking for information on both processes, you've come to the right place.
Let's get down to the nitty gritty and talk in-depth about which option is best for your kitchen remodel.
Is refacing your cabinets better than painting?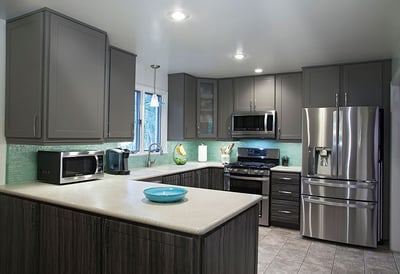 Refacing your cabinets
Cabinet refacing is a specialty here at Kitchen Magic. We are well aware of the assumptions that people make about refacing when they are looking to remodel their kitchen. What people don't realize is that this option is just as, if not more permanent and long lasting as replacing your cabinets entirely. You're probably thinking there is no way that is true. And since that's been the belief for years, we are no stranger to that opinion.
Whenever we meet with homeowners, we have some work to do, breaking down the common misconceptions about refacing before we dive into its benefits and potential downsides. Some of the most common misconceptions about cabinet refacing are as follows:
"All new custom cabinets last longer": Refacing your kitchen cabinets with the proven Kitchen Magic process is a permanent solution. Kitchen Magic is so confident in this, we back your remodel with a limited Lifetime of Homeownership Warranty. Once a kitchen is complete, our Warranty Service team is still here to serve our customers.
"There are limited options for design and aesthetics" : Refacing your kitchen cabinets can actually give you a lot more freedom and flexibility from a design perspective, with dozens of colors, door styles, and hardware options; the combinations are limitless.
"Refacing is a cheap, short-term solution": While cabinet refacing is a more cost-effective choice for your remodel, you do not have to sacrifice quality for "cheap" products. All cabinet doors and drawers are custom made at Kitchen Magic's Lehigh Valley, Pennsylvania headquarters and factory, and delivered directly to your home and that is only after an extremely precise, in-home drafting and measuring process, then installed by craftspeople certified and trained on our process, products, and procedures.
"Refacing is just painting":

First, the cabinet doors and drawer fronts are removed (and will be replaced with all-new).

The cabinet frames/boxes are sanded down (if the surfaces are not already painted) to a fresh wood surface.

An engineered surface (and in some cases a ¼" luan plywood subsurface) is applied to the exterior cabinet frames.

New accessories, moldings, drawers, and doors of your choice are installed. (Again, the keywords here are NEW drawers and doors.)

This one is always a zinger. It could not be further from the truth. A short summary of the refacing process is as follows:
Refacing is frequently mistaken for a cheap, short-term fix for your kitchen renovation, but as you now know, that is not at all the case. Let's take a look at the pros and cons of this remodeling approach to better solidify your new perspective on this cabinet option.
Pros:
Endless colors and "wood" stains, door styles, etc.

Lifetime of Home Ownership warranty provided through Kitchen Magic

Permanent solution; doors and drawers are manufactured in Lehigh Valley, Pennsylvania to withstand anything you face in your day-to-day life
Cost-effective for customers with a modest budget

Environmentally friendly, reducing landfill waste; keep hundreds of pounds of cabinetry out of the landfill per project

Aesthetic, fresh look in your kitchen

Doors and drawers (which comprise 80% of the visible surface in your kitchen) are brand new

You can still add new cabinetry to creatively extend your kitchen footprint as much as space allows.
Cons:
Changing the layout of the kitchen is not an option with refacing only.

Refacing doesn't give you added space (on its own), but many of our customers choose a hybrid option if they are looking to add additional storage, like a pantry or an island.

If your cabinet boxes are damaged, it may not be a viable option for your cabinets.
While there are a few limitations to refacing, those typically can be addressed with other options. Consider refacing your kitchen cabinets if you are not looking to replace your existing cabinets, you like your current layout, and you're looking for an affordable but still permanent solution.
Painting your cabinets
Before we get started, we need to address the DIYers in the room. While painting your cabinets is a popular option for DIYers, here's what many people don't realize about painting their own cabinets:
It's extremely tedious and time-consuming.

All the doors and drawer fronts must be removed in order to paint everything evenly and concisely, and when you put them back on their hinges, almost never do they go back the way they were when they were taken off, and you'll most likely have to double the time allotted for the project.

While these are not always issues when hiring a professional company to tackle this type of project, painting still comes with a few cons.
Now that we got that out of the way, let's review all the good and bad that comes with painting your kitchen cabinets.
Pros:
The kitchen and cabinets look new and refreshed.

Paint can protect the cabinets from moisture and damage.

This is one of the most inexpensive ways to get an updated look in your kitchen, especially if you are looking to sell your home soon.
The color options are endless.

It is a quick fix, if you hire professionals.
Cons:
This option isn't great if there is damage to the surface of the cabinets.

This doesn't fix any crooked doors, broken hinges, knobs, pulls, etc.
It can turn into a lengthy and complicated process for DIYers.

Over time, paint tends to chip, fade, and especially scuff.

The style and design of the door stays the same.
Painting, while it may not be the best option, is still a great option for those homeowners looking to renovate a rental property, looking to resell the home, or they are looking for a temporary, budget friendly option while leaving budget for other aspects of their home renovation plans.

Comparing the Two
Both painting and refacing, as long as you hire a professional, are very similar in terms of time. Three to five days is a safe bet, if you are not doing any other work in the kitchen, like a countertop or backsplash. These types of project additions add time to the length of the remodel.
They are both budget-friendly when compared to replacing your cabinets entirely, and while you don't have to add other aspects to the remodel, you certainly still can throw in a countertop, backsplash, or new floor if you desire.
Painting v. Refacing at a glanc

e
As you can see, these options are very different from one another, and so are their benefits and disadvantages. By now, you should be better acquainted with painting and refacing, and have a good idea of which option is right for your kitchen remodel.
Where can I find experienced kitchen remodeling experts?
The next step in your journey is to decide which route to take and find a company that can bring your kitchen dreams to life. Whether you're looking for custom-built cabinets or a trouble-free counter installation at a reasonable cost, reach out to us to talk about your vision, desired outcome, and financial plan. Our team will guide you through the entire process, so you'll be well-informed every step of the way.
Give Kitchen Magic a call at (866) 525-0012 to consult with one of our experts on your kitchen remodeling plans and find out how we can help you design your dream kitchen!