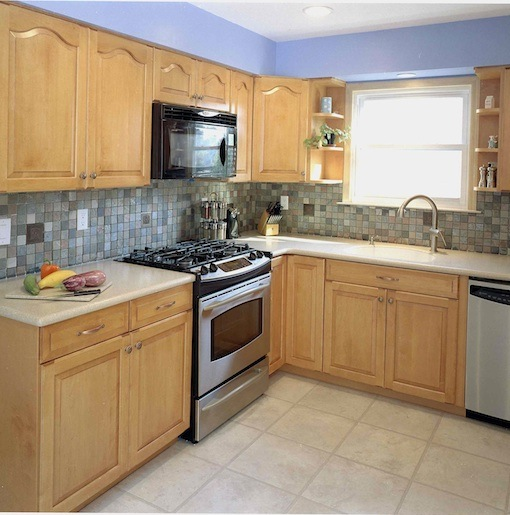 Compare Refacing Companies
Lots of people offer cabinet refacing. But some of those places just slap cheap laminate or veneer over the cabinets you have without first properly preparing them.
Kitchen Magic uses an exclusive permanent double lamination process: Thin wood substrate is bonded to the existing visible cabinet surfaces. All exterior cabinet surfaces are then covered with the final layer of a quality laminate veneer or natural wood refacing material. We install this system using our own certified craftsmen, working consecutive days to minimize disruption to your family.
Kitchen Magic provides all new cabinet doors and drawer fronts to complement your newly refaced cabinets. We offer exclusive heat-, scratch- and warp-resistant raised panel, resin-core laminate doors, or beautiful solid wood doors.
With Kitchen Magic, cabinet refacing will conserve the most precious resource of all--your money! Refacing is a second-to-none money saving option for your kitchen remodeling project. By preserving the existing cabinetry, you can save enough to truly create the kitchen you've been envisioning. Go ahead--upgrade to a luxury countertop, add storage accessories, decorative moldings...build in all of those bells and whistles you might otherwise forgo due to budget concerns.
Questions to Ask Yourself
Is the person you're dealing with a trained kitchen professional, or just some guy who works in the store?
At Kitchen Magic, you deal with experienced professionals who know kitchens inside and out, who conveniently come to your home for a free, no obligation estimate.
Do you get a customer list of people in your area who have used their service and are happy?
At Kitchen Magic you get lots of names of people in your area who are happy with the product and service we provided them.
Are there hidden fees and charges?
At Kitchen Magic, our price covers the entire job.
Is there any sort of warranty?
We provide you with a lifetime owner warranty in writing, backed by our 30-year commitment to service and customer satisfaction.
Give us a call today at 1-855-5-REFACE and see what the Kitchen Magic difference is. You'll be glad you did!